Setelah Wall of Fades November kemarin ini, beberapa jeans menjadi wishlist mimin. Salah satunya seri terbaru dari Warpweft Company ini, yaitu The New Essential Series Hikari IV. Sedikit membahas Essential Series dari Warpweft ini pertama kali muncul di tahun 2019, dibanding seri lainnya Essenstial merupakan bentuk paling sederhana daripada seri Exquisite atau Superior yang biasanya juga dirilis oleh Warpweft Company.
Pada seri sebelumnya, di tahun 2021 seri Hikari III memakai bahan 20oz dengan heavy slub dan pada tahun ini, Hikari IV Memakai bahan Heavy Cross Slubs 19oz unsanforized. dengan detail speksifikasi yang mimin comot dari toko hejo-nya Warpweft nih!
MATERIALS AND SPESIFICATION
19oz Selvedge Denim
Loomstate / Unsanforized
Uneven Slub Yarn for Warp and Weft
Indonesian Milled Fabric
Peach Line Selvedge
Screen Print Oil Based Ink Arcuate Design
Silk Screened Pocket Bag with WWco crest logo
Vachetta 4oz Leather Patch
Raised Belt Loop
Raised Back Pocket Opening
Raised Front Pocket Opening
WWco signature hardware from YKK Japan
Double Plated Copper Burr
Hidden Rivet
3 Tone Single Felled Inseam
Nah, setelah baca membaca speksifikasinya sudah dijelaskan oleh Warpweft Company mereka menggunakan bahan yang berasal dari Indonesia, tanpa ditutup-tutupin langsung deh ngga perlu kalian tanya-tanya lagi ya, mari kita bedah nih jeans satu-persatu, les goh!
FIRST IMPRESSION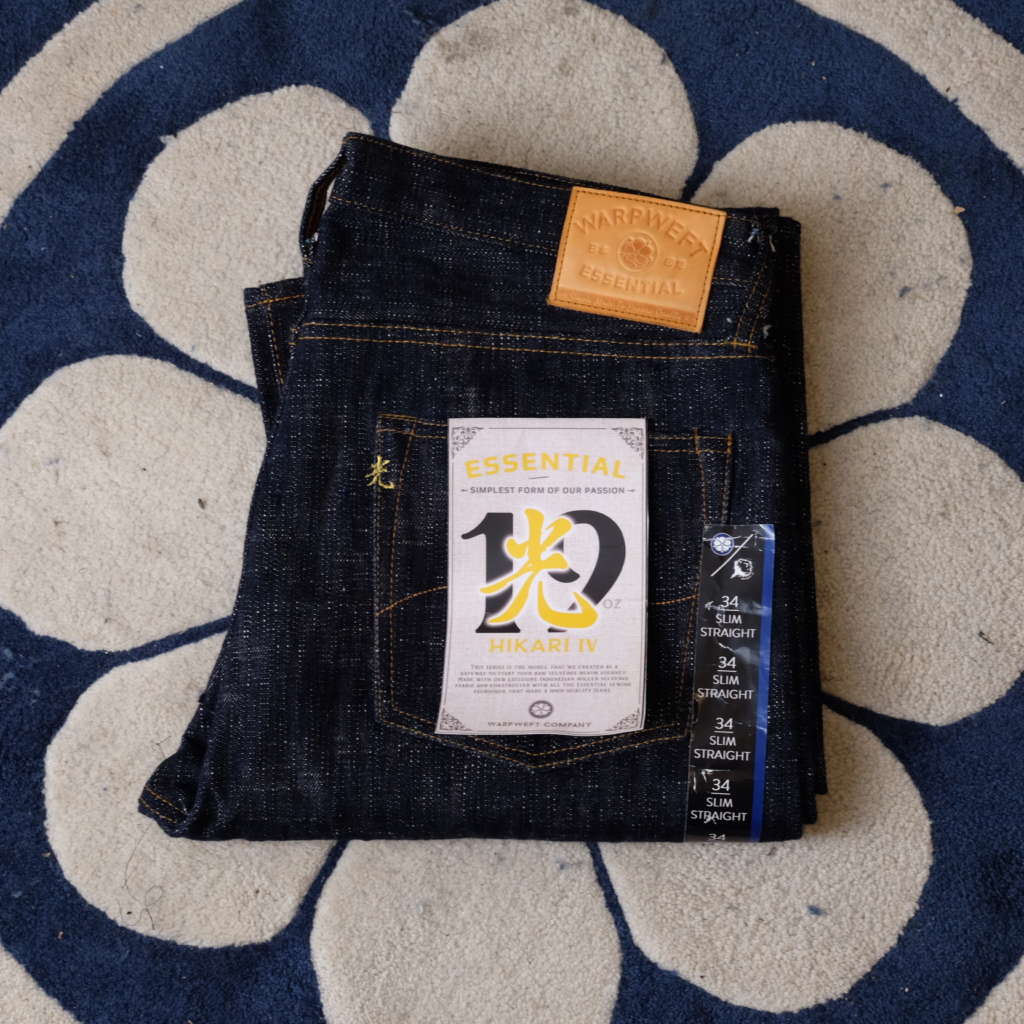 Dengan 19oz unsanforized yang mereka cantumkan, feel yang mimin rasakan ketika pertama kali memakai jeans ini adalah tidak berat dari kebanyakan jeans dengan bobot yang sama, biasanya untuk 19oz sudah tergolong ke dalam heavyweight denim tapi hal tersebut tidak mimin rasakan.
DETAILS

Detail unik pada bahan ini yaitu warna peach line selvedge, dengan jahitan tipis menjadi khasnya Warpweft Company. Tapi menurut mimin, ini lebih ke warna merah ngga sih? hahaha

Flasher dengan design yang sangat simple ini sudah menerangkan banyak hal, mulai dari seri essential,nama artikelnya, menerangkan bahan yang berasal dari Indonesia dan bobot daripada si jeansnya masih membahas dari bagian belakang jeans.

Lanjut kebagian backpocket yang menjadi ciri khas dari Warpweft Company yaitu Arcuate yang membentang seperti garis putus-putus yang ternyata print alias sablon (kenapa ngga dijahit aja ya? apa untuk membedakan dengan seri lainnya?) dan juga bentuk daripada pocket-nya yang lebih besar daripada merk lainnya. Pada seri Hikari IV ini terdapat juga bordiran kuning dengan huruf kanji sebagai indentitas dari Warpweft Company yang kejepang-jepangan.

Bagian yang paling mimin perhatikan dibagian depan adalah, 5 button jeans dengan finisihing hitam ini ternyata sudah bersignature Warpweft Company yang mimin baca di spesifikasinya ternyata berasa dari YKK Japan. nampil bener!

lanjut nih bagian dalamnya, dimana bagian front pocketnya menggunakan bahan sejenis canvas dengan sablonan logo Warpweft Company dan juga seri essentialnya. terdapat juga bagian untuk sizing jeans dan seri essential yang mimin ulas ini yaitu "Hikari".
CONCLUTION
Ngomongin soal fit, ternyata Warpweft Company sekarang mengeluarkan 2 macam fit, yaitu slim straight dan slim tapered. yang mimin ambil adalah slim straight fit dengan true size atas masukan dari yang punya Mr. Herman Legend. bisa kalian check ini foto mimin sebelum di initial soak sedikit agak loose fit dibagian pinggang dan lutut kebawah setelah insoak, bener-bener menjadi fit yang mimin harapkan. Biarkan foto-foto yang menjelaskan ya, ini beberapa outfit mimin ketika pakai alas kaki yang berbeda.

Secara kesuluruhan, jeans ini bisa menjadi opsi kalian yang mau membeli jeans untuk di tahun baru ini dengan spesifikasi yang sudah dijelaskan sama si pemilik brandnya dengan detail di toko hejo atau di instagram mereka dan untuk fiting langsung kalian juga bisa janjian dengan si koko herman di Warpweft Company Headquarter di daerah Jakarta Barat. Jeans dengan detail kejepang-jepangan ini kalian bisa miliki dengan harga sejuta kembali ceban, alias Rp 990.000,- . Sung checkout, Klik beli. jangan lupa update "New year New jeans" di discord darahkubiru, slebew!