Berbicara soal style, kemeja flanel memang sudah lama digandrungi oleh pria dan wanita. Baik itu anak muda hingga orang tua, semuanya pasti mempunyai minimal satu kemeja flanel di lemarinya. Mimin pribadi sih suka banget pake kemeja flanel, selain nyaman dan hangat di badan, kemeja flanel juga cocok banget untuk dipadu padankan dengan items outfit lainnya.
Langsung aja kalo gitu, ini dia rentetan ide style kemeja flanel pria!
---
Kemeja Flanel ala Anak Midwest 90s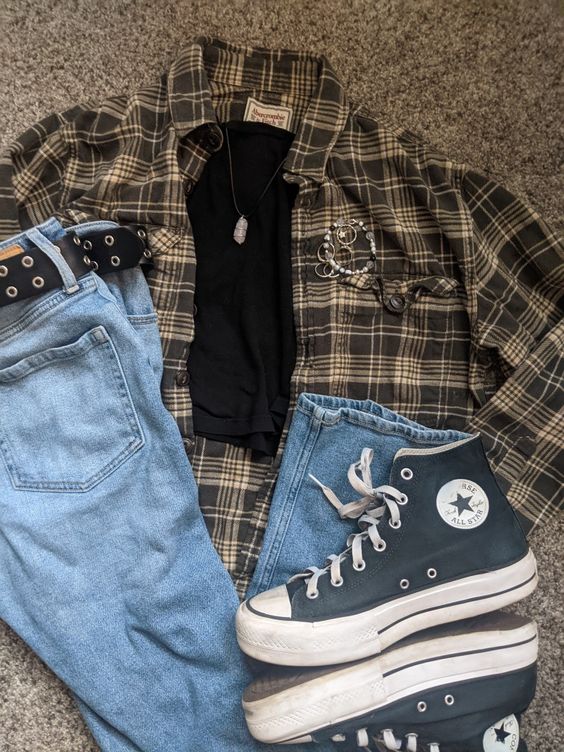 Langsung aja yang pertama ada style kemeja flanel ala anak midwest nih bro! Buat lo seorang penggemar musik emo atau emo enthusiast pastinya nggak asing dengan style ini. Yup, cukup kombinasikan flanel dengan pattern yang vintage dan simple sebagai outer, lalu padu padankan dengan kaos dengan desain like a geek, denim, dan sepatu converse. Nyaman dan effortless pasti!
Flanel with Hoodie, Super Duper Ganteng

Next, yang kedua ada perpaduan yang cukup ciamik nih. Menambahkan flanel sebagai outer dari hoodie lo akan membuat lo menjadi lebih modis. Coba deh, dan jangan lupa kasih bawahan loose pants dan sneakers, ya!
Flanel with Vest, Effortless

Last, ada kombinasi flanel yang menggunakan vest sebagai bagian dari outer-nya. Kombinasi ini memungkinkan untuk lo agar lebih tampil modis dan tentunya fungsional, sebab berbagai kantong yang disediakan oleh vest dapat lebih mempermudah penyimpanan barang-barang kalian!
---
Nah, itu dia beberapa rekomendasi ide style kemeja flanel pria yang pastinya cukup nyantai dan cocok untuk kalian terapkan!