Beruntung kita sempat mengulas mengenai 2 buah produk Wrangler yang berbeda sehingga kita bisa mengetahui lebih banyak mengenai Wrangler.  Produk Blue Bell Wrangler yang akan kita bandingkan kali ini adalah 2 buah produk yang cukup berbeda satu sama lain yaitu model 11MW dan 10MW. Seperti kita sudah baca sebelumnya, kita pernah mengulas perbandingan 11MW 1947 dan 11MW 1952 dan juga mengulas mengenai model langka 10MW  dan kedua produk ini sangat berbeda satu sama lain.
Pendahuluan
Kembali kita jelaskan bahwa model 11MW adalah model paling standard dan umum bagi jeans Wrangler. Model ini lah menjadi semacam patokan bagi jeans-jeans Wrangler sampai saat ini. Model ini juga adalah model jeans Wrangler yang pertama kali dikeluarkan. Sementara itu model 10MW seakan sebuah model jeans yang "bukan" Wrangler. Model ini dianggap langka karena hanya sedikit sekali original pair yang ditemukan dan juga karena detailnya yang tidak lazim untuk jeans Wrangler.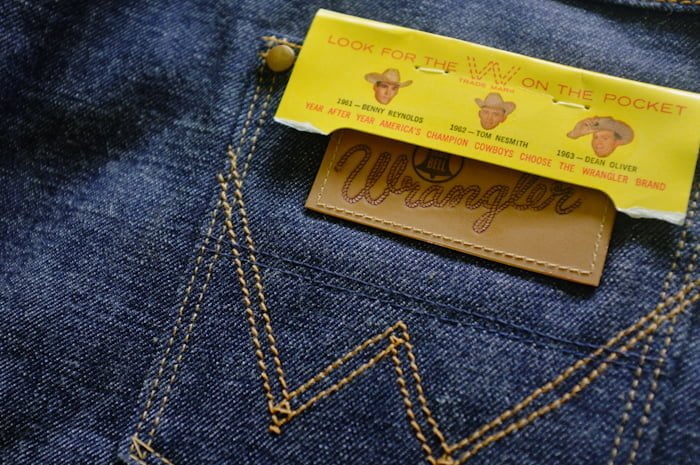 Details
Model 11MW adalah model dengan detail khas Wrangler yang menjadi detail ikoniknya. Sebut saja 7 buah belt loops, W stitching, ergonomic watch pockets, double felled seam, slant pocket, dan lain sebagainya. Detail yang ada pada 11MW pertama tahun 1947 masih dijadikan sebagai patokan untuk tiap model jeans Wrangler sampai saat ini. Sementara itu 10MW memiliki detail yang lebih berbeda. Mungkin kita masih dapat melihat beberapa detail ikonik ada pada jeans ini, namun yang benar-benar membuat jeans ini berbeda dari 11MW adalah konstruksi seamnya. Pada outseam kita bisa melihat jelas selvage line pada jeans ini, yang hanya bisa dilihat tanpa konstruksi double felled.

Bahan
Bahan yang digunakan kedua jeans ini juga berbeda, setidaknya dari sample yang kami sudah review. Produk 11MW 1947 dan 1952 menggunakan bahan denim yang lebih ringan dan terasa lebih vintage, dengan berat 11oz sanforized denim dengan warna biru yang tidak terlalu gelap. Pada 10MW, bahan denim yang digunakan merupakan bahan denim yang lebih berat, 14oz sanforized denim yang terlihat lebih gelap.


Fit
Fit yang ditawarkan kedua model ini sangat mirip. Wrangler tetap pada model jeans straight dengan rise yang cukup tinggi yang memberikan tampilan vintage yang tentunya juga cocok bagi dunia koboi ataupun cowboy appreciator. Mungkin perbedaan hanya sedikit saja, dimana model 10MW terasa kurang loose dibanding dengan 11MW.
—————————————————————————————————–
We're pretty lucky to have reviewed 2 different Wrangler products, so we know more about Wrangler. The two products we're going to compare this time is a 11MW and 10MW. We've already compare 11MW 1947 and 11MW 1952 and also reviewed a rare model 10MW which those two is different from each other.
Introduction
11MW is the standard and general model for Wrangler. This model sets the standard for other future Wrangler products since its first inception in 1947. Meanwhile 10MW can be seen as "not" a Wrangler, mostly because of the details on the seam. These jeans is considered rare probably because there is little information about the original pair and just a little of the original pair found.
Details
The 11MW got all Wrangler characteristics, 7 belt loops, W stitching, ergonomic watch pockets, double felled seam, slant pocket, leather patch and other details. Meanwhile 10MW got slightly different details. We can still see all the iconic Wrangler details in this jeans, but what sets this jeans apart is the seam construction. We can see the selvage line on the outseam which means this jeans doesn't use double felled seam on the outseam, contrary to Wrangler characteristics which use double felled seam on both seam.
Fabric
11MW 1947 and 1952 use a lighter fabric, which is a 11oz sanforized denim with its distinct blue-ish vintage like fabric. In 10MW, they use a heavier fabric, a 14oz sanforized denim which looks darker than the one used in 11MW.
Fit
These 2 models got a similar fit. Wrangler is still focusing on providing a straight jeans with high rise which gives a really vintage and classic looks which also appealing to cowboys alike. We see the 10MW fits a bit slim compared to the 11MW.