Setelah sebelumnya kru DarahkuBiru telah mereview beberapa buku denim, kali ini yg akan kami bahas disini ialah edisi ke 47 dari Lightning Magazine (ya, lagi-lagi Lightning Magazine), yang berjudul "DENIM INDIGO MASTER".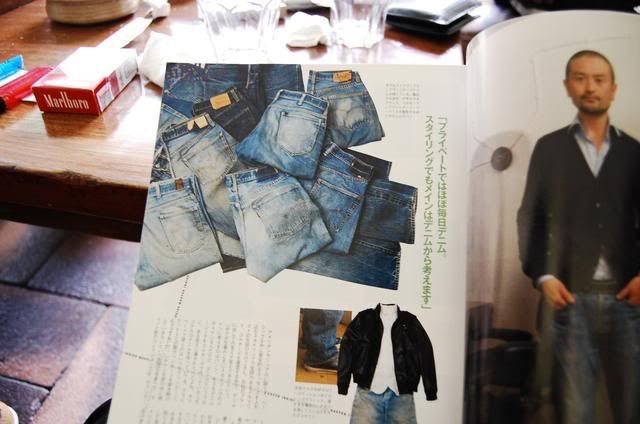 Berbeda dengan Lightning Magz : the Denim Book yang berisikan "My Favourite Pairs" dari beberapa masyarakat Jepang, Denim Indigo Master lebih membahas setiap Brand yang dikenal cukup baik di Jepang.
Di sini juga diperlihatkan perbandingan antara keadaan dari sebuah celana jeans disaat masih dalam keadaan baru / dry / raw, dengan keadaan disaat mereka sudah well-worn / heavy repaired / washed.





Brand – brand yang terdapat dalam majalah ini sangat beragam, dari yang sudah kita cukup kenali seperti Levi's, Evisu, Wrangler, Lee, Skull, Momotaro, Warehouse, Eternal, Burgus dan lain-lain sampai kepada Brand – brand yang bahkan kami baru mendengarnya, sebut saja sperti Boss of the Road, Tabloid News, dan juga Pherrows dan masih banyak lagi.




Selain celana jeans, disini juga membahas beberapa benda lain seperti Mesin Jahit Union Special, kemudian Chino Pants, Workshirts, dan juga Denim Jacket.
bahkan ada beberapa halaman yang berisikan tahapan dalam memuat sebuah celana jeans.
Majalah ini sudah cukup jarang keberadaan nya di toko buku / majalah, namun apabila anda beruntung anda akan menemukannya dengan harga yang sudah di diskon. sebelumnya, majalah ini tersedia di toko buku Kinokuniya.