Sampai saat ini, kita sudah cukup banyak mereview produk-produk Blue Bell, khususnya yang tersedia di Indonesia. Kita bisa melihat beberapa produk andalan Blue Bell mulai dari line Made In USA-nya seperti, Eddy, Pete, dan Jake sampai ke produk-produk repro buatan Jepang seperti Wrangler 11MW 1947, 11MW 1952 dan juga 11MJZ. Dari produk-produk yang sudah kami review, editor kami akan coba memilih produk favorit mereka dan juga menjelaskan mengapa mereka memilih produk tersebut.
Wrangler 11MW 1952
Salah satu editor kami, Gilang Aditya mempunyai sebuah Wrangler 11MW 1952 dan dia menyukainya. Wrangler ini boleh dibilang merupakan model paling standar dan jadi patokan bagi model jeans Wrangler. Hampir semua karakteristik Wrangler ada disini seperti double felled seam, 7 buah belt loops, watch pocket, W stitch dan lainnya. Ditambah dengan penggunaan bahan khas vintage yang memiliki tekstur unik dengan berat sekitar 11oz, membuat produk ini memiliki feeling vintage yang kental.
"Hal yang paling saya suka dari jeans ini adalah vintage looks yang dibawanya. Mulai dari bahannya yang terlihat vintage sampai dengan fit straight dengan high risenya yang benar-benar terlihat klasik."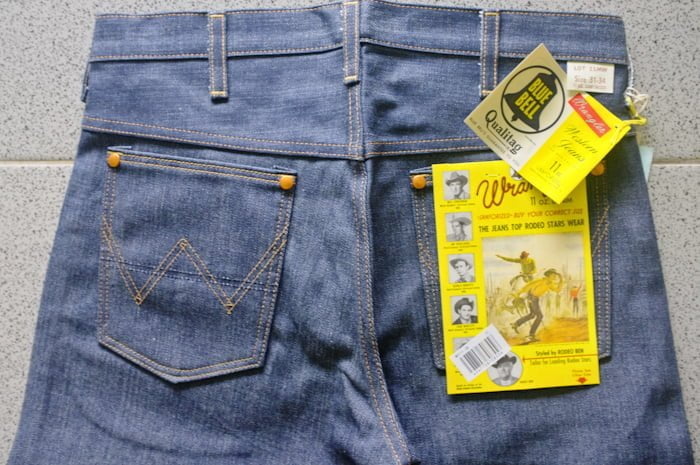 Wrangler 10MW 1964
Kami juga menaruh perhatian lebih pada model Wrangler yang satu ini. Wrangler 10MW 1964 mungkin adalah satu-satunya model Wrangler yang menggunakan open seam pada outseamnya. Ini adalah sebuah spesimen langka dari seluruh koleksi yang pernah dibuat oleh Wrangler Blue Bell. Penggunaan bahan yang lebih berat yaitu 14oz membuat jeans ini lebih berasa rugged dan durable. Bahan vintage khas Wrangler masih dapat ditemukan dan tentunya detail khas Wrangler juga masih bisa kita lihat.

Wrangler 11MJZ
Mungkin kita sudah sering melihat model jaket jeans yang banyak dibuat oleh produsen jeans terkenal. Namun jaket jeans yang satu ini benar-benar memiliki keunikan tersendiri yang membuat kami memilihnya menjadi salah satu produk favorit kami. Lihat saja desain kantong di bagian perut yang unik. Selain tentunya hal yang paling unik bisa ditemui di bagian belakang. Pleat yang ada di bagian pinggang belakang merupakan salah satu desain vintage paling unik yang pernah kita temui.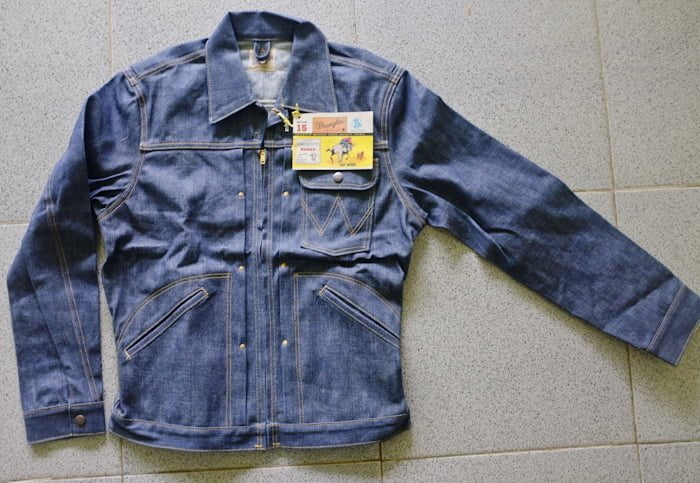 Itu tadi adalah beberapa produk Wrangler favorit kami. Produk Wrangler manakah yang menjadi favorit kamu?
——————————————————————————————————–
Since the end of last year, we've reviewed a handful amount of Blue Bell's products, especially those which are available in Indonesia. We can see some of Blue Bell's main product from their Made In USA line such as Eddy, Pete, and Jake to the Japanese repro products such as Wrangler 11MW 1947, 11MW 1952 and 11MJZ. Our editor come up with their favorite products and explains why they like it.
Wrangler 11MW 1952
One of our editor, Gilang Aditya has a 1952 Wrangler 11MW and he loves it. This model can be considered as a standard model for Wrangler and serves as a base for other Wrangler jeans. It has all of Wrangler's characteristics such as double felled seam, 7 belt loops, watch pocket, W stitch and more. The vintage 11oz fabric they use also adds uniqueness in the texture and overall fabrics feel, making this product got that very vintage feeling to it.
"What I love the most from this jeans is the vintage looks it offers. From the vintage looking fabrics to the straight fit with high rise that makes this jeans really has that classic look."
Wrangler 10MW 1964
We also put more attention to this Wrangler model. This one is probably the only Wrangler model with an open seam construction on its outseam. This got to be a rare specimen from all the collections made by Wrangler Blue Bell. The use of a heavier 14oz fabrics makes this jeans more  rugged and durable. We can still found the vintage looking fabric and of course Wrangler characteristics in this jeans.
Wrangler 11MJZ
We maybe have seen lots of jeans jacket from many famous jeans manufacturer. But this particular denim jacket really interested us  by its uniqueness. Just take a look at the unique D pocket design at the abdomen area. Of course the main attraction is in the back side, where we can find a pleat in the back waist which we can considere as one of the most unique vintage design we ever seen on a jacket.
Those are some of our favorite selection of Wrangler product. Which one is your favorite?