Kali ini kita kedapatan sebuah celana yang mungkin bisa terbilang agak aneh dan terlalu flashy bagi sebagian orang dan tentunya bukan untuk semua orang. Wrangler Piero Pants adalah sebuah celana yang mungkin kita bilang paling unik sekaligus paling aneh yang pernah kami temui. Hal yang paling membuatnya unik adalah pada bagian belakang celana ini terdapat bordiran yang bertuliskan "Wrangler Jeans Jackets" lengkap dengan patch logo Blue Bell yang besar.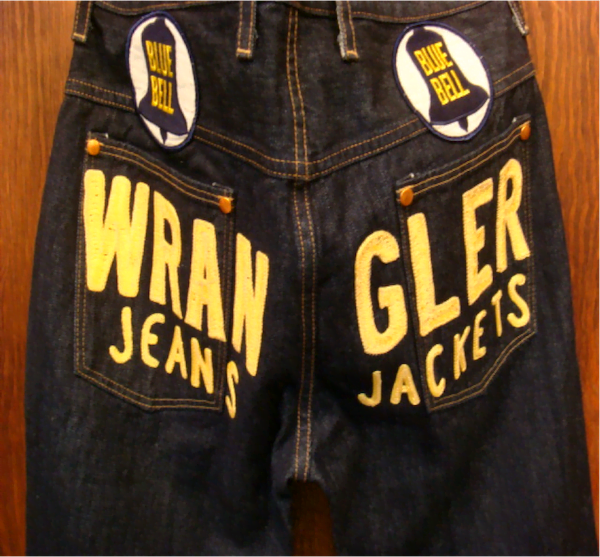 Sepertinya celana ini seakan dibuat sebagai iklan berjalan bagi brand Wrangler. Kami pernah mendengar bahwa celana ini juga merupakan satu set dengan jaket Wrangler yang memiliki bordiran serupa di bagian belakangnya, dan jaket tersebut disebut sebagai Champion Jacket. Mungkin pada jamannya, para pemenang dan rodeo champion diendorse dengan celana ini sebagai media promo bagi Wrangler.
Detail celana ini tidak banyak berbeda dari celana 11MW khas Wrangler, perbedaan paling mencolok hanya di bordiran di bagian belakang dan mungkin pada belt loop yang terlihat hanya menggunakan 5 buah, tidak seperti detail 7 belt loop ala Wrangler.


————————————————————————————–
We're going to feature a pants that can be said as a rather flashy and weird kind of pants from Wrangler. This pants is definitely not for everyone. Wrangler Piero Pants is probably the most weird yet unique pants we've ever reviewed. The most unique thing about this pants is the big embroidery at the back part which says "Wrangler Jeans Jackets" completed with 2 Blue Bell logo patch.
This thing looks like it was made as a walking ads for Wrangler. We also heard that this pants is in a set with a 11MJZ jacket which has a similar embroidery at the back, and the jacket is called the Champion Jacket. Probably at the time, the rodeo champions were given this pants to act as Wrangler promotion media at the same time.
The pants' details is not really different from the rest of the 11MW Wrangler pants, the most visible difference is only at the back part with all the embroidery going on. The belt loops are also using only 5 instead of the regular 7 beltloops ala Wrangler.