Produk Lee 101Z yang akan kita bahas kali ini adalah produk Lee 101Z original zip fly jeans dari EU line. Jeans ini merupakan dry selvage denim dengan berat sekitar 13oz. Sesuai dengan namanya, jeans ini menggunakan fitur iconic dari Lee yaitu zipper fly yang menggantikan button fly pada produk-produk Lee 101B. Jeans ini memiliki detail yang mirip dengan detail Lee 101z vintage yang dipadukan dengan fit slim ala Lee yang berkesan modern.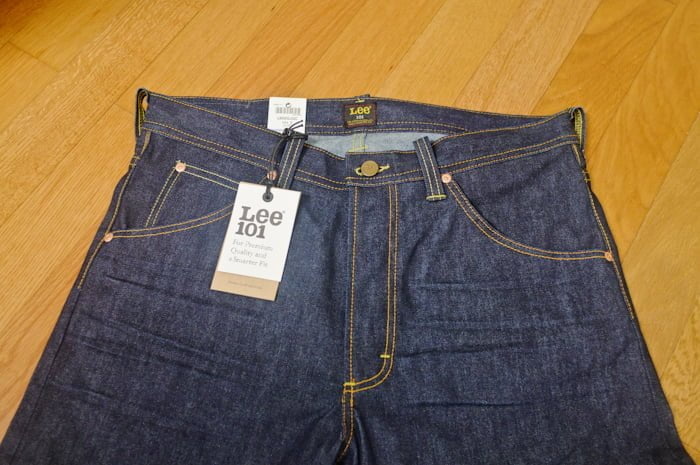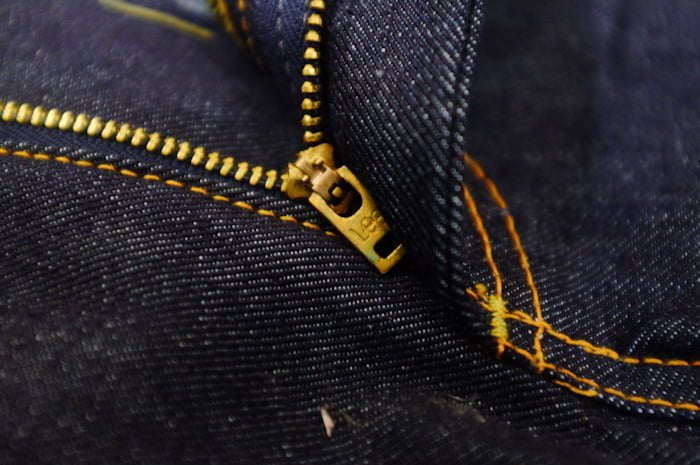 Hardware yang digunakan pada jeans ini cukup menarik. Kita dapat melihat penggunaan top button yang bertuliskan "Lee 101 For Premium Quality" dan memiliki warna yang agak keemasan. Hardware standar seperti UFO rivet juga masih digunakan pada jeans ini. Hanya saja kita juga tidak lagi melihat crotch rivet pada bagian crotch. Bagian crotch dan fly dilengkapi dengan beberapa bartack untuk memperkuat jahitan pada bagian tersebut. Lebih ke dalam, kita bisa melihat bagian kantong diprint dengan semacam ad dari Lee yang terlihat sangat vintage.



Produk ini menggunakan warna benang yang berbeda dan cukup kontras, dimana kita bisa melihat di bagian belakang bahwa benang kuning lemon dipakai di seat dan kantong belakang sementara benang berwarna orange dipakai di bagian yoke dan juga waistband. Perbedaan warna pada benang ini memberikan kesan yang unik pada jeans ini. Selain itu jika kita perhatikan bagian Lazy S pada kantong belakang, digunakan pula benang yang berwarna beda. Kita menemukan benang berwarna navy agak keabu-abuan yang membuat lazy S ini seakan menyatu dengan bahan denimnya. Yang unik pada bagian backpocket adalah adanya jahitan berbentuk diamond di ujung bagian bawah kantong belakang, agak berbeda dengan gaya kantong belakang vintage Lee.




Bahan jeans ini menggunakan selvage denim dengan berat 13oz dan memiliki tekstur yang terbilang lebih subtle. Kita tidak terlalu melihat irregularities dan uneveness pada jeans ini jika kita bandingkan dengan produk Lee Vintage lainnya. Selvage line pada bahan LHT ini juga merupakan plain selvage, tanpa adanya line berwarna. Jeans ini cocok bagi yang mencari sebuah produk Lee 101z yang merupakan gabungan detail vintage dan fit modern.



PS: Bahas juga mengenai produk Lee lainnya di forum.
—————————————————————————————–
This time we will discuss Lee 101Z original zip fly jeans from EU Line. This jeans is a dry selvage denim and weigh about 13oz. As the name implies, these jeans uses iconic feature of Lee zipper fly which replaces the button fly on Lee 101B products. These jeans have a similar details to Lee 101z vintage and  combined with Lee modern slim fit style.
The hardware uses on these jeans are quite interesting. We can see the use of the top button that reads "Lee 101 For Premium Quality" and has a slightly golden color. Standard hardware such as UFO Rivet also still used in these jeans. It's just that we no longer see a crotch Rivet on the crotch area. Crotch and fly sections are equipped with several bartack to strengthen the seam on the section. Further on, we could see the bag printed with the kind of ad from Lee that looks very vintage.
This product uses a different color thread and quite a contrast, where we can see in the back that lemon yellow thread used in the seat and back pockets while the orange-colored yarn is used in the yoke and waistband. The color difference in this thread gives a unique impression on these jeans. In addition, if we look at the Lazy S on the back pocket, is also used different colored threads. We find the greyish navy thread color that makes the lazy S blend with the materials. The backpocket have a unique diamond-shaped stitching on the lower end of back pockets, somewhat different from the vintage Lee style back pockets.
Materials used on these jeans is a Selvage denim with 13oz weight and has a texture that is somewhat more subtle. We do not really see the irregularities and uneveness on these jeans if we compare with other Vintage Lee products. Selvage line on these LHT material is also a plain Selvage, with no color line. These jeans are suitable for those who looking for a product which is a combination of Lee 101z vintage details and modern fit.