Sampai saat ini kita sudah membahas mengenai 3 buah jaket yang dikeluarkan oleh Wrangler Blue Bell, baik dari jaket yang dikeluarkan oleh Wrangler Japan maupun dari line Blue Bell Made In USA. Kali ini kita akan mencoba mengulas ketiga jaket tersebut dan membandingkannya satu sama lain. Ketiga jaket tersebut adalah Wrangler 11MJZ, Trevor Jacket Heavy Washed dan Trevor Jacket Washed.
Wrangler 11MJZ
Dimulai dari jaket yang dikeluarkan oleh Wrangler Japan yang satu ini merupakan sebuah repro jaket Wrangler yang dikeluarkan pada tahun 1956. Bahan yang digunakan pada jaket ini adalah raw LHT selvage denim yang sudah disanforisasi dan memiliki warna biru vintage seperti kebanyakan produk Wrangler repro. Hal yang paling membedakan jaket ini dari Trevor Jacket adalah bentuk depannya yang sangat unik, dengan sebuah kantong di bagian kiri dada dan terlebih dengan adanya semacam pleat di bagian punggung untuk melakukan penyesuaian pada fit.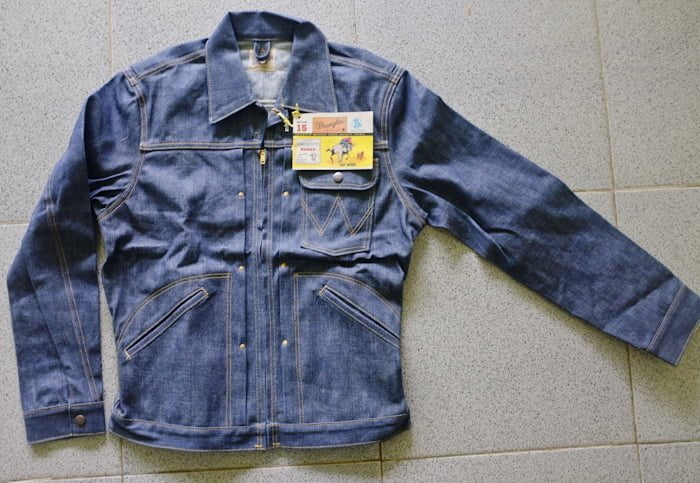 Trevor Jacket Heavy Washed
Model Trevor Jacket bisa dibilang merupakan model yang diambil dari model paling ikonik dari jaket Wrangler. Kita bisa melihat dari desainnya dengan 2 buah kantong dada dengan W stitch yang merupakan ciri khas Wrangler Blue Bell. Pada versi Heavy washed ini, kita bisa melihat bahwa warna biru yang dimiliki oleh jaket ini tergolong sudah sangat washed out dan menimbulkan warna biru muda di keseluruhan jaket ini dibandingkan dengan Trevor Jacket versi selanjutnya.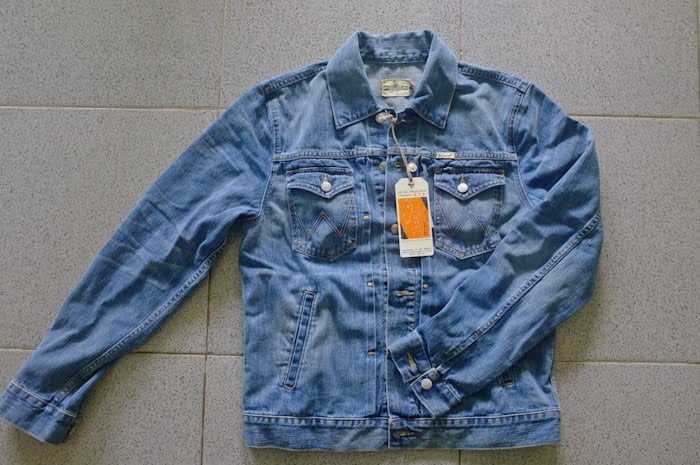 Trevor Jacket Washed
Trevor Jacket yang satu ini berbeda dengan versi heavy washednya. Di versi yang ini, warna biru tua masih bisa kita lihat di keseluruhan jaket. Sementara di beberapa spot fading hanya terlihat warna-warna biru elektrik yang menandakan bahwa sepertinya fading baru-baru saja terjadi dan belum terlihat adanya efek worn out yang berlebih pada jaket ini.

———————————————————————————————-
Until this moment, we already reviewed 3 jackets of Wrangler Blue Bell, from their Wrangler Japan line and their Blue Bell Made In USA line. We're going to review them again and compare them with each other. The jackets that will be compared are Wrangler 11 MJZ, Trevor Jacket Heavy Washed and Trevor Jacket Washed.
Wrangler 11MJZ
We start from this Wrangler Japan produced jacket which is basically a repro of 1956 Wrangler denim jacket. This jacket use a raw LHT selvage denim fabric which has been sanforized to minimize shrinkage and got that vintage blue color as like most of Wrangler repro products. The most interesting part in this jacket is the much simpler front design with a single chest pocket and a D pocket on the lower part and also the adjustable pleat on the back.
Trevor Jacket Heavy Washed
This Trevor Jacket model can pass as an iconic Wrangler jacket inspired and we can clearly see from the front design with a double chest pocket with W stitch which is Wrangler's characteristic. This heavy washed version leaves us with a light blue color in overall if we compare it to the next washed version of the Trevor Jacket.
Trevor Jacket Washed
This Trevor Jacket is clearly different from its predecessor, mainly because of the wash treatment and color. In this version, we can still see the dark blue color being retained in overall. While we can also see on some fading part, an electric blue-ish color which signals that these fading is just starting to show. We cannot see a light blue and white colored fading in this version like the Heavy Washed version.