Menjelang season baru Blue Bell Made In USA, kita akan mencoba memberikan sedikit recap tentang apa saja produk Blue Bell Made In USA yang sudah pernah kita review. Beberapa produk Blue Bell Made In USA menarik perhatian seperti yang lebih populer yaitu model Pete dan Eddy, serta jaket khas Wrangler yang cukup unik. Selain itu kita juga pernah baru-baru ini membandingkan side-by-side produk Blue Bell Jeans. Setelah recap ini, kita akan kembali mengulas produk-produk baru dari Blue Bell Made In USA.
Blue Bell Pete
Produk yang satu ini merupakan salah satu produk Blue Bell Made In USA yang populer dan merupakan produk Blue Bell pertama yang kita review. Mungkin popularitasnya karena produk ini lebih mengutamakan fit dan cut yang lebih modern. Kita bisa melihat bahwa produk ini memiliki fit slim tappered yang terlihat modern dan cocok untuk anak muda yang menggandrungi slim fit jeans. Detail pada Blue Bell Pete merupakan detail yang cukup unik untuk produk-produk Blue Bell Made In USA.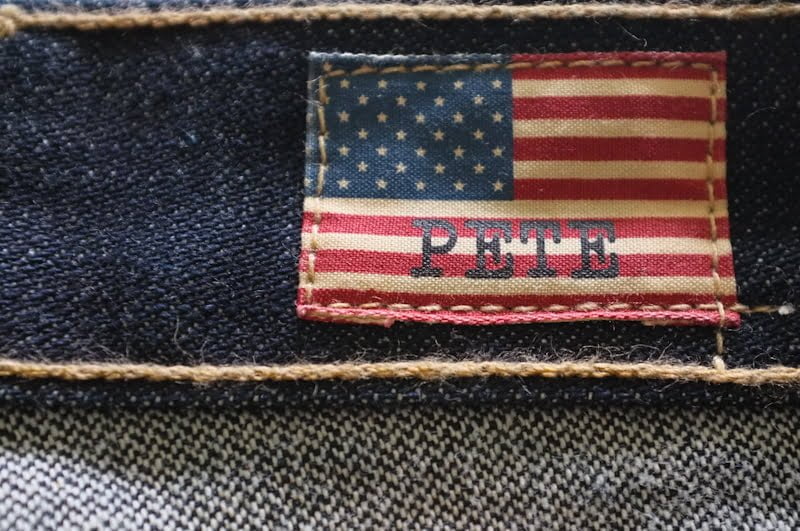 Blue Bell Eddy
Tidak seperti Blue Bell Pete, Blue Bell Eddy menampilkan tampilan jeans yang lebih klasik. Selain menampilkan cutting antifit atau straight fit ini, jeans ini juga tetap menampilkan detail-detail khas Wrangler. Hal yang menarik adalah penggunaan bahan raw selvage denim RHT. Berbeda dengan gaya khas Wrangler, selvage line di outseam pada Eddy terlihat jelas tanpa double felled seam.

Blue Bell Jake
Produk Blue Bell Jake adalah produk yang bisa dibilang lebih umum, mungkin bisa dibilang begitu karena produk ini menawarkan cutting dan fit yang termasuk regular fit, artinya jauh dari kesan slim fit. Produk ini juga memberikan sedikit kesan worn dibanding kedua jeans Pete dan Eddy sehingga memberikan kesan yang berbeda pada model ini.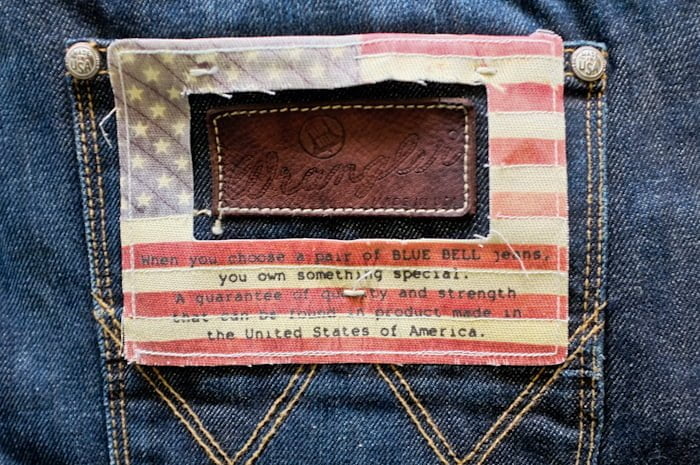 Blue Bell Trevor Jacket
Trevor Jacket adalah jaket dari Blue Bell Made In USA yang mengambil inspirasi dari jaket-jaket khas Wrangler. Detail jaket khas Wrangler terlihat jelas pada produk ini seperti pada jahitan W di bagian kantong dada. Selain itu washing effect pada produk ini benar-benar memberikan kesan vintage yang sangat kental pada produk ini.


——————————————————————————————————-
We're waiting for a new season products from Blue Bell Made In USA line and in the meantime we're going to make a bit of a recap of what we've reviewed before. Most of the products we've reviewed from Blue Bell Made In USA is interesting such as the popular Pete and Eddy and also Wrangler inspired jacket, Trevor. We've also compare Blue Bell Eddy and Pete side-by-side on our latest comparison article. After this recap, we're going to give you more reviews from the new upcoming Blue Bell products.
Blue Bell Pete
This is one of the most popular Blue Bell Made In USA product we've reviewed. Maybe it's because of the cut and fit offered by this jeans. We can expect a slim tappered fit from this one which looks really modern and fits younger people who loves slim fitting jeans. The details on Blue Bell Pete is also an interesting one.
Blue Bell Eddy
Not like Pete, Blue Bell Eddy shows a much more classic looking jeans. This jeans feature an antifit cutting and still features Wrangler's iconic details. They use a RHT raw selvage denim which is really interesting. The outseam is a bit different from the usual double felled seam construction found in Wrangler, we can see clearly the selvage line in this jeans.
Blue Bell Jake
This Blue Bell Jake is much more general one, maybe it's because of the cut and fit offered by this jeans which is a regular fit, means far from a slim fit looks. The jeans also has this bit of worn effect compare to the other two which gives the jeans different looks.
Blue Bell Trevor Jacket
Trevor Jacket is a Blue Bell Made In USA jacket which is inspired by Wrangler's iconic jackets. We can see iconic details from Wrangler in this jacket, such as the W stitching on the chest pockets. The washing effect from this jeans really gives it a strong vintage look