Akhir-akhir ini kami sudah melakukan review pada beberapa produk heritage Lee dari Jepang seperti Lee 1930, Lee 1936, dan Lee 1939. Ketiga produk yang sudah kami review merupakan produk replika dari model-model heritage Lee yang ada pada jaman dahulu. Kali ini kita mendapatkan pinjaman dari Lee yaitu Lee 101B dry yang merupakan produk dari Lee Europe. Lee 101B ini merupakan rendisi Lee Europe terhadap produk klasik dan ikonik dari Lee yaitu Lee 101B dan tentunya tetap mengedepankan detail-detail vintage dan sesuai heritagenya dengan dipadukan dengan elemen-elemen modern.
Lee ini merupakan dry selvage indigo denim yang terbuat dari bahan 13,75oz Left Hand Twill denim yang berwarna biru gelap. Seperti Lee lainnya, bahan ini juga merupakan bahan sanforized yang akan meminimalkan penyusutan ketika sehabis pencucian. Bahannya terlihat cukup menarik karena warnanya yang biru gelap dan teksturnya terlihat menarik dan cukup irregular. Ketika kita menyentuh bahannya, maka kita akan merasakan kelembutan bahan khas sanforized LHT yang memang terkenal akan kehalusannya.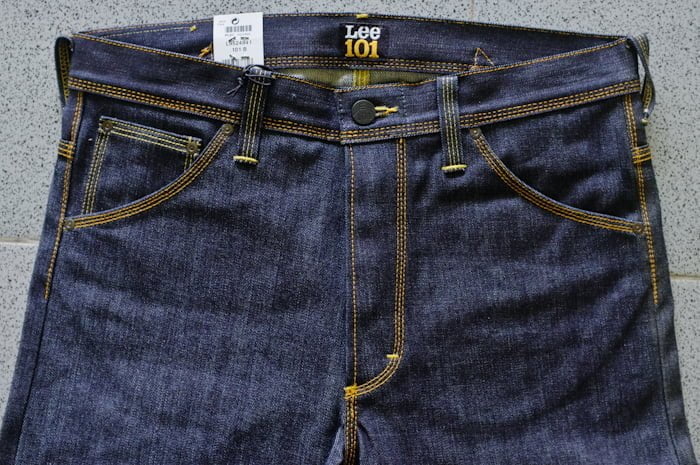 Desain yang ditawarkan oleh jeans ini cukup menarik khususnya dalam hal detail. Jika kita perhatikan, hampir setiap seam yang ada pada produk ini dijahit dengan menggunakan triple stitching. Detail ini menarik karena berarti Lee Europe mengadopsi heritage dari Lee khususnya Lee Cowboy sekitar tahun 30-40an yang masih menggunakan triple stitching di area seat dan yoke. Untuk Lee ini, tampaknya triple stitching dipakai di hampir semua seam seperti seat, yoke, waistband stitch bagian bawah, inseam, bahkan beltloop, jahitan kantong belakang dan kantong koin.



Jeans ini menggunakan button dengan desain yang bisa dibilang modern. Top button pada jeans ini berwarna gelap hampir hitam dengan tulisan Lee 101 yang menggunakan font yang tipis. Untuk button fly-nya, button yang digunakan adalah model button donut button yang juga berwarna gelap. Rivet yang digunakan pada jeans ini juga menggunakan UFO rivet yang tetap pada heritagenya, dengan sedikit tulisan Lee di bagian luarnya. Di bagian belakang rivet, terdapat tulisan 101 yang menonjol keluar.




Kantong belakang pada jeans ini menggunakan triple stitching seperti bagian yokenya dan tentunya dengan bartack X khas Lee di ujung-ujungnya. Selain itu Lazy S juga sudah digunakan pada jeans ini. Satu hal yang hilang di jeans ini adalah pada bagian crotchnya dimana tidak digunakan rivet di bagian tersebut padahal salah satu ciri khas Lee vintage adalah crotch rivetnya. Leather patch pada jeans ini juga terlihat sangat terinspirasi dari heritage Lee yaitu Hair-on-hide. Jeans ini memiliki siluet cutting straight dengan sedikit karakter slim, cocok untuk yang mencari jeans modern dengan sentuhan vintage dari Lee.




PS: diskusikan juga produk-produk Lee lainnya di forum.

——————————————————————————————————-

We've already reviewed some heritage products from Lee Japan such as Lee 1930, Lee 1936, and Lee 1939. Those three products are a replica line from Lee heritage products from the past. This time we are going to review Lee 101B dry denim from Lee Europe. This particular Lee products is a Lee Europe's rendition of the classic and iconic Lee 101B with focus on vintage details and heritage combined with modern elements.

This jeans is a dry selvage indigo denim made from 13,75oz Left Hand Twill denim with a dark blue color. Like other Lee jeans, the fabric is also a sanforized fabric made for minimalizing shrinkage from washing. The fabric looks pretty interesting with the dark blue indigo color and the texture is pretty irregular makes it more interesting. The fabric feels soft and comfortable which is one of the characteristics of LHT denim.

The design on this jeans is interesting especially in terms of details. Upon our first look on the jeans, almost all seams on this jeans are triple stitched. This is almost like the triple stitch feature we found on Lee Cowboys circa 1930s. Those feature are used on almost every area such as seat, yoke, waistband stitch, inseam, even in beltloop, backpocket stitching and coin pocket.

The button is pretty modern black matte top button with Lee 101 writings on it. For the button fly, they use the donut button, also in black matte material. Rivets in this jeans are still UFO rivets which stay true to the heritage, with a bit of Lee logo writings on it. On the backside, there is also a 101 writings.
The backpocket of this jeans also use triple stitch. Lazy S stitching is also used on the backpocket. One of the missing feature on this jeans is the crotch rivet, which considered to be one of the main characteristics of Lee vintage. Hair-on-hide patch is used as the leather patch. This jeans have that straight silhouette with a bit of slim characteristic, it will fit nicely for people who are searching for a modern jeans with a touch of vintage feeling.

PS: you can also discuss more about Lee's product at the forum