Kita akan kembali mengulas mengenai salah satu produk Blue Bell yang diproduksi di Jepang, kali ini giliran Wrangler Blue Bell 1952 model. Pada review sebelumnya kita mengetahui bahwa Wrangler pertama kali mengeluarkan produk jeans pada tahun 1947 dan model ini adalah penerus dari model 1947. Bisa dibilang bahwa Wrangler Blue Bell 1952 model merupakan model paling iconic dari Wrangler dan memberikan sebuah standar bagi jeans-jeans Wrangler selanjutnya.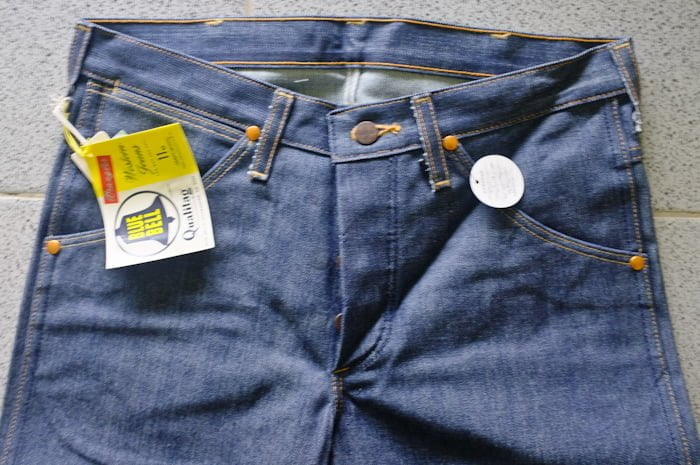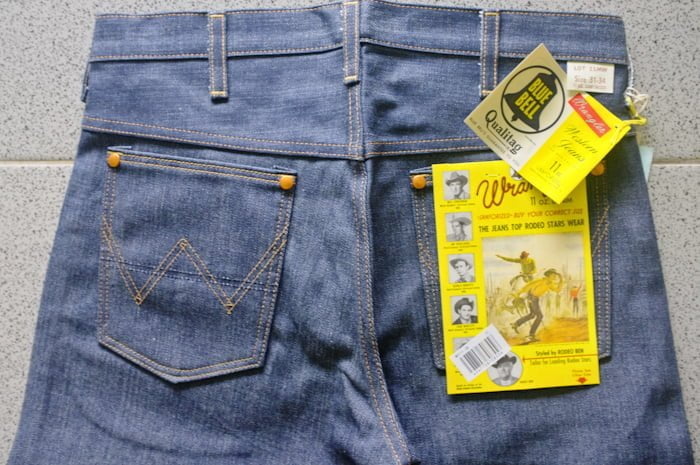 Jika kita lihat secara sekilas, model ini tidaklah memiliki banyak perbedaan dengan model 1947. Model ini juga terbuat dari selvage LHT denim dengan berat 11oz dan warna yang kebiruan, khas vintage denim dan sepertinya bahannya sama dengan bahan yang digunakan di model 1947. Walaupun terbuat dari selvage, seperti produk Wrangler lainnya, jeans ini tidak memiliki selvage line dimanapun, terlebih di outseam yang menggunakan double felled seam.


Hal yang paling membedakan produk ini dengan model sebelumnya adalah cara pemasarannya. Kita bisa melihat bahwa Wrangler sudah mulai menggunakan Qualitag di produk ini. Qualitag adalah semacam kartu garansi yang menjamin kekuatan jeans ini. Selain itu kita bisa melihat digunakannya flasher yang berbeda dari model 1947. Flasher di model ini dengan jelas menunjukkan bahwa Wrangler adalah jeans yang benar-benar ditujukan untuk para koboi dan penunggang rodeo. Kita bisa melihat foto-foto rodeo champion di flashernya. Kita juga bisa melihat bahwa nama Rodeo Ben sebagai tailor kenamaan untuk para rodeo champion mulai ditampilkan disini. Hal ini semakin memperkuat posisi Wrangler bagi kalangan koboi.



Detail lainnya pada jeans ini tidaklah banyak berbeda dengan model 1947. Model ini juga memiliki detail-detail khas Wrangler seperti watch pocket yang unik, penggunaan double felled seam pada kedua leg seam, 7 buah belt loop, W stitching di backpocket dan juga slant front pocket. Beberapa detail kecil memang berbeda seperti penempatan belt loop di bagian belakang yang tepat pada seat dan juga penempatan label di bagian fly.



Hal yang paling membedakan adalah penggunaan half-lining pada bagian backpocket. Selain itu leather patch-nya juga sedikit berbeda, masih dengan bahan kulit yang kali ini berwarna lebih terang, namun logo yang tertera di patch bukanlah diemboss, melainkan sebuah print.
Jeans ini memiliki cut yang straight, yang memang tampaknya cocok untuk digunakan dalam berkuda dan juga menunggang rodeo. Jeans ini akan sangat cocok bagi anda yang ingin memiliki produk ikonik dari Wrangler, karena memang produk inilah yang menjadi standar dari produk-produk Wrangler lainnya. Selain itu jeans ini juga sangat memiliki nuansa vintage terlebih bagi pemakainya.
PS: Bahas juga mengenai produk-produk Blue Bell lainnya di forum.
——————————————————————————————————–
We're back and going to review one of Blue Bell's Japan product which is Wrangler Blue Bell 1952 model. In the last review we know that Wrangler launch their first jeans product back in 1947 and this particular model we're going to review is the successor of it. We can say that this particular model is the definite and the most iconic model from Wrangler while setting a standard for future Wrangler products.
If we see it in a glance, this model have little to no difference from the 1947. This model is made from a selvage LHT denim weighing 11oz, with a blueish vintage denim color. The denim looks to be the same denim as the one used in the 1947 model. With the use of double felled seam in both of the leg seam, we cannot see a selvage line anywhere in this product.
The main difference in this product is the marketing. We can see Wrangler started to use Qualitag in this jeans. Qualitag is some sort of a guarantee card to ensure people of the durability of the jeans. We can also see a different flasher on this product which looks like specifically targeted to cowboy and rodeo riders. We can see Rodeo Champion's photos in the flasher. We can also see Rodeo Ben been featured on the flasher as a reknown rodeo tailor who makes clothes for the rodeo champion. This kind of things strengthen Wrangler's position in the cowboy market.
The other detail on this jeans isn't really much different with the 1947 model. We can still see the iconic detail like watch pocket, double felled in both leg seam, 7 belt loops, W stitching on backpocket, and also the slant front pocket. A few small details like the placing of belt loop and label are different. One of the difference is the half-lining in the backpocket. The leather patch is a bit different too, using different leather and printing instead of embossing.
This jeans featured a straight cut, which fits people who are into riding horse and rodeo riding. This jeans will appeal to people searching for an iconic Wrangler product because this particular product is the standard model. This jeans also gives a really interesting vintage details and looks for the wearer.
PS: You can also discuss about Blue Bell's product in forum.