Pada tahun 1920-an, dunia jatuh cinta pada sebuah maskot yang digunakan oleh brand denim terkemuka Lee sebagai sebuah display untuk produknya. Maskot tersebut adalah Buddy Lee. Buddy Lee merupakan sebuah boneka berbentuk anak-anak yang kemudian dipakaian berbagai macam produk Lee, dan untuk pertama kalinya Buddy Lee menggunakan Lee Overalls. Sejak saat itu, Buddy Lee menjadi sebuah ikon dan maskot dari Lee yang dikenal dunia.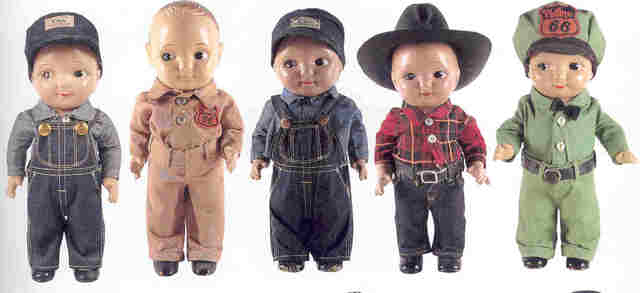 Cerita berawal ketika seorang Chester Reynolds, yang kala itu masih merupakan seorang Sales manager dan nantinya menjadi presiden direktur Lee, mendapatkan ide untuk menggunakan sebuah boneka yang digunakan sebagai miniatur dari pakaian yang dijual oleh Lee dan sekaligus menjadi display di toko. Pertama kalinya, Buddy Lee dibuat setinggi 12,5 inci dan untuk pertama kalinya muncul di jendela toko Lee di Dayton yaitu di Nicollet Mall di Minneapolis. Seterusnya, Buddy Lee menjadi display wajib untuk setiap toko Lee di seluruh penjuru Amerika.

Kemudian Lee menganjurkan toko-toko tersebut untuk menjual boneka tersebut setelah displaynya diturunkan atau tidak digunakan lagi. Semenjak itu, versi retail dari boneka tersebut mulai dijual dan dijual dalam berbagai macam versi seperti versi koboi, pegawai Coca Cola, pekerja rel kereta api dan juga penjaga pom bensin. Mulai dari tahun 1949, Buddy Lee diproduksi dalam tinggi 13 inci.

Buddy Lee akhirnya diberhentikan dari masa dinasnya pada tahun 1962, dikarenakan dianggap tidak menguntungkan lagi bagi perusahaan. Pada saat itu, Buddy Lee menjadi boneka dengan penjualan kedua tertinggi di Amerika Serikat dan sampai saat ini tetap menjadi salah satu ikon dari Lee.

PS: bahas juga mengenai Buddy Lee di forum.
——————————————————————————————
In the 20s, the world fall in love with a mascot used by a legendary denim brand Lee as the display for their product. That mascot is Buddy Lee. Buddy Lee is an advertising mascot in a form of a child shape doll which then dressed in Lee's product, the first product to be worn by Buddy Lee is the Overalls. Since that time, Buddy Lee become a well known icon from Lee.
Sales manager Chester Reynolds, later Lee's board president, came up with the idea of using a doll to "model" miniature versions of the company's clothes for store displays. The 12½-inch dolls first appeared in the windows of Dayton's flagship store on Nicollet Mall in Minneapolis, then were used at stores nationwide.
Lee encouraged stores to sell the dolls after the displays were taken down, and later provided the dolls for retail sale, including versions dressed as a cowboy, Coca-Cola deliveryman, railroad worker and gas station attendant. Starting in 1949, Buddy Lee was produced as a 13-inch hard plastic doll.
The Buddy Lee dolls were discontinued in 1962 because they were no longer profitable. By then, Buddy Lee had become the second-highest-selling doll in the United States.
PS: You can also discuss about Buddy Lee in forum.