Kembali kita akan mereview produk dari Lee Japan yaitu versi 101Z tahun 1952, yang cukup mirip dengan Lee 101B McCoys yang pernah kita review sebelumnya. Lee yang akan kita review kali ini merupakan versi Lee 101z yang menjadi standar sebuah celana Lee. Desain dari model ini sudah lebih simplified dibanding versi-versi sebelumnya dan juga memiliki siluet cut yang lebih modern. Lee model ini pula yang sering kita lihat dipakai oleh aktor Hollywood kenamaan yang menjadi ikon Lee, James Dean.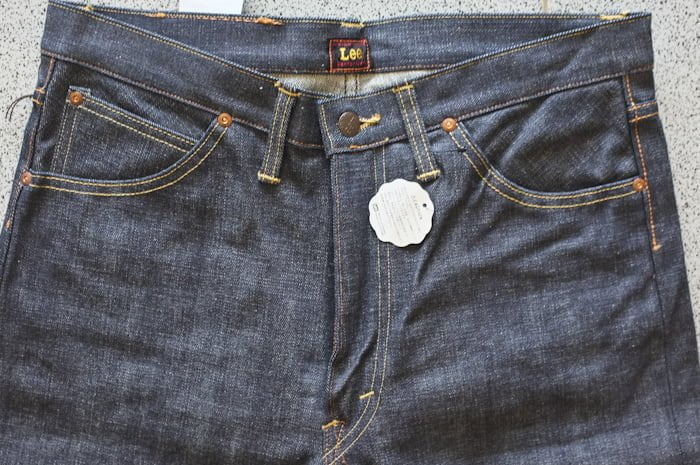 Model 1952 adalah model yang bisa dibilang standar model modern dari Lee, banyak model-model Lee lainnya yang terinspirasi dari fitur-fitur yang ada pada model ini. Kita bisa melihat bahwa pada tahun ini, model Lee sudah tidak lagi berkesan worker, melainkan sebuah celana yang lebih versatile baik untuk para koboi sampai ke masyarakat umum sebagai pengguna jeans sebagai celana sehari-hari. Model ini memiliki desain yang lebih simpel dan modern, tidak lupa cutting yang ditawarkannya pun mendekati arah slim-straight.


Jeans ini terbuat dari bahan denim seberat 13,75oz yang sudah disanforized untuk menjamin penyusutan yang sedikit sehabis dicuci. Bahan LHT dari Lee ini memiliki tekstur yang menarik, terdapat banyak irregularities yang membuat teksturnya tidak beraturan dan lebih menarik, namun ketika kita pegang, bahan ini memiliki tingkat kelembutan yang sangat baik. Bahan yang cocok untuk yang mencari sebuah bahan denim LHT bertekstur namun tetap menonjolkan ciri khas kelembutan bahan LHT. Walaupun menggunakan bahan selvage, kita hanya akan menemukan satu sisi selvage pada bagian outseam, dimana satu sisi lainnya merupakan jahitan obras. Half-selvage ini memang merupakan salah satu ciri khas Lee pada era ini.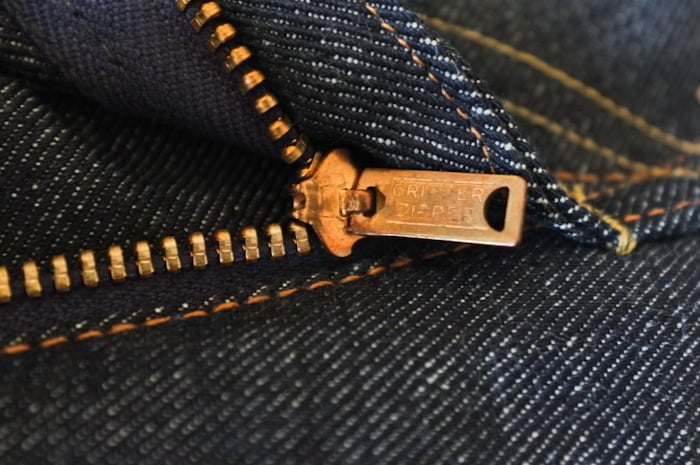 Hardware yang digunakan juga cenderung tidak berlebihan. UFO rivet tetap menjadi andalan Lee, dimana rivet digunakan di ujung-ujung kantong depan dan juga watch pocket. Sementara kita bisa lihat menghilangnya crotch rivet yang menjadi salah satu ciri khas Lee. Kita juga tidak lagi menemukan cinchback dan suspender button. Button yang digunakan untuk top button juga merupakan flat top button dengan tulisan Lee Riders. Sementara untuk zippernya, produk ini menggunakan Gripper Zipper yang menjadi pilihan Lee.



Konstruksi pada jeans ini juga terasa lebih simpel, dimana tidak lagi kita menemukan 2 buah jahitan pada waistband dan kita tidak lagi menemukan triple stitching pada jeans ini. Inseam masih menggunakan double felled seam dengan 2 buah warna benang yang berbeda yang menimbulkan kesan rapi. Untuk konstruksi chainstitch pada seat dan yoke kita masih bisa menemukan 2 buah warna benang pada bagian dalam, yaitu kuning dan abu-abu gelap, hampir sama dengan beberapa produk Lee lainnya. Pada backpocket bisa kita temukan jahitan Lazy S dan bartack pada ujung kantong yang biasa digunakan pada hampir semua produk Lee.



Beberapa hal yang membuat kami tertarik pada produk ini adalah pada desainnya yang lebih simpel dibanding pendahulunya. Cutting yang ditawarkan pun lebih modern dan cocok untuk yang sedang mencari sebuah jeans klasik dengan cutting slim straight. Konstruksi pada crotch juga menarik perhatian kami, ada beberapa jahitan yang tampaknya keluar jalur namun membuatnya makin menarik, selain hilangnya crotch rivet. Hal unik lainnya adalah penggunaan half-selvage yang mungkin hanya ada di produk Lee pada era ini. Lee 101Z model ini adalah Lee yang paling ikonik dan menjadi salah satu Lee model favorit kami. Jika anda penggemar berat James Dean dan menyukai gayanya, produk ini menjadi pilihan yang sangat cocok untuk anda.
PS: Bahas juga produk-produk Lee lainnya di forum.
——————————————————————————————————–
We're back to review one of Lee Japan's product which is the 101z 1952 model, which a bit like its brother Lee 101B McCoys we reviewed before. The one we're going to review this time is a version of Lee 101z which become one of their main iconic product. The design has been more simple and has that more modern cutting to it. This model was also the model we usually seen worn by Hollywood actors which become one of Lee icons, James Dean.
We can say that this particular 1952 model is the standard Lee model. Lots of Lee product and derivatives inspired from these pair's features. We can see in this model, the worker feeling is reduced, this model is more versatile for cowboys to casual jeans wearer instead. The design is more simple and modern, that's also the case with their modern slim-straight cut.
The jeans are made from a raw selvage denim weighing 13,75 oz which has been sanforized to reduce shrinking. This LHT fabric has an interesting texture, we can see many irregularities in the weave yet we still find those comfyness and smoothness of an sanforized LHT characteristics. This fabric will appeal to those searching for an interesting LHT fabric. This pair also has that distinct half-selvage feature on the outseam, one unique characteristics of a pair of Lee jeans from this era.
The hardwares are also not over the top, they still use Lee's UFO rivet which been used on the front pockets and watch pocket. We can see the disappearance of the crotch rivet. We can no longer see cinchback and suspender buttons. Flat top buttons are also used for the top button, with Lee Riders engraved on it. For the zipper, this jeans use Gripper Zipper.
We can no longer see the double stitching on the lower part of the waist as we can see in the 30s model and the same with triple stitching. The inseam still use double felled seam with 2 colored stitch, navy and yellow. For the inside construction we still see a 2 colored stitching used, this time it's dark grey and yellow. The backpocket has the Lazy S stitching with bartacks on the pockets.
The simple design is what interests us the most, they're pretty much simpler than their previous model. The cut offered from this jeans also interesting, no more regular loose cut which been replaced by a more modern slim straight cut. There is a slight miss stitch in the crotch area, which we think is interesting, along with the disappearance of crotch riveet. This model is particularly the most iconic model and one of our favourite model from Lee. If you're a big fan of James Dean and love his style, then this product will surely appeal and fit for you.
PS: You can also discuss more about Lee products in forum.