Setelah kita sempat membahas Wrangler Champion Pants Piero, kini kita akan membahas jaket pasangan celana tersebut yang merupakan jaket yang diberikan oleh Wrangler kepada rodeo champion di jamannya. Rumor mengatakan bahwa jaket ini sangat langka dan sedikit dibuat karena yang mendapatkannya hanyalah para rodeo champion dan kini artikel originalnya menjadi collector's item dan bernilai sangat besar. Sama seperti Piero Pants, jaket ini juga mempunyai bordiran bertulisan "Wrangler Jeans Shirts Jackets" di bagian punggungnya.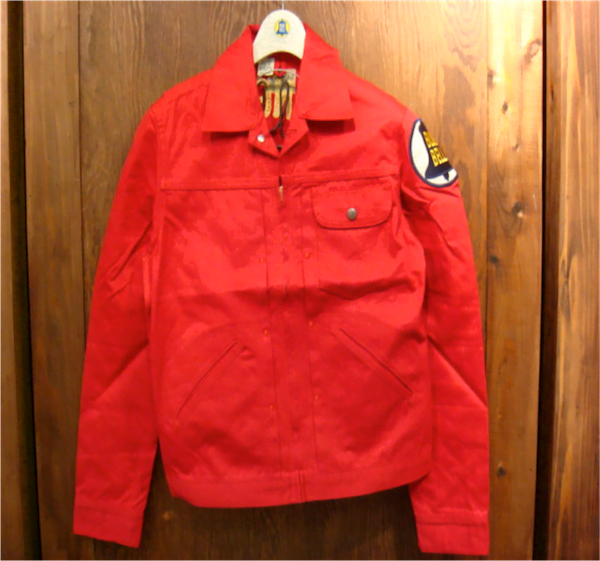 Jaket ini terbuat dari bahan heavy twill berwarna merah mencolok yang mungkin akan makin mencolok lagi jika dipadukan dengan Blue Bell Eddy Red. Detail jaket ini cukup menarik dengan sebuah kantong di bagian kiri dada dengan snap button. Sementara zipper digunakan sebagai fastener. Di bagian punggung kita bisa melihat bordiran yang sangat mencolok yang mungkin digunakan sebagai sarana promosi Wrangler. Di bagian lengan kiri terdapat sebuah patch dengan logo Blue Bell.
Jaket semacam ini juga tersedia dengan warna hitam dan beige dengan bahan sateen. Kedua jaket hitam dan beige ini merupakan jaket yang diberikan kepada para staff di sebuah kompetisi rodeo.



—————————————————————————————————–
Last week we've reviewed and talk about Wrangler Champion Pants Piero and now we got the matching jacket which obviously given also to the rodeo champions at the time. Rumor said that this jacket is really rare mainly because they only made this to rodeo champions and the original copy of this jacket is a collector's item and can fetch to rally high value. Just like the Piero Pants, this jacket also got that big "Wrangler Jeans Shirts Jackets" embroidery at the back.
This jacket is made from a heavy red twill fabric which looks really striking, probably can get more striking if we combine it with Blue Bell Eddy Red. The details are pretty interesting, the chest has one left pocket with a snap button, while zipper is use as a main fastener. We can see the big embroidery at the back and a Blue Bell logo patch at left sleeve.
There are 2 similar jackets like this, one made with a black sateen fabric and also a beige sateen fabric. Both of these jackets were given to the staff at a rodeo meet or a roder championship events.