Para fashion enthusiast mungkin lebih mengenal Kris Van Assche pada karya-karyanya ketika dia bekerja di YSL atau di Dior Homme dan juga di labelnya KRISVANASSCHE. Untuk koleksi terbaru FW 12 kali ini, Lee berkolaborasi dengan KRISVANASSCHE yang menggabungkan unsur heritage Lee yang kaya dan desain modern ala KVA. Koleksi ini terdiri dari 5 buah artikel seperti blouson, denim jacket, denim shirt, chino dan denim pants. Kali ini kita akan membahas mengenai chino, denim dan blouson yang terbuat dari bahan berwarna coklat gelap.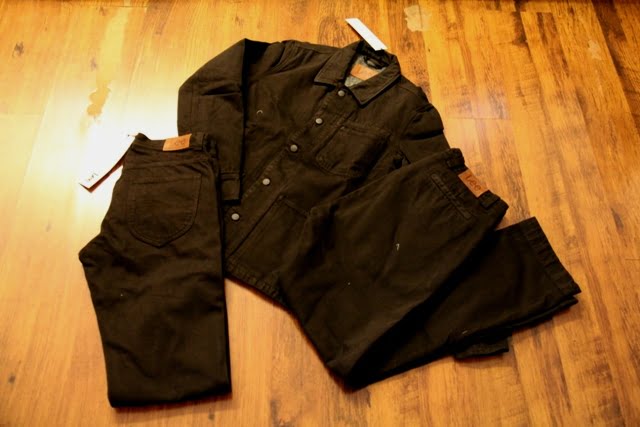 Item yang kita dapat saat ini adalah chino, jeans, dan blouson dari Lee x KVA. Semuanya berwarna coklat gelap yang cenderung lebih menuju ke warna hitam namun bukan hitam pekat. Bisa kita lihat bahwa ketiga artikel ini tampak sudah mendapatkan treatment wash sedikit sehingga kita bisa melihat beberapa tensi di bagian seam dan juga bagian waistband yang terlihat lecek. Bahan yang digunakan pada chino dan jeans merupakan denim twill yang terasa seperti medium weight. Sementara bahan yang paling menarik adalah yang digunakan pada blouson. Detail pada ketiga produk ini terkesan sangat simple namun tetap memperlihatkan hardware dan detail yang berkualitas.




———————————————————————————————
Fashion enthusiast will most likely know Kris Van Assche through his work at YSL and Dior Homme as well as his own label KRISVANASSCHE. For the new FW 12, Lee is collaborating with KRISVANASSCHE which combines Lee's rich american heritage with a modern contemporary design ala KVA. The collection consists of 5 articles such as blouson, denim jackets, denim shirts, chino and denim pants. This time we're going to review a bit about the dark brown colored chino, jeans and blouson.
The items we got this time are chinos, jeans and also a blouson from Lee x KVA. These three items are dark brown colored which looks more of a black color. All of these articles seems to have undergone a washing process before as we can see some tension on the seam and also wrinkled waistband. The fabric used for chino and jeans is a medium weight denim twill fabric. Meanwhile the most interesting fabric is used on the blouson. The details on these products looks really simple and understated but holds a really high quality detail and hardware.