Masih mengenai shirt, kali ini Wrangler Blue Bell juga mengeluarkan varian dari kemeja western mereka dengan bahan yang bukan denim melainkan dengan bahan flannel dengan motif plaid yang menarik. Detail yang ditawarkan oleh kemeja ini juga menarik, selain tampilan westernnya yang kental, namun ditambah dengan motif plaid menambah keunikan kemeja ini. Menurut kami kemeja ini sangat cocok jika dipadukan dengan jeans Wrangler kesukaan anda dan makin menambah vintage look bagi keseluruhan penampilan.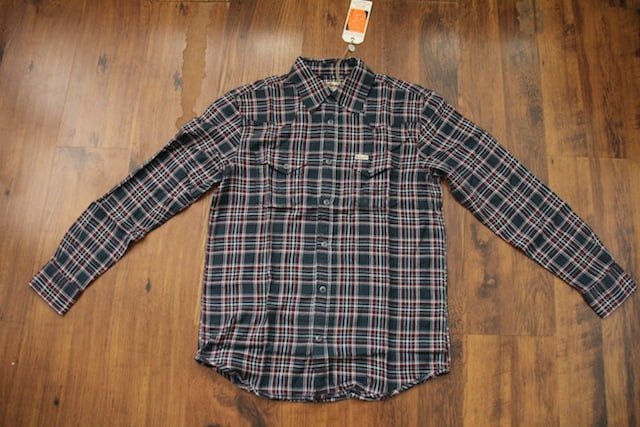 Detail kemeja ini dilengkapi dengan 2 buah kantong dada khas Wrangler yang bisa kita lihat pada kemeja western lainnya dari Wrangler, lengkap dengan snap buttonnya. Button di bagian kerah menggunakan jenis kancing yang berbeda, sementara itu kami sangat suka akan penggunaan pearl snap button yang berwarna hitam yang memberikan kesan makin elegan namun tetap rugged. Motif plaid dengan stripe kecil berwarna putih dan merah yang dipadukan dengan warna latar berwarna abu-abu gelap membuat plaid ini tampil tidak terlalu mencolok namun tetap menarik.



———————————————————————————————-
It's all about plaid shirt this week and this time Wrangler Blue Bell also release a variant from their westerm shirt with a use of a plaid flannel fabric, pretty different than the usual denim fabric. The details are pretty interesting as always which defines a cool western look. In our opinion, these shirt will look good if styled accordingly with a pair of vintage Wrangler pants or jeans.
This shirt has 2 chest pockets ala Wrangler which has this W stitch on the pocket, completed with the pearl snap button. The collar button use a different button type, while we always love the black pearl button snap they use in the placket which gives an elegant feel but still in the rugged corridor. The red and white thin stripe to build the plaid pattern is done perfectly, not too loud but still makes the plaid pattern looks interesting.