Pada tahun 1897, C.C. Hudson berumur 20 tahun dan mulai meninggalkan kampung halamannya di Tennessee dan bertualang ke North Carolina, dengan tujuan mencari keuntungan di industri tekstil. Dia pun mendapatkan pekerjaan di sebuah pabrik pembuat workwear dan overall dengan pekerjaannya saat itu adalah menjahit kancing dimana dia mendapatkan upah 25 sen per hari. C.C. Hudson adalah pendiri dan pemiliki Blue Bell Overall Company yang melahirkan sebuah brand denim legendaris Wrangler nantinya.
Setelah beberapa lama, tempat kerja Hudson tutup. Hudson dan beberapa koleganya mempunyai niatan untuk membeli beberapa mesin jahit dan memulai bisnis membuat workwear sendiri. Mereka pun memulai bisnis itu dengan menyewa sebuah ruangan di atas sebuah toko kelontong di tengah kota dan kemudian menamainya Hudson Overall Company.
Pada umur 27 tahun dia berhasil membuka pabrik pertamanya dan dalam 10 tahun, Hudson memiliki omset sekitar 1 juta dollar dengan memproduksi workwear yang dipakai pada industri besi, baja, pertanian dan lainnya.

Hudson Company membuat pabrik pertamanya di sudut South Elm Street dan mengganti namanya dengan Blue Bell Overall Company. Legendanya, Hudson berteman dengan banyak pekerja rel kereta api yang sering membeli pakaian kerja di tempatnya. Sebagai sebuah hadiah, para pekerja rel kereta api memberikan sebuah lonceng kuningan kepada Hudson. Lonceng tersebut menetap di pabriknya dan setelah sekian lama mendekam disana, lonceng tersebut berubah warna menjadi biru setelah tertumpuk debu biru dari denim looms, dari situlah nama Blue Bell muncul.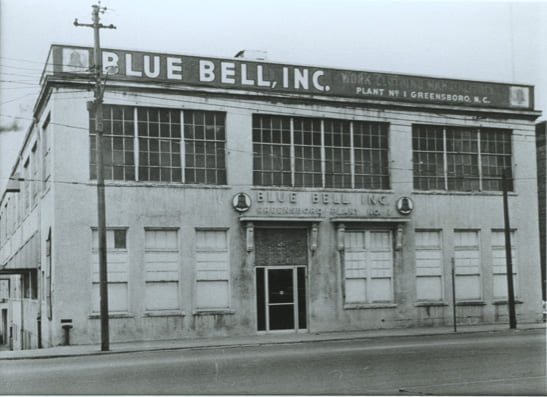 ps: tunggu lanjutannya minggu depan!
—————————————————————————————-
20-year-old C.C. Hudson leaves Spring Hill Farm in Williamson county, Tennessee, and makes his way to North Carolina, seeking his fortune in the emerging textile industry. He finds work in a factory making overalls, where he earns 25 cents a day sewing on button. C.C. Hudson was the founder and owner of Blue Bell, the company responsible on bringing Wrangler denim brand to life.
In 1904, Hudson's workplace closed. He and a few others buy several of the sewing machines from the closed workplace and decided to do their own business in making garments. They started by leasing space above a downtown grocery store and incorporate the business as the Hudson Overall Company.
At age 27 he opened the first factory. Within ten years, The Hudson's had a million dollar turnover. The firm produced workwear, worn in the steel industry, farming and many other fields requiring durable workwear.
The business builds its first factory on the corner of South Elm Street and changes its name to Blue Bell Overall Company. Legend has it that a group of railroad workers who bought overalls at the Hudson store gave C.C. Hudson a bell as a token of gratitude. After spending time in the factory, the bell – like everything else – became covered in blue denim dust coming from the denim loom, hence the name "Blue Bell".
ps: keep up to date with the history next week!