Lee merupakan salah satu dari 3 brand denim besar yang legendaris dari Amerika. Henry David Lee mendirikan H.D. Lee Mercantile Company di Kansas tahun 1889 dan memulai bisnis di bidang manufaktur dan penjualan macam-macam barang. Sebelumnya H.D. Lee merupakan pemain di bidang minyak sebelum dia menderita penyakit tuberkulosis dan dianjurkan untuk pindah ke barat oleh dokter.
Di saat pendirian perusahaan ini lah dia mulai melirik kebutuhan untuk membuat workwear yang terpercaya dan durabel terlebih dikarenakan Henry kurang puas dengan kualitas dan tidak konsistennya pengiriman workwear dari supplier dari wilayah timur. Sejak saat itu, Lee mulai dikenal dan menjadi salah satu perusahaan garmen yang sukses.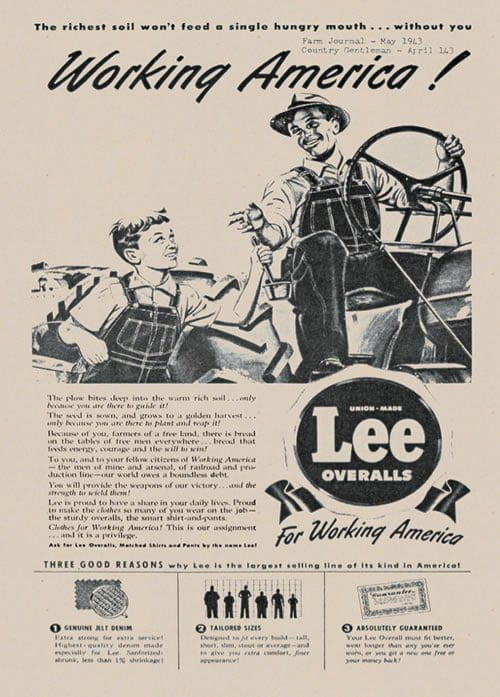 Pada sekitar tahun 1911, Lee mulai memproduksi secara masal produk-produk workwear dan juga overall-nya yang terkenal. Salah satu dari produk mereka yang paling terkenal adalah Bib Overall yang merupakan gabungan kantong multifungsi di dada dan sebuah celana ber-button fly.

Bib Overall terbuat dari 8oz denim yang cukup durabel untuk digunakan bekerja. Seringkali kita melihat  bib overall dipakai oleh petani dan pekerja bengkel. Kantong yang berada di dada merupakan salah satu fitur yang paling fungsional dan diminati di produk ini. Selain Bib Overalls ini, pada saat itu Lee juga memproduksi jaket-jaket denim dan jaket kerja serta dungarees.
ps: nantikan lanjutannya minggu depan!
Bahas juga sejarah Lee di forum.
————————————————————————————————————
Lee is one of the 3 legendary denim brand from America. Henry David Lee established the H.D. Lee Mercantile Company in Kansas on 1889 and starts doing business in making and selling fine goods. Henry was doing a good oil business before he got tuberculosis and was advised by his doctor to move west.
He then quickly saw the need for reliable and durable workwear and work apparels. The main reason is that he is unhappy with the quality and incosistent delivery of workwear from Eastern supplier. From that day on, Lee started with his venture to do better garment and became one of the most succesful garment companies.
Lee started making mass high quality workwear products and overalls in 1911. One of the most iconic and famous overall products they sold is the Bib Overall which basically is a button-fly work pants with an attachment in the breast which has multi functional pockets useful for holding tools and other work utensils.
Bib Overall was originally made in a durable 8oz denim strong enough for heavy working purpose. We often see this kind of bib overalls worn by farmers and garage workers as the pockets is really useful. The multi-function pockets in the breast is the most useful and sought after in the product. Other than this overall, at the time Lee also manufacture denim jackets, work jackets and dungarees as well.
ps: keep up to date with Lee history next week!
You can also discuss it in forum.