Jumat lalu The Denim Vault akhirnya membuka pintunya bagi para pecinta denim untuk mencicipi produk-produk denim yang menarik di tokonya. Sebenarnya toko ini sudah dibuka dari beberapa minggu lalu, hanya saja baru jumat lalu toko ini mengadakan Grand Openingnya. The Denim Vault saat ini menjadi toko berknosep denim pertama di Jakarta yang menyediakan berbagai macam jeans dari nusantara dan mancanegara serta produk-produk apparel yang menarik dari brand-brand terkenal seperti Flat Head, Iron Heart, Momotaro dan lain sebagainya.
Terletak di bilangan Kemang, toko ini dihiasi dengan interior gelap dengan warna cat tembok hitam dan unfinished floor abu-abu dan diterangi dengan lampu-lampu temaram. Di kedua sisi temboknya dipenuhi dengan berbagai macam produk jeans dari Jepang seperti Iron Heart, Flat Head, Momotaro, Japan Blue dan juga brand-brand lokal seperti Folta Co dan Akaime. Selain produk-produk jeans, toko ini juga menyediakan produk apparel yang tidak kalah menariknya seperti shirt, tees dan lainnya dari brand-brand tersebut.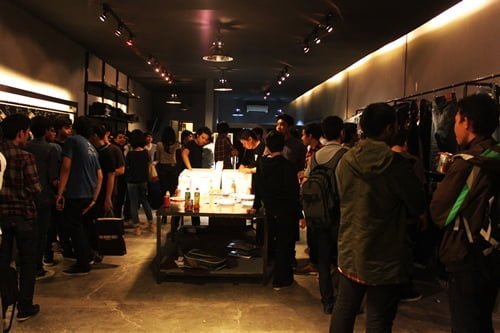 Di salah satu sudut toko terletak koleksi leather goods dari Angelos dan juga koleksi boots kulit dari Red Wing yang cukup lengkap mulai dari model standar Moc Toe, Gentlemen's Traveler sampai Oxford Moc Toe. Selain itu tersedia juga produk perawatan kulit dari Obenauf yang tampaknya cukup digemari oleh para pecinta denim dan pengapresiasi leather goods. Di beberapa bagian juga terpampang beberapa produk jeans yang sudah worn out. Sepertinya pula Denim Vault akan menyediakan jasa hemming dan repair dengan tampilnya Union Special 43200g di salah satu meja display. Kabarnya sebuah darning machine juga sedang didatangkan untuk membantu jasa repair.



Kami sangat excited dengan kemunculan toko denim independen macam ini karena dapat memajukan industri denim di Indonesia secara tidak langsung sekaligus tetap memanjakan para pecinta denim dengan produk-produk yang dijualnya. Semoga dengan adanya toko semacam ini, sub kultur denim dan industri yang berhubungan dengannya bisa tetap bertahan lama. Jadi jika anda mencari jeans hardcore seperti Iron Heart 25oz atau sekedar ingin memegang bahan zimbabwe cotton dari Momotaro, langsung saja kunjungi Denim Vault di:
Jl. Kemang I no. 10 A
Buka setiap hari 14:00-22:00





Foto-foto oleh Gilang Aditya