Pada tanggal 1 Februari 2012 ini, The Denim Vault dan Iron Heart yang merupakan merek ternama dari jepang menggelar sebuah acara bernama Iron heart heavy party di Backyard Cafe, Kemang. Acara ini terselenggara karena terjadi nya hubungan baik antara Iron heart dengan fan base-nya di Indonesia. Atas keberhasilan The Denim Vault membawa Iron Heart ke Indonesia terwujud lah apa yang ditunggu oleh masyarakat Indonesia khusus nya di Jakarta ini, Iron heart mendatangkan bintang nya langsung yaitu Giles Padmore yang aktif sebagai seorang sales international untuk Iron Heart.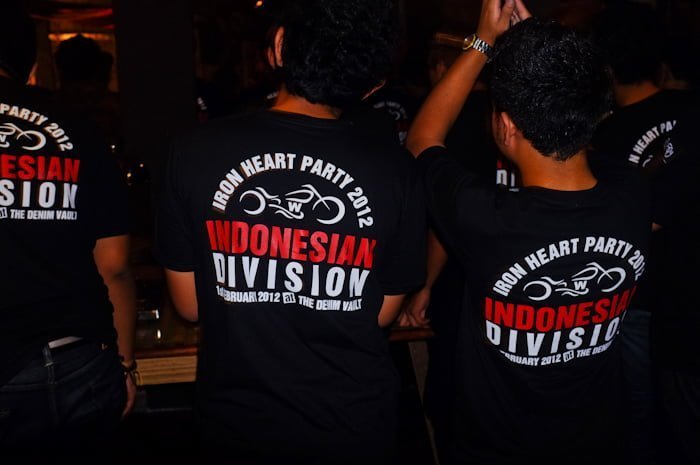 Acara dimulai tepat jam 19.00 WIB dan disambut dengan kata sambutan dari ketua acara dan di lanjutkan dengan sambutan dari Giles sendiri. Giles memaparkan bahwa dia senang sekali melihat pencinta Iron Heart yang sangat banyak di Indonesia, tidak lupa juga orang-orang yang datang di party ini yang sangat ramah dan bersahabat. Setelah Giles memberi sambutan dilanjutkan dengan beatbox performance oleh kerabat-kerabat The Denim Vault. Selain itu, terdapat beberapa acara lagi setelahnya seperti, penilaian worn jeans Iron Heart terbaik dan kompetisi minum beer tercepat. Tidak lupa ada juga penampilan sample yang ditunggu-tunggu yaitu sample Iron Heart x TDV IH 555 S.


Rasanya kurang lengkap bila para pengunjung tidak memaksimalkan pertemuan dengan sang idola. Tidak hanya berinteraksi langsung dengan Giles, para pengunjung juga tidak sabar mengabadikan momen tersebut dengan cara meminta tanda tangan sang idola dan juga berfoto bersama Giles dan Paula. Kami pun tidak lupa menyempatkan diri untuk berfoto dengan Giles.



Acara ditutup dengan pembagian doorprize berupa merchandise Iron Heart. Iron Heart party kembali menegakkan Indonesia sebagai salah satu pasar yang besar bagi denim khususnya denim Jepang dan juga menunjukkan bahwa komunitas denim di Indonesia juga semakin besar dan semakin kuat. Semoga acara-acara seperti ini tetap di adakan agar komunitas denim Indonesia bisa lebih terekspos ke luar sekaligus membuktikan bahwa denim enthusiast di Indonesia benar-benar memiliki passion mengenai denim. Kita lihat siapa lagikah yang akan datang ke Indonesia, apakah Haraki, atau Nogami?