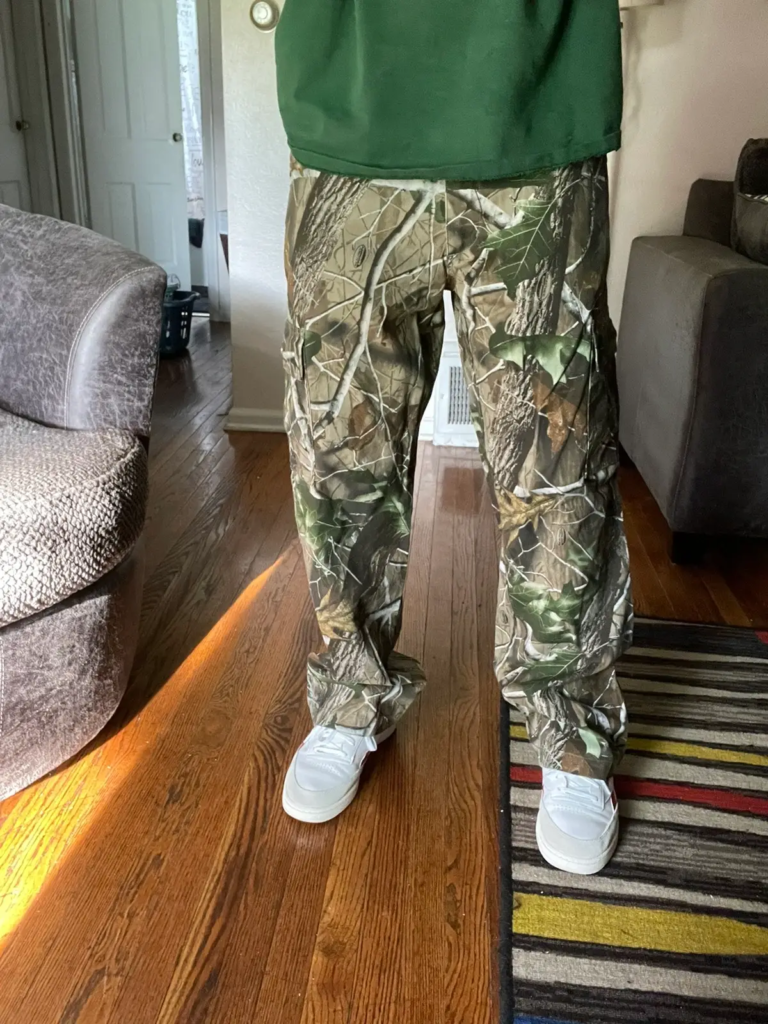 Emang bener deh, kalo tren fashun masa kini itu berjalan sangat dinamis. Banyak pakaian, barang, bahkan motif yang out of nowhere menjadi komoditi terpanas, salah satunya realtree camo pants yang awalnya merupakan sebuah celana berburu di alam bebas. Sekarang, terkhusus di Indonesia, celana dengan motif ini mulai banyak yang mengenakan celana dengan motif ini. Bahkan, celana ini punya julukan celana creative director!?
Mari kita simak pembahasannya!
---
History

Secara teknis, Realtree merupakan one of the most recognizable brand yang memproduksi outdoor & hunting apparel. Saking terkenalnya brand ini, sampai-sampai motif camo yang mereka ciptakan menjadi sebuah metonimia alias kalo di Indonesia air mineral = Aqua. Padahal, banyak brand lain yang serupa seperti Mossy Oak Treestand. Motif pertama yang diciptakan Realtree dibuat oleh pendirinya, Bill Jordan yang juga seorang presenter dan outdoorsman pada tahun 1986. Dalam waktu singkat, brand ini mengalami peningkatan popularitas yang signifikan berkat inovasi sang pendiri dan penetrasi pasar yang dilakukan dengan menggandeng brand-brand terkenal seperti Crocs, Nike, Carhartt, hingga Wrangler untuk lisensi penggunaan motifnya!
Dengan exposure yang diterima, mereka tetap konsisten menjadi sebuah outdoor brand yang tetap setia ke jati diri mereka. Kerjasama yang dilakukan dengan brand lain merupakan cara mereka untuk meluaskan pasar yang belum terjamah adalah strategi tepat guna!
Uniqueness

Menurut pantauan mimin, seiring dengan naiknya tren Y2K style belakangan ini membuat celana bermotif menjadi banyak peminatnya. Hal ini didasari karena Realtree cukup berjaya di tahun 90'an sehingga cocok dengan profil tren ini. Kebetulan, menurut konten forecast sotoy kami akhir tahun lalu, pattern pants akan mencapai popularitasnya di Indonesia di tahun 2023 ini karena meningkatnya peminat kaos polos membuat celana kebagian jatah dijadikan ajang statement orang.
Di Indonesia, yang awalnya dikenakan segelintir orang, celana ini menjadi sangat populer dan mendapat julukan celana creative director karena (MUNGKINNN) yang mempopulerkan celana ini kebetulan menyandang jabatan tersebut. Selain itu, menurut mimin sih celana Realtree ini mempunyai motif photorealistic yang membuat motifnya terlihat hidup dan clean sehingga banyak yang tertarik pada celana ini.

Bagi kalian yang tertarik buat pake celana ini, mimin saranin thrifting di tempat kesayangan kalian, atau bisa cek brand lokal yang mempunyai koleksi celana ini seperti Moneyman dan KraftWork!
---
Dengan motif yang photorealistic dan eyegasm, mimin bilang sih celana ini cocok banget buat masuk ke rotasi pakaian harian kalian. Happy hunting!