Kita sudah cukup banyak mereview produk-produk Wrangler mulai dari produk Blue Bell Made In USA sampai produk Blue Bell Jepang. Pada produk-produk tersebut kita bisa menemukan beberapa detail yang menjadi ciri khas dari Wrangler Blue Bell. Mulai dari penggunaan watch pocket yang ergonomis dan didesain oleh Rodeo Ben, sampai ke penggunaan 7 buah belt loop yang cukup unik, berbeda dengan jeans biasanya yang hanya menggunakan 5 buah belt loop. Di artikel kali ini, kita akan mencoba memaparkan detail-detail tersebut.
Leather Patch
Leather patch merupakan salah satu detail paling terlihat dan paling membedakan dari satu produk ke produk lain. Memang ada produk jeans yang tidak memiliki leather patch, namun detail ini adalah salah satu detail yang membuat suatu produk unik dan tampaknya juga dicari oleh para peminat jeans. Leather patch dengan desain yang unik merupakan salah satu daya tarik sebuah produk jeans.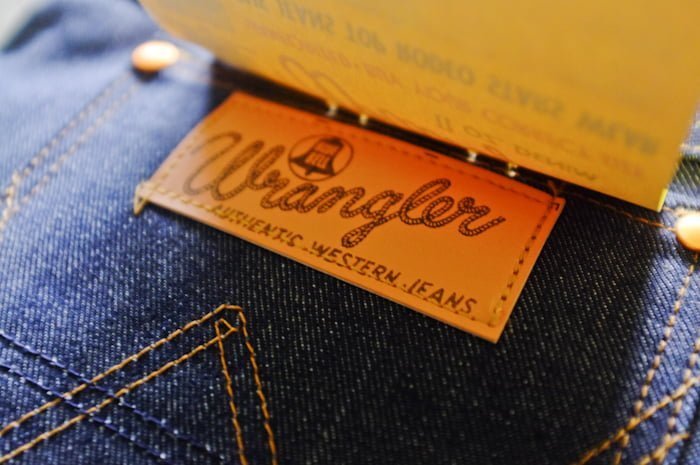 Wrangler memiliki keunikan dalam desain leather patchnya, mulai dari tempat pemasangannya sampai dengan desain leather patchnya. Di saat jeans lain bersikap lebih konvensional dan menaruh leather patchnya di waistband (baik di kiri atau kanan), Wrangler menempatkan leather patchnya di kantong belakang bagian kanan. Selain itu ukuran leather patch yang digunakan Wrangler juga lebih kecil dari leather patch pada merek lainnya. Desain leather patchnya terbuat dari kulit asli maupun kulit buatan (pada beberapa produk) dan memiliki logo Wrangler yang baik di emboss ataupun di print.
Felled Seam
Detail yang satu ini merupakan detail yang membedakan Wrangler dengan merek lainnya khususnya pada bagian konstruksi kaki. Kita sering melihat jeans-jeans vintage pada umumnya memiliki outseam dengan konstruksi open seam yang biasanya dihiasi dengan selvage line. Pada produk Wrangler, kita jarang melihat open seam pada bagian outseam, melainkan penggunaan double felled seam pada kedua bagian seam. Penggunaan double felled seam pada kedua bagian seam di kaki memberikan kesan yang vintage dan rugged selain memberikan kekuatan jahitan pada kedua seam tersebut. Penggunaan 2 buah warna benang juga memberikan kesan yang lebih sleek pada seam.

Flat-top Rivet
Rivet adalah hardware yang mendefinisikan sebuah jeans. Jeans tanpa rivet bisa dibilang belum merupakan sebuah jeans dan tidak membawa semangat jeans vintage. Rivet pada produk Wrangler terdapat pada tempat-tempat yang dianggap stress point seperti ujung-ujung kantong belakang dan juga ujung kantong depan. Rivet yang digunakan oleh Wrangler adalah jenis flat-top, dimana bagian atasnya merupakan sebuah permukaan yang flat dan smooth. Penggunaan rivet jenis ini ditujukan untuk menghindari hal-hal yang tidak diinginkan seperti kemungkinan gesekan ke permukaan sofa, saddle, dan lain-lain.

Ergonomic Watch Pocket
Watch pocket para produk Wrangler didesain oleh Rodeo Ben, seorang tailor kenamaan pada jamannya yang terkenal khususnya di kalangan para pengunggan rodeo dan koboi. Watch pocket pada Wrangler terletak di kantong kanan dan memiliki lubang yang jauh lebih dalam dibandingkan merek lainnya. Selain itu bentuknya yang melengkung membuatnya semakin ergonomis bagi penggunanya untuk memasukkan tangan dan menaruh koin atau jam di kantong tersebut, selain juga memastikan agar koin dan jam tetap pada kantung.

Seven Belt Loops
Kita biasa menggunakan sabuk sebagai pengencang sebuah jeans. Pada umumnya sebuah jeans menggunakan 5 buah belt loop untuk menahan sabuk pada tempatnya, namun 5 belt loop dirasa kurang dan sabuk masih bisa bergerak bebas. Pada awal rilisnya produk Wrangler, Wrangler mulai mengeluarkan jeans dengan 7 buah belt loop yang ditujukan untuk memastikan sabuk anda untuk tetap pada tempatnya dan jeans menjadi makin fit di tubuh penggunanya.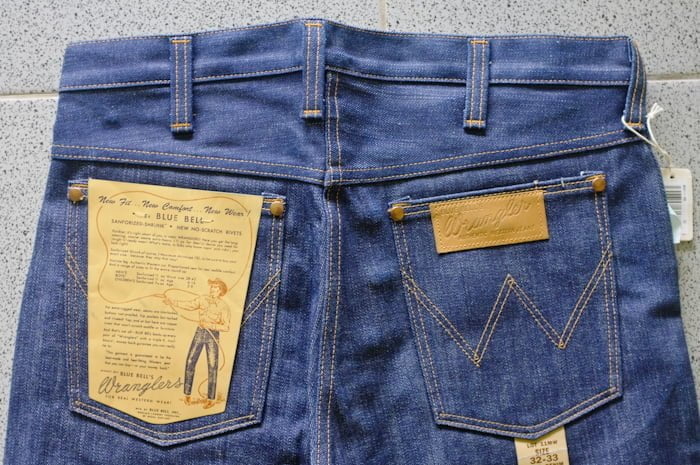 "W" Stitching
Backpocket stitching atau dikenal juga sebagai arcuate, merupakan salah satu cara dari produsen jeans untuk menandai dan membuat branding pada jeans mereka, selain untuk memastikan keaslian produknya. Wrangler juga menempatkan stitching khusus di backpocketnya dengan bentuk "W" sesuai dengan nama mereka, Wrangler. Selain W stitching, Wrangler juga menggunakan reinforced lining di backpocketnya.

Rope Logo
Logo Wrangler merupakan sebuah logo yang terbentuk dari ilustrasi tali tambang. Tali tambang merupakan lambang rugged dan toughness yang identik juga dengan outdoor. Logo tali ini melambangkan kekuatan Wrangler untuk dipakai sehari-hari pada aktivitas lapangan.
PS: Bahas juga detail-detail Wrangler lainnya di forum.
——————————————————————————————————-
We have already reviewed quite a lot of Wrangler products, starting from the Blue Bell USA
products to Blue Bell Japan products. On those products we can find some characteristic of Wrangler Blue Bell. From the use of an ergonomic pocket watch designed by Rodeo Ben, to the use of 7 belt loops that is quite unique, different from the
usual jeans that are only using 5 pieces of belt loop. In this article, we will try to explain
those details.
Leather Patch
Leather patch is one of the most visible and most distinguish detail from one product to
another. Sometimes there are some jeans products that do not have leather patch, but this
detail is the detail that makes a product unique and apparently also sought after by jeans
enthusiasts. Leather patch with its unique design adds the attractiveness of a jeans
product.
Wrangler have an unique design in their leather patch, starting from the placing to the
leather patch design. When others jeans are more conventional and put a leather patch on
waistband (either left or right), Wrangler put their leather patch on the right rear pocket.
The size of the leather patch that Wrangler used is also smaller than the leather
patch on the other brands. the leather patch design are made of genuine and artificial
leather (in some products) and have a Wrangler logo, either embossed or printed.
Felled Seam
This is one detail that distinguishes the Wrangler with other brands, especially in the
construction of the leg. We often see vintage jeans usually have an outseam with the open
seam construction which is usually decorated with Selvage line. On the Wrangler product,
we rarely see the open seam on the outseam, but they use the double felled seam on
both of the seam. The use of double felled seam on both the seam at the leg part gives
a vintage and rugged look in addition to providing power to the seam stitching.
The use of two pieces of thread color also gives a sleek look on the seam.
Flat-top Rivet
Rivet is the hardware that defines jeans. Jeans without a rivet is arguably not a jeans and
did not bring the spirit of vintage jeans. Rivet on Wrangler products found in places that
are considered to be the stress points such as the ends of the back pockets and front ends
of the bag. Rivet used by Wrangler is a flat-top type, where the top is a flat and smooth
surface. This type of rivet is intended to avoid things like the possibility of
unwanted friction and scratching to the surface of the sofa, saddle, and others.
Ergonomic Pocket Watch
The watch pocket on Wrangler products designed by Rodeo Ben, a famous tailor in his time,
particularly among the rodeo riders and cowboys. The watch pocket on the Wrangler is
located in the right pocket and has a much deeper hole than the other brands. In addition to
the curved shape makes it more ergonomic for users to insert their hands and put a coin or
a clock in the bag, but also ensure that the coins and the clock remains in the bag.
Seven Belt Loops
We usually use a belt to fasten our jeans. In general, a jeans use 5 pieces belt loop to hold
the belt in place, but 5 belt loops isn't enough and belt can still move freely. In the initial
release of Wrangler products, Wrangler began to issue jeans with a 7 pieces belt loop
intended to make sure your belt to remain in place and the jeans become more fit in the
user's body.
"W" Stitching
Backpocket stitching also known as the arcuate, is one way of jeans manufacturer to
mark and make the branding on their jeans, in addition to ensuring the authenticity of its
products. Wrangler also put the special stitching in their backpocket, the special stitching
form of "W" in accordance with their name, Wrangler. In addition to W stitching, Wrangler
also used reinforced lining in their backpocket.
Rope Logo
Wrangler logo is a logo that is formed from a rope illustration. Rope is a symbol of rugged
and toughness which also synonymous with outdoor. This rope logo symbolizes the strength
of Wrangler product for everyday wear on the field activities.