Koleksi Blue Bell kali ini memang lebih bervariasi dalam segi warna, sebut saja Blue Bell berwarna khaki dan juga Blue Bell berwarna merah yang cukup mencolok, selain tentunya signature style Blue Bell berwarna indigo. Produk Blue Bell yang akan kita ulas kali ini adalah Blue Bell Eddy Black jeans yang sudah diberikan proses rinsed dan sedikit worn out effect.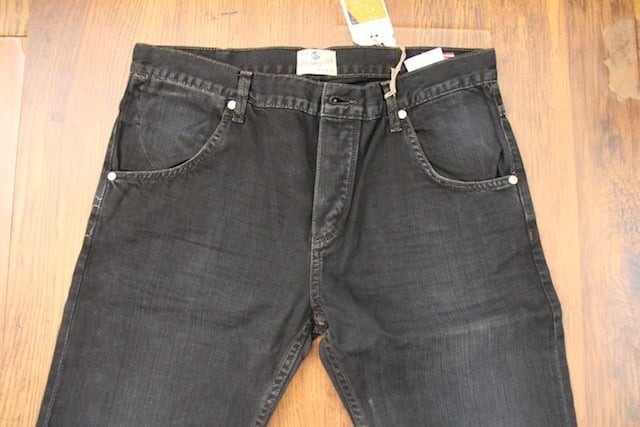 Jika kita lihat tampilan keseluruhan dari jeans ini, kita bisa melihat bahwa kesan klasik dari jeans ini tidaklah hilang. Masih dengan detail-detail khas Wrangler terlebih dengan W stitch di backpocket. Warna jeans hitam yang terbuat dari redline selvage black denim dan terlihat  sudah agak faded juga membuat tampilan keseluruhannya menarik. Jeans ini terlihat sudah cukup worn out dan kami senang melihat jeans hitam dengan efek-efek worn out sedikit keabu-abuan. Tampilan worn out juga bisa terlihat lebih mencolok di beberapa bagian seperti coin pocket, seam, dan juga bagian paha. Sementara para denim head mungkin akan sangat menyukai ropping effect yang terlihat sexy dan terbentuk di bagian hem.




Dari segi detail, kita tidak perlu menjelaskan lagi panjang lebar mengenai jeans Wrangler. Semua fitur-fitur dan detail khas Blue Bell masih bisa kita temukan disini seperti W stitch, ergonomic watch pocket,  7 belt loops sampai ke penggunaan bentuk kantong yang nyaman. Rivet dan top button masih menggunakan material yang sama yang menyerupai silver dan berwarna tentunya perak. Jeans ini menggunakan button fly yang menggunakan button dengan logo khas Blue Bell. Detail-detail lain juga hampir sama dengan jeans-jeans khas Blue Bell Made In USA lainnya, seperti waistband label dan label model.
Jeans ini akan sangat menarik bagi para pencari jeans hitam yang menginginkan sebuah black jeans yang sudah terlihat worn out.





———————————————————————————————–
The newest Blue Bell collections are actually really varied in terms of color, as we can see in the previously reviewed brown colored Blue Bell and also the striking red colored Blue Bell Eddy, of course not to forget the iconic indigo colored jeans. This time we're going to review a black colored Blue Bell Eddy with a bit of rinsed and washed effect.
From the overall looks of the jeans, the classic details and vintage looks is still there. Still with the iconic Wrangler details such as the striking W stitch on backpocket. The redline selvage black denim is already looking a bit faded here and there, adding to the overal worn out feel of the jeans. Honestly, we are pretty much interested in a greyish black faded jeans like this one has. Some of the jeans part are having a more contrast fading like the coin pocket, seams, and also the lap. Denim heads would probably like the hem part the most, as the sexy ropping effect can be seen formed solidly in this part.
In terms of details, we don't need to introduced all of the iconic Wrangler details anymore as you probably already know it. All the features and details from Blue Bell made In USA can still be found in the jeans such as the W stitch, ergonomic watch pocket, 7 belt loops and a really comfortable slant type pocket. The rivets and top button still using the same silvery material as in the other collection. This jeans is using button fly with a silver branded Blue Bell button. This jeans will most likely appeal to those with a  fetish to black denim and specifically to those searching for a faded black jeans.