Populer dengan Natural Indigo yang digunakan pada Denimnya, Zipang merupakan top of the line dari produk jeans Kapital. Satu hal yang tak boleh terlewatkan dalam mengulas pair ini adalah denim dan dye source-nya. Diproses dengan Skein dyeing menggunakan Bushu-Ai dye of Saitama, yarn yang dihasilkan menjadi berbeda. Bagian inti yarn pada umumnya tidak terwarnai oleh proses dyeing yang dilakukan, sedangkan pada jeans, yarn ini terwarnai sampai ke bagian dalam (core). Yarn ini yang dinamakan Indigo No. 3 Yarn, dan digunakan pada TH Zipang.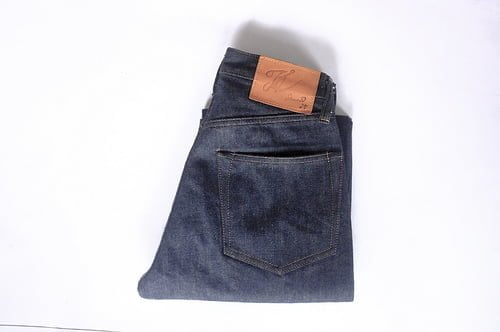 Tekstur denimnya cenderung "padat", mengingat denim ini ditenun dengan antique shuttle loom, serta memiliki karakter yang sangat stubborn dan warna yang agak streaky, sama halnya dengan Jeans natural indigo kebanyakan. Hal lain yang menarik adalah, creases yang terbentuk nantinya tidaklah sekuat jeans pada umumnya. "Less honeycombing and whiskering", said them who had it for years.
Dari segi konstruksi, Zipang memiliki konstruksi 5 pocket jeans pada umumnya. Needless to say, the construction is pretty much flawless. Adapun detail-detail kecil yang diaplikasikan terlihat pada stitching di konstruksi coin pocket, serta pada backpocket installationnya. "Triangle" stitch pada sudut stitching, detail yang juga diaplikasikan pada 45rpm dan Double Volante yang secara pribadi sangat saya sukai.


Cuttingan pocket bag yang digunakan lebih roomy, lebih mudah dalam menyimpan atau mengambil barang. Cuttingan backpocketnya pun juga sedikit lebih lebar jika dibandingkan dengan jeans pada umumnya.

Perlu diingat, jeans yang saya dapat ini merupakan Zipang rilisan lama, berbeda dengan Zipang yang release pada tahun-tahun belakangan. Jeans ini menggunakan plain rivets, dan button fly yang digunakan bukanlah donut button seperti yang digunakan pada Zipang tahun-tahun yang lebih baru. Selain hardwarenya, Zipang yang satu ini memiliki silhouette yang cenderung lebih loose, namun tidak pada waistnya. Waistnya berukuran lebih kecil jika dibandingkan dengan Zipang tahun belakangan.
Beberapa sumber mengatakan bahwa Kapital sempat bertanggung jawab atas produksi jeans 45rpm, dan yang diproduksi adalah produk-produk terbaik mereka.
TH Zipang dipackaged dengan wooden box menggunakan paulownia wood, dengan harapan dapat bertahan selama-lamanya seperti Kimono. Namun kerugian bagi saya untuk tidak mendapatkan packaging tersebut. Found this pair on the auction and the seller didn't have any box, quite a shame. But a pair of these for only 5000 JPY, it is for me a great bargain.





Spec :

– 14oz Japanese selvage Denim, OW
– Zimbabwe Cotton
– Natural Indigo dyed *(with the traditional Saitama based Bushu-ai dyeing technique)
– Goatskin leather patch
– Hidden rivets
– Peek-a-boo Selvage on coin pocket
– Button Fly
– High rise, Straight tappered cut
Berikut adalah measurement dari pair ini.
waist – 68cm/26.8″
thigh – 28.5cm/11.2″
leg opening – 20cm/7.9″
front rise – 27.5cm/10.8″
back rise – 37.5cm/14.8″
knee – 21.5cm/8.5″
Mengingat ukuran waistnya yang true to tagged size, adalah hal yang lebih baik untuk mengambil TTS pada pair seperti ini. Namun untuk zipang yang release tahun-tahun belakangan, saya rasa butuh rekomendasi langsung mengenai sizing dari mereka yang memilikinya.
Review ini dibuat oleh Romaine