Setelah kita mereview Lee 101B 1936 sebelumnya, kita akan mencoba mereview sebuah produk dari Lee Japan yang memiliki kemiripan dan desain yang sangat dekat dengan model 1936, yaitu Lee 101B 1939. Ketika kita menerima kedua produk ini, kami langsung membandingkannya dan ternyata detail yang ada pada kedua jeans sangat dekat, hanya ada beberapa perbedaan saja seperti button, bahan denim, dan leather patch. Jeans ini tetap merupakan sebuah repro dari model Lee 101B pada sekitar tahun 1939 dan masih memiliki elemen vintage seperti cinchback dan juga crotch rivet.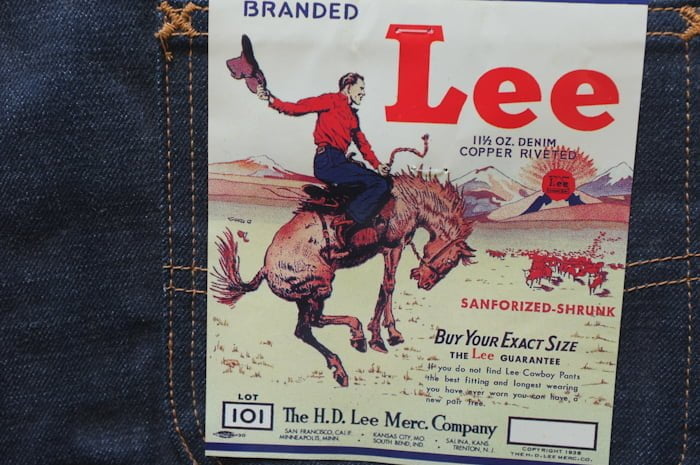 Button pada model 1939, button yang digunakan untuk top button dan button fly berbeda dengan yang dipakai di model sebelumnya. Model ini sudah memiliki tulisan "Lee Cowboy" pada top buttonnya, sementara button untuk flynya menggunakan plain button berwarna kekuningan.




Leather patch pada model ini juga hampir sama dengan leather patch pada model 1936, yaitu Hair-on-hide. Namun yang membuat jeans ini lebih unik dari segi leather patch adalah penggunaan hair-on-hide yang sangat berbeda satu item dengan yang lain. Tampaknya hair-on-hide pada patch ini menggunakan kulit dari cattle yang bermotif, misalnya hitam putih atau coklat putih sehingga menjadikan patch yang satu ini unik dan berbeda. Sementara pada model 1936, hair-on-hide yang digunakan umumnya berwarna coklat saja.

Jeans ini masih memiliki ciri khas vintage jeans dengan cinchbacknya di bagian belakang yang memiliki desain yang sama dengan model pendahulunya. Sementara itu untuk memperkuat bagian crotch dan fly, dipasangkanlah sebuah rivet yang menjadi ciri khas jeans-jeans vintage dari Lee 101.



Konstruksi jahitan pada jeans model ini juga hampir sama dengan model sebelumnya yaitu menggunakan triple stitching pada seat dan yoke, namun pada bagian waistband tidak terlihat lagi jahitan rantai kedua di bagian atas waistband. Selain itu pada inseam, model ini tetap menggunakan doublefelled seam yang umum digunakan pada jeans Lee 101.


Jeans ini dibuat dengan bahan denim yang juga mirip dengan model 1936. Yang membedakannya adalah pada model ini, weft yang digunakan untuk denimnya adalah weft yang berwarna keabu-abuan. Dari informasi yang didapat dari satu sumber, weft berwarna abu-abu ini digunakan untuk membuat jeans ini seakan-akan tidak cepat kotor akan debu dan kotoran lainnya. Ada juga sumber yang mengatakan selain untuk menjaga agar tidak kotor, sebenarnya warna abu-abu pada weft ini juga akan memberikan efek fading yang lebih menarik ketika sudah fade nantinya. Denim ini sama juga terbuat dari 11,5oz indigo denim dan karena memakai weft berwarna abu-abu, maka tampilan denimnya lebih gelap dari pendahulunya. Menurut kami, warna denim pada model ini terlihat kurang vintage jika dibandingkan dengan 2 model sebelumnya, namun memiliki karakter warna yang unik dan menarik.


PS: Bahas juga produk ini dan produk-produk Lee lainnya di forum
———————————————————————————————————–
We've reviewed Lee 101B 1936 on our previous article, this time we are reviewing a Lee Japan's product which has a very close resemblance and design with the 1936 model, namely Lee 101B 1939. We immediately compare both products when we received them, apparently both jeans have a very close detail, there are few difference only such as on the buttons, denim materials, and the leather patch. The jeans is still a repro from the Lee 101B model from around 1939, and still had that vintage elements such as chincback and also crotch rivet.
The buttons  used for top button and button fly in this model are different with the one used on the previous model. This model has a "Lee Cowboy" written on the top button, while the button fly used a yellow-ish plain button.
The leather patch on this model also similar with the one on the 1936 model, which is Hair-on-hide. Yet what made this jeans's leather patch more unique is the the hair-on-hide, which is unique and different from one items to another. Looks like the hair-on-side on the patch is using the leather from a patterned cattle, for example black-white or brown-white, resulting a unique and different patch. While on the 1936 model, the color of the hair-on-side that is used is mostly brown.
This jeans still has vintage characteristics with a chinchback on the back side which has a same design with the previous model. To reinforce the crotch and fly, there's a rivet which is the characteristic of  the vintage jeans from Lee 101. The stitch constructions on this model also resemblance the previous model, which use triple stitching on the seat and yoke, however on the waistband there's no more second chain stitch appear on the top of the waistband. The inseam of this model still used a doublefelled seam that is commonly used on Lee 101 jeans.
This jeans use similar denim that's been used in the 1936 model. The difference are the weft used on this model are a grayish weft. From what we've found from a source around the internet, the grayish weft are used to keep the jeans in a way looks not really dirty, which caused by dust and any other dirt. Other source informed us that besides to keep the jeans from getting dirty, the gray color of this jeans actually will gave more interesting fading effects when its faded. This denim also made from the 11,5 oz indigo denim which the use of the grey weft had made this denim looks darker than the previous model. In our opinion, the color of this denim looks less vintage, compared to the two previous model, however this denim has a unique and interesting character of color.