Selama ini kita banyak mereview produk denim yang berupa jeans dan celana, namun kali ini kita berkesempatan untuk mereview sebuah jaket jeans dari Blue Bell yang bernama Trevor. Jaket ini memiliki desain dan detail yang menurut kami cukup vintage dan tentunya memiliki ciri khas yang dibawa Wrangler Blue Bell, seperti yang bisa kita lihat pada bagian kantongnya. Jaket ini juga memiliki washed color yang menurut kami cukup autentik dan tidak dibuat-buat sehingga memberikan jaket ini nuansa vintage yang kental.
Jaket ini memiliki desain layaknya jaket-jaket jeans yang didesain untuk koboi pada jamannya. Di bagian depan, jaket ini memiliki 4 buah kantong. Di bagian dada, terdapat 2 buah kantong dengan desain kantong bergaya western khas Wrangler dan dilengkapi dengan flap yang ditutup dengan button. Tidak lupa, jahitan logo "W" juga diaplikasikan pada kantong bagian dada. Pada bagian perut, terdapat 2 buah kantong dengan bukaan miring yang memudahkan kita untuk memasukkan tangan ke dalamnya. Jika kita buka jaket ini, maka kita akan menemukan 2 buah kantong di bagian dalamnya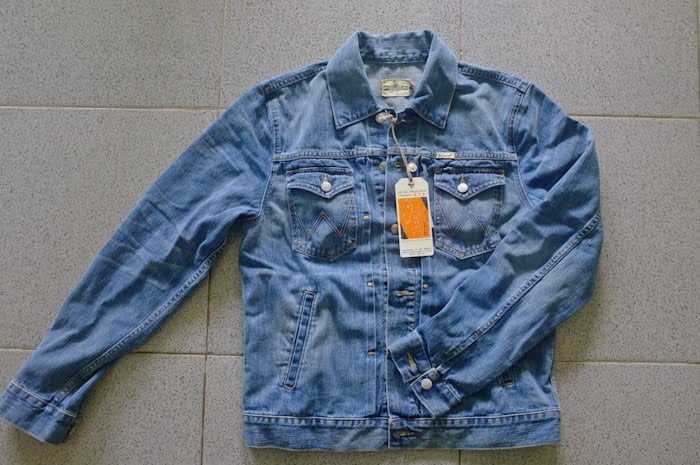 Jaket jeans ini dibuat dengan menggunakan bahan indigo denim dengan tenunan broken twill. Tenunan broken twill yang menjadi ciri khas Wrangler Blue Bell ini dapat langsung terlihat jika kita membuka jaket ini. Di bagian leher terdapat sebuah size tag dengan logo Wrangler dan secarik tag bermotif bendera Amerika. Blue Bell memang ingin mengusung Made In U.S.A. pada produk-produknya.


Hal yang kami suka pada jaket ini adalah desainnya yang bisa dibilang stay true to heritage dan jaket ini benar-benar memiliki nuansa vintage yang kental. Kita bisa lihat dari desain yang cukup tradisional dan tentunya dari warna washed yang sangat menarik. Menurut kami, washed color pada jaket ini merupakan salah satu yang paling baik yang pernah kami lihat. Kita bisa melihat crease di bagian lengan yang tampak natural dan tidak berlebihan. Selain itu, fading pada bagian lainnya juga terlihat natural. Warna keseluruhan yang ditawarkan oleh jaket jeans ini tentunya warna yang vintage dan cocok untuk yang sedang mencari sebuah jaket yang cocok untuk dipadukan dengan khaki chino ataupun olive pants. Jika anda ingin bergaya full cowboy style, jaket ini juga akan sangat cocok dipadukan dengan jeans Wrangler Blue Bell lainnya.




PS: bahas juga produk-produk Blue Bell lainnya di forum
———————————————————————————————————
We have reviewed many denim products such as jeans and pants so far, but this time we had the opportunity to review a denim jacket from Blue Bell called Trevor. In our opinion  this jacket has a vintage design and detail, it also has Wrangler Blue Bell characteristic, as we can see on the pocket. This jacket also has a washed color that we think quite authentic  and uncontrived, which gave the jacket a strong vintage look.
The design of this jacket looks like denim jacket which is designed for the cowboys on that era. This jacket has 4 pockets on the front side. On the chest area, there are 2 pockets with typical Wrangler western-style design, which comes with a flap that is fastened with a button. Not to forget, the "W" stitch logo is also applied on the chest pocket. On the lower part, there are 2 pockets with slanted opening that allow us to easily put our hands into it. We can also find 2 more pockets at the inside of the jacket.This denim jacket is made using indigo denim fabrics with broken twill weave. The broken twill weave which is the characteristic of Wrangler Blue Bell can immediately be seen when we open the jacket. On the neck area there is a size tag with Wrangler logo and a USA flag tag. Blue Bell surely want to expose Made in U.S.A sign on all of their products.
The aspect we like the most from this jacket is the design, which can be said are staying true to heritage, and this jacket actually have a strong vintage feel. This can be seen from its fairly traditional design and certainly from its very interesting washed color. In our opinion, the washed color on this jacket is one of the best and more natural we've ever seen. We can see from the crease in the arm that looks very natural and not overly done. In addition, the fading in the other parts also looks very natural. Overall the color offered in the jacket is certainly a vintage color and suitable for anyone who are looking for a denim jacket that suits with olive or khaki chino pants. If you want to have a full cowboy style, this denim jacket will also looks perfect with any other Wrangler Blue Bell jeans.
PS: You can also discuss about other Blue Bell products in forum