Blue Bell Wrangler merupakan salah satu brand paling tua dan legendaris sebagai produsen denim di dunia. Sejak tahun 1910an, Blue Bell sudah menyediakan produk-produk denim dan workwear yang handal bagi para pekerja dan para rodeo champion di jamannya. Hingga kini nama Blue Bell Wrangler sendiri sangat erat hubungannya dengan rodeo dan style Americana pada umumnya. Mari kita lihat bagaimana Blue Bell membangun sejarahnya hingga kini.
1904
C.C. Hudson menutup workshop pertamanya kemudian membeli beberapa mesin jahit, menyewa tempat di tengah kota dan membuat Hudson Overall Company. Pada umur 27 dia membuka pabrik pertamanya dan dalam 10 tahun Hudson menghasilkan jutaan dollar. Firmanya menghasilkan workwear yang dipakai di industri besi, pertanian dan lainnya.
1919
Blue Bell Overall Company membuka pabrik pertamanya di sudut South Elm Street. Legenda menyebutkan bahwa sekelompok pekerja rel kereta api yang sering membeli overall dari Hudson memeberikan C.C. Hudson sebuah bel yang disimpan di pabrik dan berubah menjadi biru karena debu dari denim, sehingga lahirlah nama Blue Bell.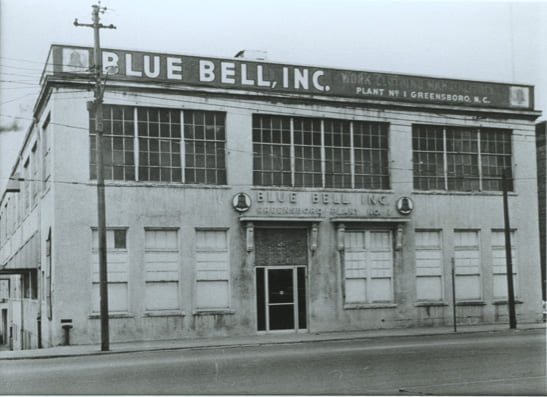 1936
Blue Bell melakukan merging dengan Jelico Clothing Company dan Big Ben menjadi besar di tahun 30an sebagai pencipta "Work and Play Clothes" terbesar di dunia. Blue Bell kemudian meluncurkan Super Big Ben Overalls yang terbuat dari 100% sanforized fabric dan menciptakan standar baru di industrinya.
1943
Pada tahun 40an Blue Bell memproduksi lebih dari 21,6 jt garmen untuk pasukan bersenjata Amerika. Blue Bell kemudian juga membeli Casey Jones Work-Clothes Company dan memiliki hak atas nama merek Wrangler. Melalui pembelian dan merger yang sukses, pada tahun 40an, Blue Bell memegang brand portfolio terbesar di dunia.

1945
Blue Bell memperkenalkan qualitag yang disisipkan di setiap garmen, memberikan pembeli instruksi perawatan dan juga garansi uang kembali. Qualitag memiliki bentuk yang berbeda tergantung dari line dan targetnya. Sebagai contoh, sebuah qualitag pada tahun 1948 ditujukan untuk seluruh anggota keluarga yang berbentuk komik featuring Jim Shoulders.
1946
Blue Bell mulai mendevelop jeans bagi para koboi dengan menyewa tailor terkenal Rodeo Ben. Para pekerja Blue Bell ikut andil dalam menentukan nama brand bagi jeans ini dan terpilihlah nama Wrangler yang dekat hubungannya dengan dunia koboi.

1947
Setelah mendevelop dan melakukan desain pada 13 pasang jeans prototipe, Blue Bell mengeluarkan Wrangler 13MWZ bagi konsumen di Amerika. Promo launching dilakukan dengan mengundang para legenda rodeo seperti Freckles Brown, Bill Linderman dan Jim Shoulders.
1986
Blue Bell melakukan merger dengan VF Corporation dari Pennsylvania, sembari menciptakan basis bagi kesuksesan global Wrangler sebagai sebuah brand.
2009
Blue Bell dirilis kembali di bawah brand Wrangler yang memfokuskan diri pada autentisitas dan craftmanship yang dibawa ke desain yang progresif dan modern. Blue Bell menggabungkan heritage yang kaya dengan modern cut dan wash, menggunakan metode produksi yang autentik sekaligus menunjukkan desain yang bagus.
———————————————————————————————————-
1904
Hudson's workplace closed. He and a few others buy several of the sewing machines, lease space above a downtown grocery store and incorporate as the Hudson Overall Company. At age 27 he opened the first factory.Within ten yearsThe Hudson's had a million dollar turnover. The firm produced workwear, worn in the steel industry, farming etc
1919
The business builds its first factory on the corner of South Elm Street and changes its name to Blue Bell Overall Company. Legend has it that a group of railroad workers who bought overalls at the Hudson store gave C.C. Hudson a bell, and after spending time in the factory, the bell – like everything else – became covered in blue denim dust, hence "Blue Bell".
1936
Blue Bell merge with Jelico Clothing Company and Big Ben and becomes later in the 30's the worlds Biggest manufacturer of "Work and Play Clothes". Blue Bell launched Super Big Ben Overalls, made out of 100% Sanforized Fabric that reduces shrinkage after washing to less than 1%. this sets a new standard for the industry.
1943
Blue Bell produce in the 40's over 21,600,000 garments for the American armed services. The equivalent of 2 pieces of clothing for each service man from the Army to the Navy. Blue Bell acquires the Casey Jones Work-Clothes Company and the rights to a rarely used Casey Jones brand name: Wrangler. Through other successful acquisitions and mergers, Blue Bell holds in the 40's the world biggest brand portfolio
1945
Blue bell introduced the "qualitag" , a small booklet accompanying each garment, giving the buyer care instructions and a money back guarantee. The Qualitag came in a variety of forms, depending on the line and the Target. For example the wrangler tags were introduced in 1948 and were meant to appeal to the whole family in the form of Comic booklets featuring Jim Shoulders. These can fetch as much as 300$ by collectors.
1946
Blue Bell starts to develop a jeans line for cowboys, hiring famous tailor Rodeo Ben. Blue Bell workers take part in a contest to give the jeans a brand name. The winning name is Wrangler, synonymous with the name for a working cowboy.
1947
After designing and testing 13 pairs of prototype jeans, Blue Bell introduces the Wrangler 13MWZ to American consumers. A promo campaign is launched featuring 13MWZ test riders and rodeo legends Freckles Brown, Bill Linderman and Jim Shoulders
1986
Blue Bell merges with the VF Corporation of Pennsylvania, preparing the ground for the global success of the Wrangler brand.
2009
Blue Bell relaunched under the Wrangler brand, Blue Bell prides itself in maintaining its authentic respect for craftmanship as it is propelled into a new age of progressive cuts and washes.
Blue Bell Combines Wrangler's rich heritage with modern cuts and washes, using authentic manufacturing methods while also demonstrating the best in contemporary and cutting edge denim design