Mungkin brand yang satu ini belum banyak didengar oleh para pecinta denim di Indonesia, tetapi sebenarnya brand ini sudah lumayan lama berkecimpung di dunia denim semenjak 1995. Kapital Jeans menurut kami adalah salah satu brand yang memiliki kualitas tinggi tetapi masih kurang terapresiasi. Kapital sendiri bukan hanya memfokuskan diri di produk jeans-nya, tetapi mereka juga memproduksi american casual clothing yang berkualitas tinggi layaknya 45rpm, Eternal ataupun Sunny Sports dan Orslow. Beberapa saat lalu 2 kontributor setia kami di forum berkesempatan untuk memboyong 2 buah jeans Kapital terbaru dan berbaik hati untuk berbagi info dan tentunya berbagi foto-foto jeans tersebut sekaligus kami mencoba memperkenalkan brand ini sebagai alternatif brand jeans lainnya.
Sedikit latar belakang dari brand ini sebelum kita beranjak ke jeans-nya. Kapital Brand didirikan oleh Toshikiyo Hirata pada awalnya bernama Capital Co, sekitar tahun 1985, sementara brand Kapital baru dipasarkan setelah Hirata awalnya membangun perusahaan garmen tahun 1985 dan kemudian Kapital pun dipasarkan pada kisaran tahun  1995. Seperti dugaan para pembaca (kami harap) bahwa Kapital merupakan salah satu brand yang berasal dari mana lagi selain Okayama, The Holy Land of Denim. Jeans pertama yang dibuat oleh Hirata adalah "aizome" natural indigo dyed jeans yang dinamakan TH (kepanjangan namanya, Toshikiyo Hirata). Produk yang sekarang bernama Kapital TH Zipang adalah top of the line dari produk jeans mereka yang  memiliki kotak packaging istimewa yang terbuat dari pohon paulownia dan dijual seharga 39,900 yen.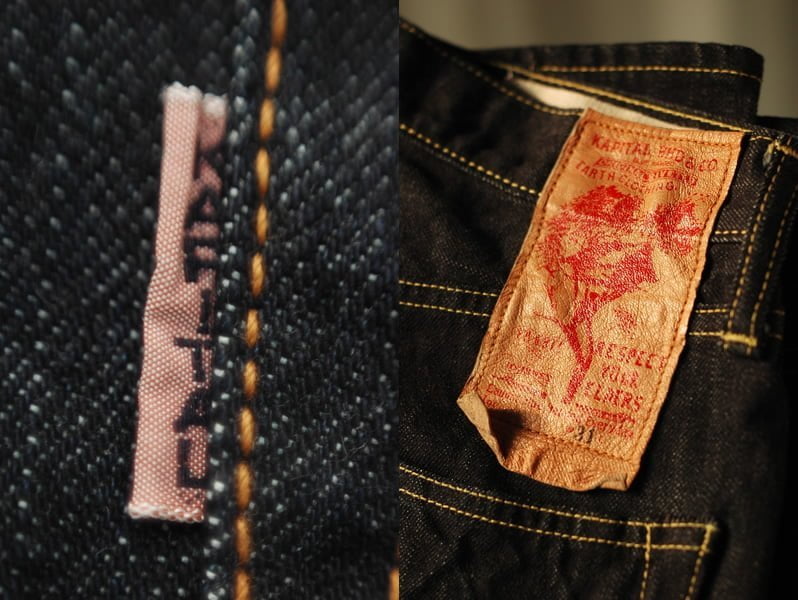 Kontributor kami memboyong 2 buah jeans dari Kapital yang cukup ramah harganya, kisaran 13,000 yen yang tampaknya cocok dengan kantong kita yang kering karena krisis finansial akhir-akhir ini. 2 tipe jeans tersebut adalah Kapital Cisco dan Kapital Stone. Yang membedakan satu dengan lainnya adalah bahan yang digunakan (khususnya pewarnanya) dan cuttingnya. Kedua buah model yang diboyong ini menggunakan 14oz sanforized denim dan tidak selvage, salah satu faktor yang membuat harganya cukup terjangkau. Walaupun tidak dibuat dengan selvage fabric, fabric yang ditawarkan tetap mempunyai tekstur yang unik dan menarik.


Seperti halnya Eternal, model yang ditawarkan pada jeans ini cukup simpel tanpa detail-detail yang overkill. Hal yang agak nyeleneh adalah leather patchnya yang cukup panjang dibandingkan dengan jeans lainnya. Detail yang ditawarkan oleh kedua jeans yang terjangkau ini juga tidak kalah dengan jeans yang lebih mahal. Kedua jeans ini memiliki zipper fly dari Kapital. Hal yang menarik dari detail yang ditawarkan adalah rusted button yang dieksekusi dengan baik. Perbedaan dalam hal cutting dan fitting yaitu Cisco memiliki cutting yang bisa dibilang slim-straight sementara Stone cenderung lebih slim dari Cisco. Bisa dilihat dari perbandingan fit pic di bawah ini.


Setelah melihat kedua jeans tersebut, kami sangat puas dengan apa yang ditawarkan Kapital pada level harga di bawah 15,000 yen. Jeans ini bisa dijadikan alternatif bagi yang berbudget sekitar 1-1,5 jt rupiah untuk sepasang jeans. Jika kita bandingkan harga dan  kualitas yang diusung oleh kedua jeans ini, maka menurut kami jeans ini really worth the money dan tentunya tidak membuat kantong jebol. Jeans ini tentunya bisa jadi alternatif bagi yang ingin mengkoleksi jeans jepang yang jarang beredar di forum atau bisa juga membeli top of the line-nya Kapital seperti TH Zipang.
NB: Terima kasih kepada Eca dan Lucas atas kontribusinya, dan jangan lupa saksikan "denim battle" antara Eca dan Lucas dengan Kapital mereka di sini.
All photos by Lucas Stephen