Pada tahun 1945, Blue Bell pertama kali mengeluarkan Qualitag yang berfungsi sebagai media branding Blue Bell yang mengutamakan kualitas dan juga jaminan bagi para pemakainya. Sebuah qualitag biasanya diisi dengan  informasi mengenai produk, care guide, dan juga semacam garansi uang kembali untuk para pembeli. Pada tahun 1948, Blue Bell mengeluarkan Qualitag untuk brand mereka Wrangler dalam bentuk sebuah booklet yang berisi comic strip dan illustrasi dan menampilkan pengunggang rodeo yang terkenal pada jamannya.
Kita mendapatkan sebuah qualitag dari Wrangler. Qualitag ini berisi comic strip yang menampilkan salah satu penunggang rodeo terkenal yaitu Toots Mansfield. Di comic strip ini, diceritakan kehidupan sehari-hari Toots Manfield sebagai seorang penunggang rodeo. Selain itu terdapat juga informasi-informasi mengenai Wrangler dan produk-produknya yang diilustrasikan juga dalam bentuk komik.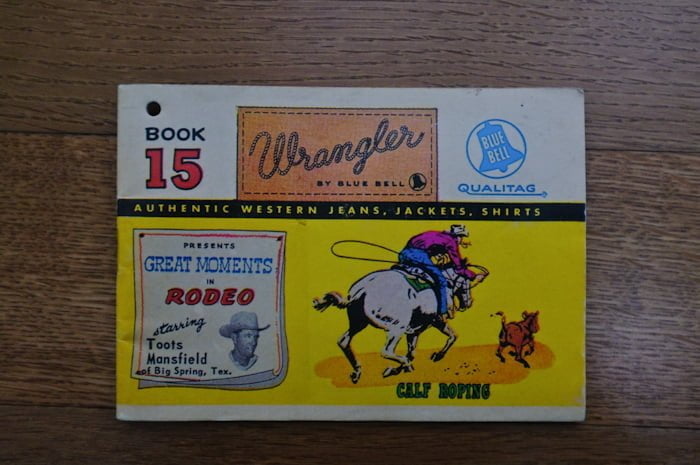 ——————————————————————————————————
In 1945, Blue Bell issued the first Qualitag that serves as a Blue Bell media branding to put quality and assurance for the users. A qualitag usually filled with information about the product, care guide, and also sort of a money back guarantee for buyers. In 1948, Blue Bell issued Qualitag for their brand Wrangler in the form of a booklet containing illustrations and comic strips and featuring famous rodeo rider in his time.
We have the chance to get a qualitag from Wrangler. This qualitag contains comic strip featuring a famous rodeo rider Toots Mansfield.  The daily life of Toots Manfield as a rodeo rider was told and illustrated in this comic strip. In addition there is also information on the Wrangler and its products are also illustrated in comic book form.