Beberapa saat lalu kami sempat bertukar email dan pertanyaan dengan Taichi Arakawa dari DenimProject, sebuah brand denim kecil di Jepang yang memfokuskan diri pada reproduksi jeans-jeans khususnya Levi's. DenimProject sendiri berawal dari beberapa orang yang berkumpul di 2ch, sebuah forum online besar di Jepang, dan sepakat untuk mencoba membuat replika jeans Levi's. Kami selalu suka cerita sebuah brand denim yang berawal dari bertemunya beberapa orang di sebuah online forum, maka dari itu kita mencoba mengkontek DenimProject dan menanyakan beberapa hal mengenai projek mereka.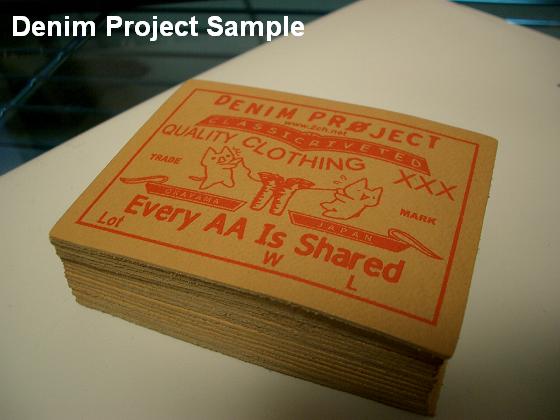 Bagaimana awal kalian memulai DenimProject? Kami dengar semuanya berawal dari 2ch?
Benar sekali. Kami berawal dari 2ch dan membahas mengenai jeans dan akhirnya sepakat untuk mencoba membuat replika jeans Levi's
Apa yang menjadi alasan utama kamu membuat DenimProject ini?
Hanya karena ketertarikan terhadap denim saja. Kita berpikir, apakah kita bisa membuat denim sendiri? Apakah khususnya kita bisa membuat denim seperti Levi's? Setelah itu, langsung saja kita mencoba membuat denim sendiri untuk mengecek apakah kita mampu untuk membuatnya.


Kalau dilihat sepertinya Denim Project sangat erat dengan Levi's 501. Apakah sebelumnya Anda memiliki pengalaman dengan vintage denim? Khususnya Levis 501?
Sebetulnya, saya punya beberapa stok vintage Levi's. Sebut saja model 1947-XX, 501ZXX (501 dengan zipper), dan juga model 66. Padahal sebelumnya, ketika saya masih remaja, saya sama sekali tidak tertarik pada klasik denim seperti Levi's dan Lee. Baru sekarang ketika replika jeans booming di Jepang, ketertarikan saya akan vintage denim berkembang.
Ada alasan mengapa Levi's 501 sebagai inspirasi utama?
Menurut saya, 501 XX adalah awal dari semuanya, bisa dibilang the origin of them all. Jadi saya pikir, saya juga selayaknya mengikuti sejarah 501.


Bisakah dijelaskan sedikit mengenai koleksi produk-produk anda?
Tentu saja. Saat ini koleksi kami terdiri dari standard 501 model yaitu D01XX model yang terinspirasi dari model 1947, D66 model dengan detail yang akurat, serta model D01ZXX yang menggunakan Talon zipper. Semua standard denim ini menggunakan bahan unsanforized selvage denim dari Okayama. Tetapi kita bisa juga membuat jeans dengan bahan Cone Mills.
Apakah ada rencana produk-produk baru lainnya?
Tentu. Kita akan mencoba mengeluarkan sebuah denim jaket, mudah-mudahan dalam waktu dekat ini. Jaket ini terinspirasi dari model 507XX yang biasa disebut 2nd type. Jaket ini akan kita namakan D07XX. Untuk rencana ke depannya lagi, mungkin belum ada sekarang ini, namun saya ingin sekali mencoba membuat model WW II suatu saat nanti.


Bagaimana menurut anda produk denim anda sendiri saat ini?
Menurut saya produk saya masih terlalu sempit dan terkesan membosankan. Namun saya bisa melihat harapan lebih untuk ke depannya, semuanya tergantung kita sendiri.
Denim favorit anda?
Sejujurnya saya suka semua produk denim, karena denim benar-benar membuat saya excited. Mungkin salah satu favorit saya Levi's 501.
Ada pesan-pesan bagi para denim lover?
Hello, This is DenimProject from Japan. Kita baru saja mengeluarkan replika produk di Jepang, mudah-mudahan kalian menyukainya!