Sepertinya kita sudah tau bahwa salah satu moderator di forum kita sudah tidak bisa menyembunyikan rahasia pembelian jeans barunya. Untungnya jeans pembelian barunya merupakan salah satu jeans yang bagus yaitu Eternal. Akhir-akhir ini kita sering sekali mendengar kata-kata Okayama dan Kojima yang terkenal akan produksi denim-denimnya yang mantap. Eternal merupakan salah satu jeans yang dengan terang-terangan mempromosikan prefektur Okayama sebagai artisan pembuat denimnya (Lihat gambar pocket flasher). Eternal 883 menggunakan denim no.1 yang Eternal punya, sama dengan denim yang digunakan pada model yang paling terkenal yaitu 811, model 864 dan juga model baru seperti 884.
Para pembaca Denim Buyers Guide juga tentu sudah melihat penampakan awal pada model baru Eternal yaitu 883 dan 884 dan beberapa pre-distressed model baru dari mereka. Eternal sendiri bukan hanya memproduksi jeans-jeans yang handal tetapi juga memproduksi garmen dan apparel lain seperti kemeja, t-shirt, trousers, dsb. Jika kita lihat pada detil apparel dan jeans-nya kita bisa lihat bahwa Eternal bukan lah brand work wear repro, melainkan brand american casual pada umumnya, mungkin bisa disejajarkan bersama 45rpm, Sunny Sports ataupun Kapital.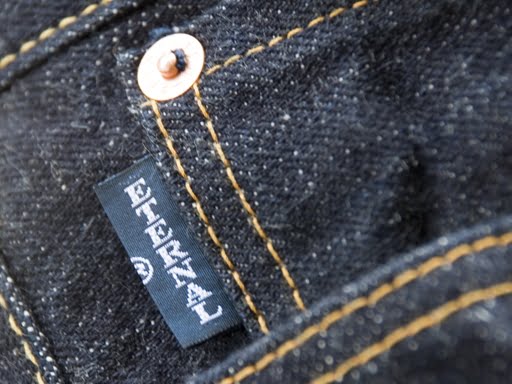 Eternal 883 merupakan model yang cukup modern, lebih modern dibandingkan model pendahulunya yaitu 811. Model 883 mengambil basis siluet 811 yang merupakan refined 1966 cut dengan proporsi yang lebih slim tentunya. Pada model 883, bagian leg opening tampak lebih tappered dari 811, dengan ini bisa diambil kesimpulan bahwa cut 883 lebih modern dari 811.
Eternal adalah salah satu denim yang bisa kita sebut sebagai denim nerds stealth jeans. Detail yang ditawarkan Eternal nyaris tidak tampak sama sekali dari luar. Tanpa backpocket arcuate, redline selvage pada umumnya, tanpa red tab, ordinary button dan tanpa detil-detil gimik lain. Yang menjadi tawaran utama Eternal adalah denim-nya, tidak perlu gimik lain yang membuat harga bengkak. In the end, it's all about the denim.



Tidak bisa kami pungkiri bahwa Eternal adalah salah satu brand jeans yang layak difavoritkan. Walaupun detil yang ditawarkan sangat standar, sederhana dan bersahaja, namun dibalik semua itu denim yang digunakan adalah salah satu denim dengan tekstur dan karakteristik yang unik dan tidak dimiliki brand lain. Selain itu, sifat stealthy yang ditawarkan Eternal menurut saya menjadi hal menarik bagi para denim nerds yang tidak mau orang lain tahu jeans apa  yang dia pakai. Model 883 ini kami rekomendasikan menjadi salah satu best buy di tahun 2010 ini dengan harga di bawah brand-brand jepang lain yaitu di sekitaran 19.000 yen. Rekomendasi pula bagi yang menginginkan sebuah jeans slim fit yang handal dengan harga yang lebih terjangkau dibanding brand jepang lain. Atau bagi yang sudah bosan dengan jeans-jeans slim fit jepang yang sudah banyak beredar di Indonesia.





Thanks to jojoddicted for the pics and enjoy the jeans