ONI Denim. Dari namanya saja udah terdengar seram. Bukan seram karena kayak nama pemeran tuyul di serial TV Tuyul dan Mbak Yul ya, namun karena bila diartikan ke bahasa Inggris, ONI adalah iblis. Kalo ONI-chan beda lagi ok tolong jangan sampai salah.
Sesuai namanya, jeans ini sadis, jahat, panas. Tapi not in a bad way, ya. Gw yakin para denim head justru suka karakteristik seperti ini pada jeans mereka. Yuk mari kita kulik lebih dalam seperti apa sih jeans ONI Denim seri 585XX ini. Mohon diingat bahwa review ini tidak akan terlalu bersifat teknikal, tapi lebih ke apa yang gw lihat, rasakan dan alami. Biar beda aja gitu sama peserta lain. Bebek sama kuda. Beda.
ONI Denim seri 585XX ini dibuat dengan 16.05oz low tension selvedge denim dengan uneven thread, tentunya 100% katun dan dihiasi dengan selvedge berwarna merah dan putih. XX pada namanya merupakan singakatan dari Extra Exceed, yang berarti bahwa jeans ini dibuat dengan denim yang paling berkualitas dari repertoar mereka. Bisa dilihat dari teksurnya yang sangat kasar, slubby dan neppy; karakter yang muncul setelah denim ini diberikan tempi treatment. Uniknya lagi, jeans ini sangat lembut dan masih bisa dibilang termasuk nyaman untuk dikenakan.
Celana ini hadir dengan semi tight straight cut, yang menurut gw kibul nih alias jangan terlena dan tertipu ya. Di kaki gw jatuhnya cukup straight. Mungkin karena itu dikasih embel-embel semi kali ya. Buat kalian mau cari fit yang slim straight, bisa coba seri yang lain karena gw sangat tidak menyarankan untuk downsize. Untuk gambaran kasar, gw pakai size 32 dengan TB/BB 177/70. Di pinggang pas, di paha cukup roomy, inseam tentunya agak kepanjangan tapi nggak papa tinggal di-hem habis perkara.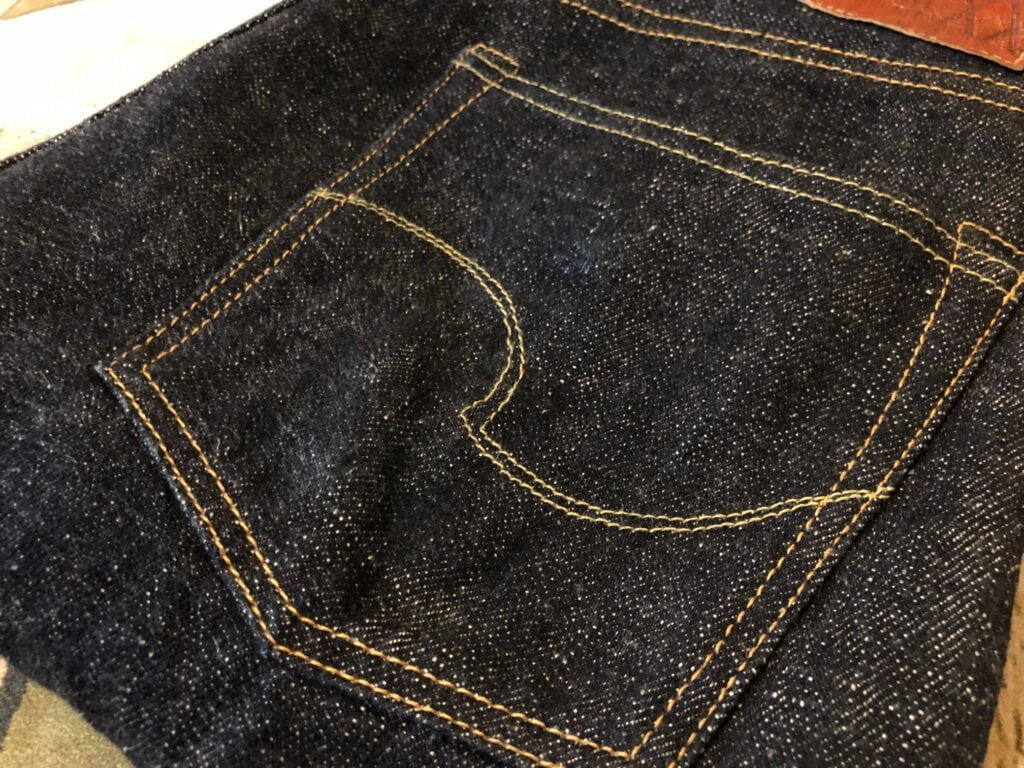 Detil lainnya yang menarik untuk disimak adalah arcuate-nya yang gw pribadi kurang suka. Gw tidak menemukan hubungan antara ONI dan bentuk arcuate ini. Mungkin gw yang kurang ngulik dan ignorant, tapi kalo kalian tahu plis kasih tau gw ya.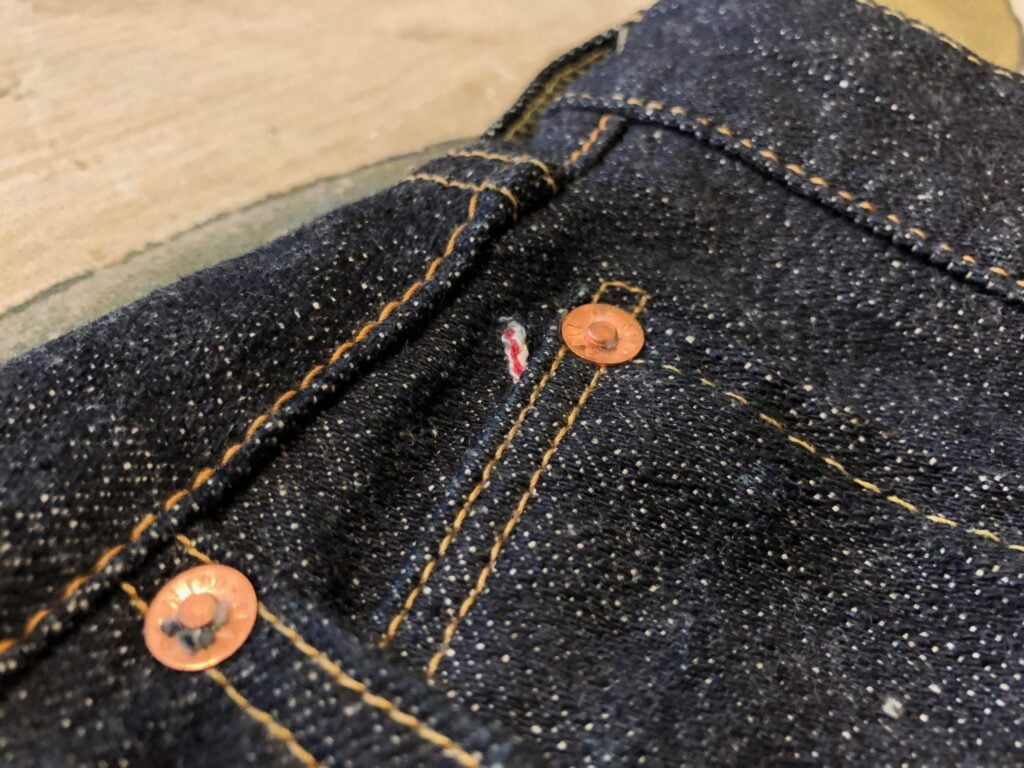 Peek-a-boo selvedge line di coin pocket.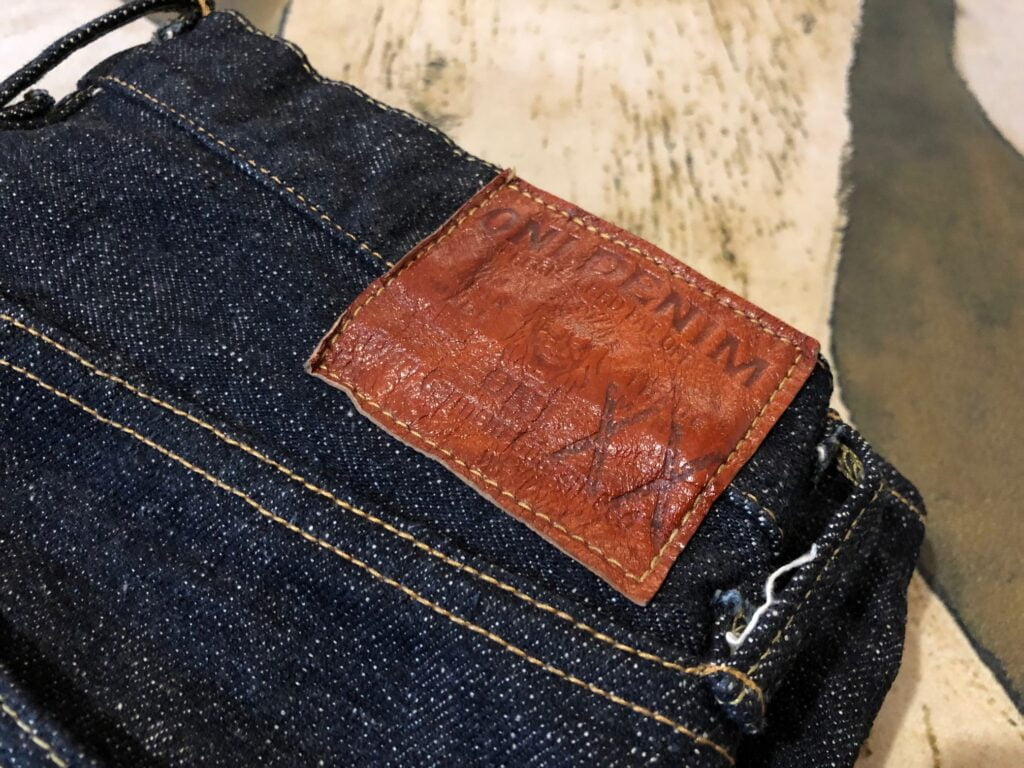 Lalu tentunya leather patch-nya yang terbuat dari kulit domba. Bisa dilihat ada muka iblisnya di sini, yang sebenernya sama aja kaya ngaca alias sama jeleknya kayak muka gw hehe. Lalu ada LOT, W dan L yang dibiarkan kosong. Penempatan XX yang terkesan ngasal sih gw suka banget. Break the rulez brah, ngga perlu rapi-rapi. Namanya juga iblis, tuhan aja dilawan apalagi aturan estetika.
Lalu untuk hardware, tentunya menggunakan signature ONI Denim engraved doughtnut button dan juga punched rivet berwarna copper. Dari rivet-nya mencul serabut-serabut bahannya, gw lupa apa nih istilahnya, tapi keren lah pokoknya. Salah satu bacolnya anak denim nusantara. Oh sama hidden rivet untuk backpocket biar tidak menggores apapun yang kalian duduki.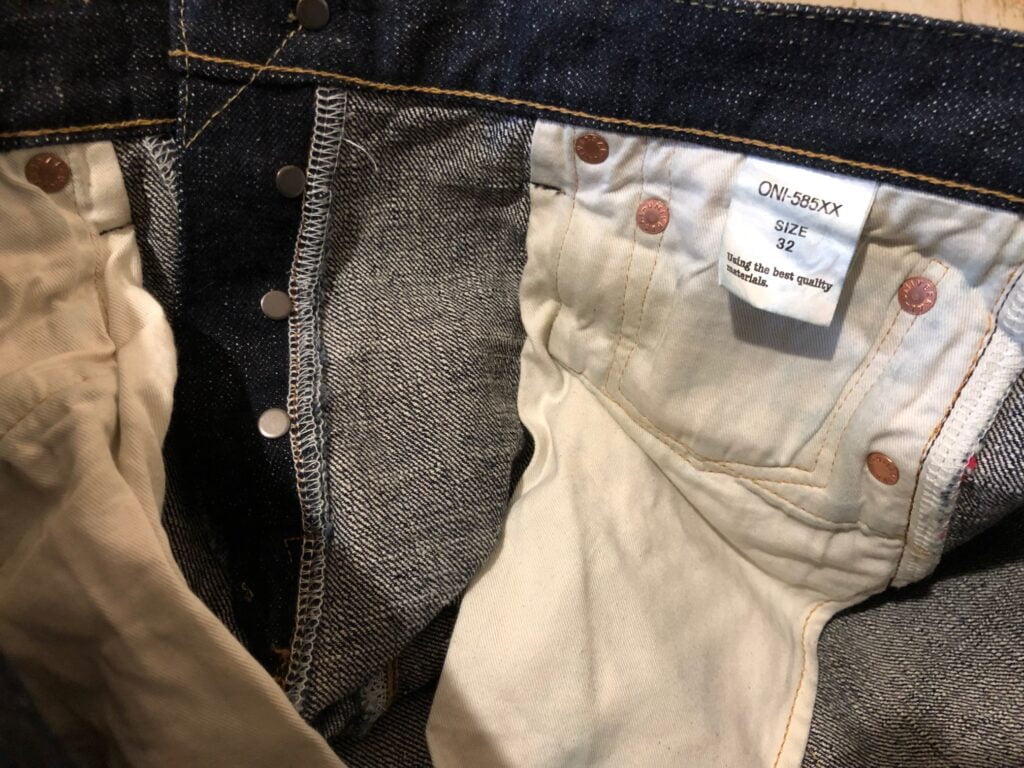 Bagian dalam jeans ini cukup polos, hanya ada rayon label di bagian waistband dan penanda size. Bagian Fly hanya diobras, pocket bag pun tidak dihiasi apapun.
Gw udah pakai celana ini baru beberapa kali, karena WFH juga ya jadi emang lebih sering pake kolor. Tapi selama pemakaian, gw merasa jeans ini masih termasuk nyaman untuk dipakai tapi cukup berasa anget. Selain karena Jakarta memang lagi panas kemarin-kemarin ini ditambah lagi karena denim yang digunakan cukup "rapat".
Terus karena pandemi ini juga, jeans gw udah gw rendam walau hanya beberapa kali pemakaian. Setengah jam direndam air panas bikin jeans ini shrink lumayan banyak. Sekali lagi gw ingatkan, tidak gw sarankan untuk downsize ok.
Jeans ini bisa didapatkan di website Denimio dengan harga Rp3,263,118. Jangan lupa login dan gunakan kode "JEANDB" untuk mendapatkan diskon 10% untuk pembelian pertama di website Denimio. Dukung gw untuk menangin The Great Denim Battle semudah spam like dan comment di Instagram gw untuk mendapatkan hadiah menarik pada akhir periode kontes. Jangan lupa juga suskrep di twitch.tv/jeanbannon ok, adios.