Beberapa waktu lalu, mimin sempet ngeliat cuitan di Twitter yang cukup rame dapetin atensi warganet. Berikut cuitannya:
Reply-nya sih kebanyakan lucu-lucu dan cukup relate dengan kita, sampe ada reply kaya gini:
Abis baca cuitan ini, mimin baru sadar kalo sarapan pake bakmie itu ternyata masih belom umum dijumpai di luar Jakarta ya?! Hal ini cukup menarik untuk dikulik. Kira-kira ada alasan spesifik kenapa bakmie populer di pagi hari gak ya?
Untuk itu, mimin udah ngumpulin beberapa alasan kenapa budaya sarapan pake bakmie ini menjamur di Jakarta!
---
Comfort Food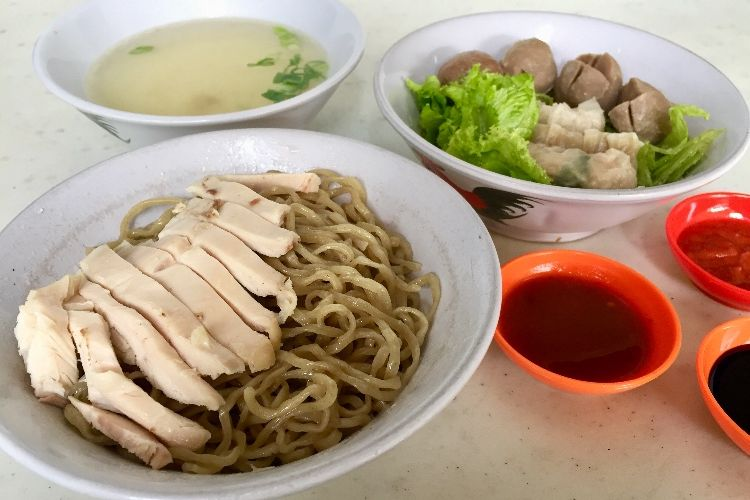 Alasan pertama bakmie menjadi pilihan sarapan orang karena bakmie masuk ke dalam kategori comfort food. Apaan tuh comfort food bang Messi?

Sebuah artikel yang diterbitkan tahun 2017, International Journal of Gastronomy and Food Science mendefinisikan comfort food. Mereka mendefinisikan comfort food sebagai makanan yang memberikan penghiburan atau perasaan sejahtera, terutama kenyamanan emosional yang ditingkatkan oleh indra perasa, peraba, dan penciuman. Di Jakarta sendiri, terdapat sebuah dinasti bakmi yang merupakan silsilah dari Mie Ayam Istimewa yang didirikan di tahun 1960 di Petojo. Singkat cerita, mereka menutup usahanya dan diteruskan oleh keturunannya dan menjadi sebuah dinasti.
Karena kehadirannya yang sudah cukup lama dan bukanya pagi hari, menjadikannya sebagai tempat sarapan comfort food.
Gak Bisa Makan Nasi

Banyak orang yang menghindari nasi sebagai menu sarapannya, karena beranggapan makan nasi itu too much. Karena banyak orang yang berpikiran seperti itu membuat bakmie menjadi opsi populer menu sarapan orang. Hal ini bisa jadi tercipta karena stigma mie yang jadi makanan sampingan aja kali yaa, bukan primary food.
Padahal, seporsi bakmie juga memiliki kandungan nutrisi yang mirip saat kalian makan nasi?!
Semakin Tersembunyi, Semakin Enak (?)

Sejak pandemi berlangsung, tren bersepeda kembali meningkat dan menciptakan sebuah kegiatan baru bernama GOCAPAN alias GOwes CAri saraPAN dan Tur De Gang menyusuri jalan-jalan kecil sebagai alternatif rekreasi. Kegiatan tersebut merupakan salah dua hal inovasi yang membuat aktivitas gowes kalian semakin seru. Selain bisa mengeksplorasi daerah di sekitar kita, kegiatan ini juga menjadi ajang eksplorasi kuliner yang mungkin belum sempat terjamah. Hal ini juga sejalan dengan frasa hidden gem yang kian populer sekarang ini.
Pada LLG lalu, kami bersama warga Discord DB melakukan hunting foto mengeksplorasi daerah Glodok. Sehabis kelar, kami mengunjungi tempat bakmie yang tersembunyi alias tempat humble kalo kata anak sekarang, Bakmi Ahong! Tempat ini merupakan definisi "Makin tersembunyi, makin enak" karena menyajikan cita rasa menawan di tempat yang bisa kalian liat sendiri foto di atas.
Simak keseruan lengkap LLG di sini!
Rekomendasi Bakmi Pilihan Warga DB!

Terbukti, bakmie merupakan sajian yang digemari banyak orang. Kami sempat membuat jajak pendapat soal bakmie favorit warga di Discord kami. Hasilnya, kami cukup banyak mendapat referensi baru dan menarik yang bisa dicoba!

Cek selengkapnya di sini!
---
Intinya, dengan menjamurnya tempat makan bakmie yang buka di pagi hari membuat budaya sarapan bakmie menjadi kian populer di Jakarta.
Btw, kami berencana untuk eksplorasi kuliner bareng warga Discord DB. Tertarik? Mimin saranin buruan deh join Discord Darahkubiru buat dapetin info terbaru seputar aktivasi DB, fashion & lifestyle update, dan berinteraksi bareng sobat DB lainnya!