Kembali lagi kita akan mengulas mengenai kemeja dari Lee 101 dimana kita sudah pernah membahas mengenai kemeja Lee 101 berbentuk Western Shirt berbahan denim. Kali ini kita kembali akan membahas kemeja western dari Lee 101 namun dengan bahan chambray yang sangat menarik. Salah satu daya tarik dari kemeja ini selain tampilannya yang terlihat vintage dan cowboy-ish, juga bahan yang digunakan untuk kemeja ini sangatlah unik.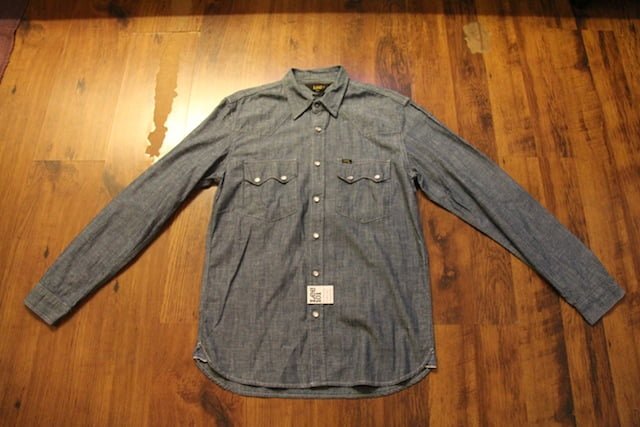 Tampilan keseluruhan dari western shirt ini tampak tidak asing bagi kami, terutama setelah kita pernah melihat western shirt keluaran Lee 101 yang pernah kita review sebelumnya. Terdapat 2 buah sawtooth pockets di bagian dada dan juga terdapat sebuah desain pundak yang terlihat menarik. Button yang digunakan untuk bagian kerah adalah button cat's eye hitam yang juga digunakan untuk kemeja Lee lainnya. Sementara itu kita bisa melihat pilihan pearl snap button digunakan di bagian-bagian seperti placket, kantong dan juga cuff.





Bahan yang digunakan pada kemeja ini merupakan hal yang paling menarik di kemeja ini. Bahan chambray yang digunakan memiliki tekstur slubby yang sangat unik dan dilengkapi dengan warna biru muda yang bagus. Untuk bagian gusset, tampaknya kemeja ini menggunakan bahan selvage yang berbeda dengan bahan utama dari kemejanya. Kemeja ini akan sangat cocok bagi anda yang mencari sebuah kemeja western yang masih terlihat baru.


———————————————————————————————
We're going to review another western shirt from Lee, previously we have reviewed another Western shirt from Lee which is made from denim. This time, the western shirt is made from a really interesting chambray fabric. One of the most prominent feature this shirt has is the fabric and also the vintage cowboy-ish looks.
The overall looks of this shirt is pretty similar to those made with denim, the previous one we reviewed. There are 2 sawtooth type chest pockets with pearl snap button and also a clean shoulder design. The button used on the collar is a general black cat's eye button used on other Lee shirt. Pearl snap button is used mostly in this shirt such as in placket, the sawtooth pockets and also the cuff.
The most interesting part from this shirt is of course the fabric. The chambray fabric used has this kind of super slubby texture which is pretty unique and also has this light blue colored, a typical of chambray fabric used for workshirt. For the gusset, this shirt use a different blue selvage chambray from the main fabric use for the shirt, a less slubby fabric. This shirt will look fantastic for people who search for a unique western shirt to go along with their vintage Lee jeans.