Setelah Blue Bell Matt Dry yang cukup menarik perhatian, kini kami kedatangan varian dari Blue Bell Matt yang merupakan versi washednya. Versi washed ini juga tidak kalah menarik karena menampilkan jeans yang belum sepenuhnya worn in dan warna birunya masih seperti menyala dan siap untuk kembali di break in. Versi ini juga memiliki detail yang hampir sama dengan versi dry-nya.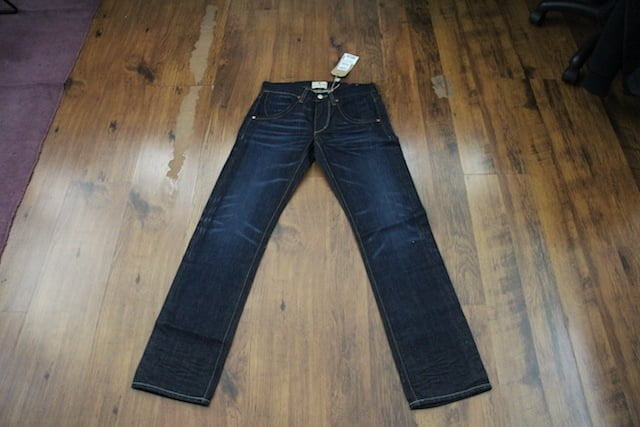 Jika kita lihat dari keseluruhan warna pada jeans ini, jeans ini masih menawarkan warna yang cukup gelap dan belum terlihat sangat worn in seperti versi-versi washed dari Blue Bell sebelumnya. Hanya pada beberapa tempat saja kita bisa melihat garis-garis fading yang terlihat lebih terang dan kontras, seperti pada bagian whiskers dan belakang lutut. Selain itu kita bisa melihat warna fading kebiru-biruan di bagian paha. Fading kebiru-biruan macam ini bisa kita lihat umumnya pada jeans-jeans yang masih setengah worn in atau mungkin dipakai dalam jangka waktu sekitar 4-5 bulan. Mungkin jeans ini ingin membuat efek worn out yang seperti itu, sehingga user bisa kembali melanjutkan memakai jeans ini untuk di break lagi.




Untuk urusan bahan, jeans ini masih memakai bahan red line selvage denim yang sama dengan versi dry-nya. Seperti sudah kita jelaskan, bahwa bahan yang dipakai masih memiliki warna yang cukup gelap untuk kembali di break. Detail yang diusung oleh jeans ini juga sama dengan versi dry-nya. Kita masih bisa melihat label-label khas Blue Bell Made In USA di bagian waistband.
Sementara itu untuk hardwarenya tampaknya jeans ini juga menggunakan high quality hardware yang biasa dipakai oleh Blue Bell made In USA seperti YKK Zipper berwarna keperakkan, top button dengan logo Blue Bell dan juga rivet dengan tulisan Made In USA. Jeans ini akan sangat cocok bagi yang sedang mencari jeans washed tapi tidak terlalu washed out, sehingga masih terlihat gelap.



———————————————————————————————
We've come up with another Blue Bell Matt which is a variant from the last one we reviewed before. This washed version of Blue Bell Matt looks pretty interesting in terms of fade color and details. We can still see they retain their dark colors and ready to be worn again to achieve more fading. In terms of details, this version holds the same manner as the dry version.
If we see from the overall looks and color hue, this jeans still got that dark color like in dry jeans and not looking too worn out like the other washed version from Blue Bell. In particular places we can see lines of creases and fades such as the whiskers and also back of the knee. An electric blue-ish fading color can also be seen in the lap and from this kind of blue color we can assume that this jeans wants to reproduce the fading in a 4-5 months old jeans.
The material used in this jeans is pretty much the same redline selvage denim used in the dry version. This denim still retains and holds its dark color and ready to be broken in again by its wearer. The detail is pretty much the same details featured in the dry version like the waistband label and model label.
We can still see the high quality hardware usually used in Blue Bell Made In USA products such as the YKK zipper, top button with Blue Bell logo and also a silvery rivet with Made In USA engraving on top. This jeans will appeal to those who are searching for a dark colored washed jeans and not too washed out version of Blue Bell jeans.