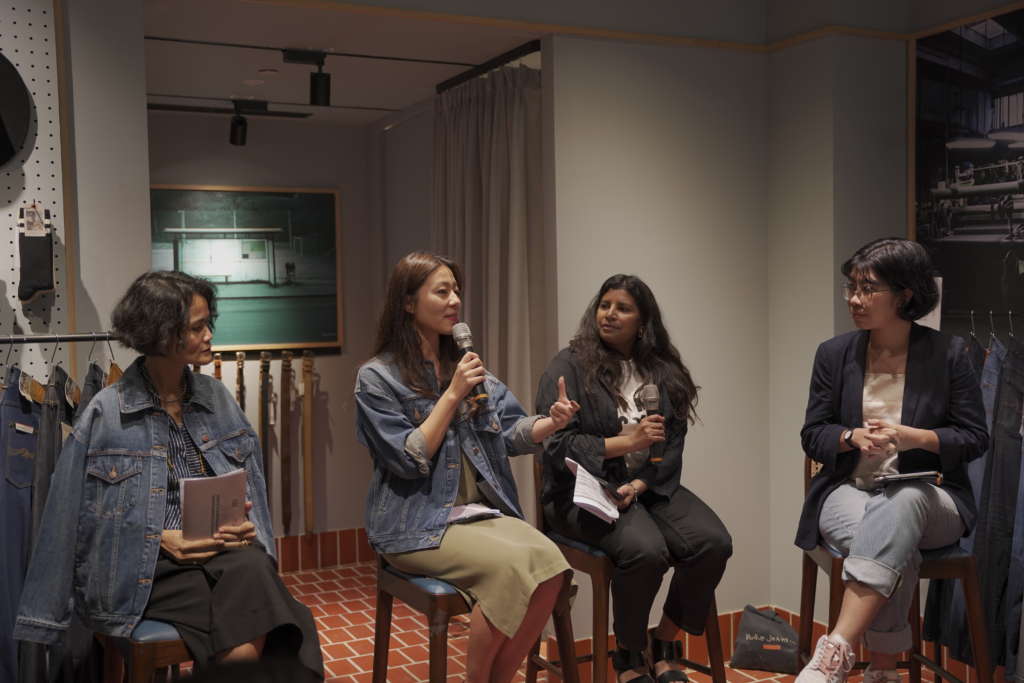 Brand denim asal Swedia yaitu Nudie Jeans, baru-baru ini mengadakan talkshow inspiratif yang bertema "Conscious Conversation for Sustainable Futures" untuk merayakan hari Bumi yang jatuh pada tanggal 22 April lalu di daerah bilangan Jakarta. Demi membuktikan komitmentnya terhadap perlindungan dan keberlanjutan lingkungan, kali ini Nudie Jeans mengajak IdeaFriends yaitu komunitas IdeaFest, yang rutin membahas mengenai perkembangan dan tantangan terbaru dibidang industri kreatif.
Pada talkshow kemarin, mereka menghadirkan Chief Sustainability Officer Nudie Jeans, Sandya Lang, CEO Liberty Society, Tamara Gondo, dan Pendiri juga sekaligus Direktur Kreatif Sejauh Mata Memandang, Chitra Subyakto sebagai narasumber. Dalam talkshownya, mereka membahas pentingnya upaya berkelanjutan bisnis, khususnya industri kreatif, yang dilakukan sejalan dengan konsep dan nilai-nilai yang diyakini oleh masing-masing brand.

Chief Sustainability Officer Nudie Jeans, Sandya Lang mengatakan, "Talkshow ini sangat penting bagi industri kreatif. Di forum itu, Nudie Jeans membagikan langkah-langkah penting dalam hal berkelanjutan yang dilakukan oleh Nudie Jeans untuk membuat dunia menjadi lebih baik. We still make jeans. It's our passion. But we made the choice to manufacture our product in a fair and ethical way. An opportunity every company is given, but too few take."
Pendiri dan Direktur Kreatif Sejauh Mata Memandang, Chitra Subyakto mengatakan, "Saya senang dan menyambut baik acara ini karena penting bagi semua pihak untuk memiliki pemahaman mengenai isue keberlanjutan. Secara pribadi, saya juga bisa belajar banyak dari teman-teman di dunia usaha yang telah melakukan berbagai inisiasi dan mempraktikkannya di kehidupan sehari-hari untuk mendukung keberlanjutan. Hal ini sejalan dengan semangat Sejauh Mata Memandang usung, yakni dengan berusaha menjadi jenama yang lebih bertanggung jawab dna belajar menjadi bagian dari solusi."
CEO Liberty Society, Tamara Gondo, menyampaikan "Liberty Society bangga bisa berada dalam forum yang inspiratif ini. Kami senantiasa berpartisipasi dalam aktivitas yang mendukung beberapa point dalam Sustainable Development Goals, yaitu zero hunger, gender equality, decent work and economic growth. Melalui produk yang kami hasilkan, kami membantu brand/perusahaan untuk mendukung keberlanjutan baik ke manusia maupun ke lingkungan seperti menyediakan layanan upcyling, dengan menggunakan bahan yang ramah lingkungan dan berkelanjutan, mengurangi penggunaan plastik, dan memanfaatkan sisa bahan untuk pelatihan."

Dalam kesempatan ini, Nudie Jeans juga menyampaikan program donasi pada periode 17 Maret – 23 April 2023 yang penggunaan donasinya akan diserahkan ke Liberty Society. Talkshow inspiratif ini juga dihadirkan oleh para IdeaFriends, dimana para anggotanya dapat berkumpul, bertukar ide dan saling belajar dari satu dan lainnya dalam situasi yang suportif dan kolaboratif.