Perkembangan budaya pop yang sedang terjadi di Korea Selatan tidak hanya berdampak terhadap entertainment industry-nya aja. Kini, mulai banyak fashion brand asal negara tersebut yang merangkak naik dan membangun reputasinya di kancah internasional yang populer dengan sebutan Hallyu.
Hallyu is a Chinese term which, when translated, literally means "Korean Wave". It is a collective term used to refer to the phenomenal growth of Korean culture and popular culture encompassing everything from music, movies, drama to online games and Korean cuisine just to name a few.

Hallyu Definition
Pada artikel kali ini, mimin mau ngasih 6 rekomendasi brand asal Korea Selatan yang menjadi pilihan mimin karena selain built dan quality-nya yang oke, serta desain yang ciamik!
Oke, sung aja simak sampe habis!
---
Ader Error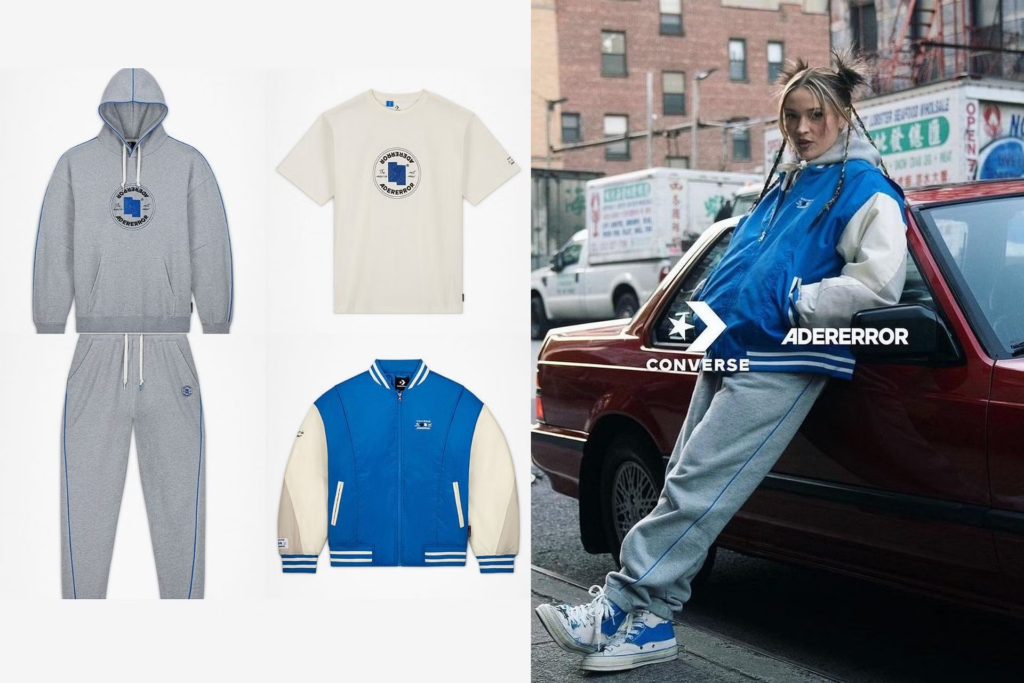 Ader Error adalah brand dari Korea Selatan yang telah berdiri sejak tahun 2014 di Seoul. Nama mereka akhir-akhir ini semakin terdengar di Indonesia, karena sering collabs dengan beberapa brand ternama. Baru-baru ini pun mereka baru saja berkolaborasi dengan Converse berbasis siluet 70's.
Mereka selalu fokus pada filosofi mereka yaitu "This campaign starts from our color Blue which implies meaning of integrity, purity and originality." Dimana semua campaign mereka selalu menggunakan warna ciri khas nya yaitu biru.
Lost Management Cities

Lost Management Cities atau biasa disebut LMC merupakan brand yang terinspirasi oleh kota-kota besar di seluruh dunia. Mereka memberi label unisex karena koleksinya bersifat androgini, yang artinya semua bisa pake.
Desain produk mereka terinspirasi dari pakaian kuliah, desain tattoo, tipografi, arabic text, pola psychedelic dan Victorian's art. Namun, akhir-akhir ini mereka memfokuskan diri di ranah skateboarding, yang terlihat jelas dalam campaign yang mereka bawa hasil kolaborasi dengan Puma dan Palpal Skates di koleksi SS'23 mereka.
Frizmworks

Frizmworks adalah salah satu brand apparel dari Korea Selatan yang bisa disebut sebagai abang-abangan karena sudah berdiri sejak tahun 2010 oleh An Jong Hyuk. Selama 13 tahun ini, mereka mengalami perkembangan yang cukup pesat serta produknya yang mendapat banyak respon positif.
Frizmworks merupakan brand yang mengedepankan unsur minimalis dan fungsional, yang cocok untuk dijadikan dailywear kalian!
Post Archive Faction

Post Archive Faction atau biasa disebut PAF dibentuk oleh co-founder Dongjoon Lim dan Sookyo Jeong pada tahun 2018. Menswear asal Korea Selatan ini menyatukan pakaian olahraga avant-garde dengan gaya futuristik yang unik. Sebuah merek "anti-fashion" ,PAF mengartikulasikan visinya dengan mengaburkan perbedaan antara realitas dan imajinasi, dipadukan dengan cuttingan yang eksperimental.
Bagi kalian yang tertarik dengan arah desain avant-garde ala Rei Kawakubo, brand ini bisa jadi alternatif kalian untuk dikulik!
Eastlogue

Eastlogue adalah sebuah brand dari Korea Selatan yang didirikan pada tahun 2011 dan menjadikannya salah satu brand lama dari rekomendasi kita kali ini setelah Frizmworks, yang punya style yang mirip.
Pada setiap artikel yang mereka rilis, Eastlogue berusaha untuk menyajikan nilai yang teguh dengan integritas yang tinggi. Tujuannya adalah untuk menunjukkan visi mereka yang akan melampaui waktu karena koleksi-koleksi mereka adalah sebuah representasi dari nilai dan sebuah tujuan yang akan berhubungan dengan berbagai generasi dengan estetika yang timeless.
Produk-produk mereka mendapat inspirasi dari pakaian olahraga tradisional, termasuk berburu, memancing, hiking, militer dan lain-lain yang merupakan kegiatan outdoor.
CAYL

CAYL atau singkatan dari Climb As You Love adalah brand yang lahir pada tahun 2011 oleh Euijae Lee. Uniknya, ia tidak memiliki latar belakang dalam industri pakaian atau fashion, ia tergerak karena memiliki hasrat yang besar terhadap alam bebas, baik itu bersepeda, mendaki atau outdoor activity lainnya. Semangat inilah yang membawanya ke titik membuat produk untuk penggunaan pribadinya karena dia tidak dapat menemukan produk yang dia inginkan saat itu di Korea Selatan.
CAYL sendiri mengembangkan dan membuat beberapa produk outdoor yang luar biasa dan mengedepankan soal fungsi dan kepraktisan. Cocok untuk tren gorpcore sekarang ini!
---
Selanjutnya kita kulik brand dari negara mana lagi nih gan?