Kabar baik baru saja datang dari brand footwear asal kota Kembang, Hijack Sandals, pasalnya mereka bakalan menggelar sebuah kolaborasi ciamik bareng Greedy Dust, sebuah label musik industri yang sekaligus dikenal dengan menaungi tiga payung kreatif; art, fashion, dan musik.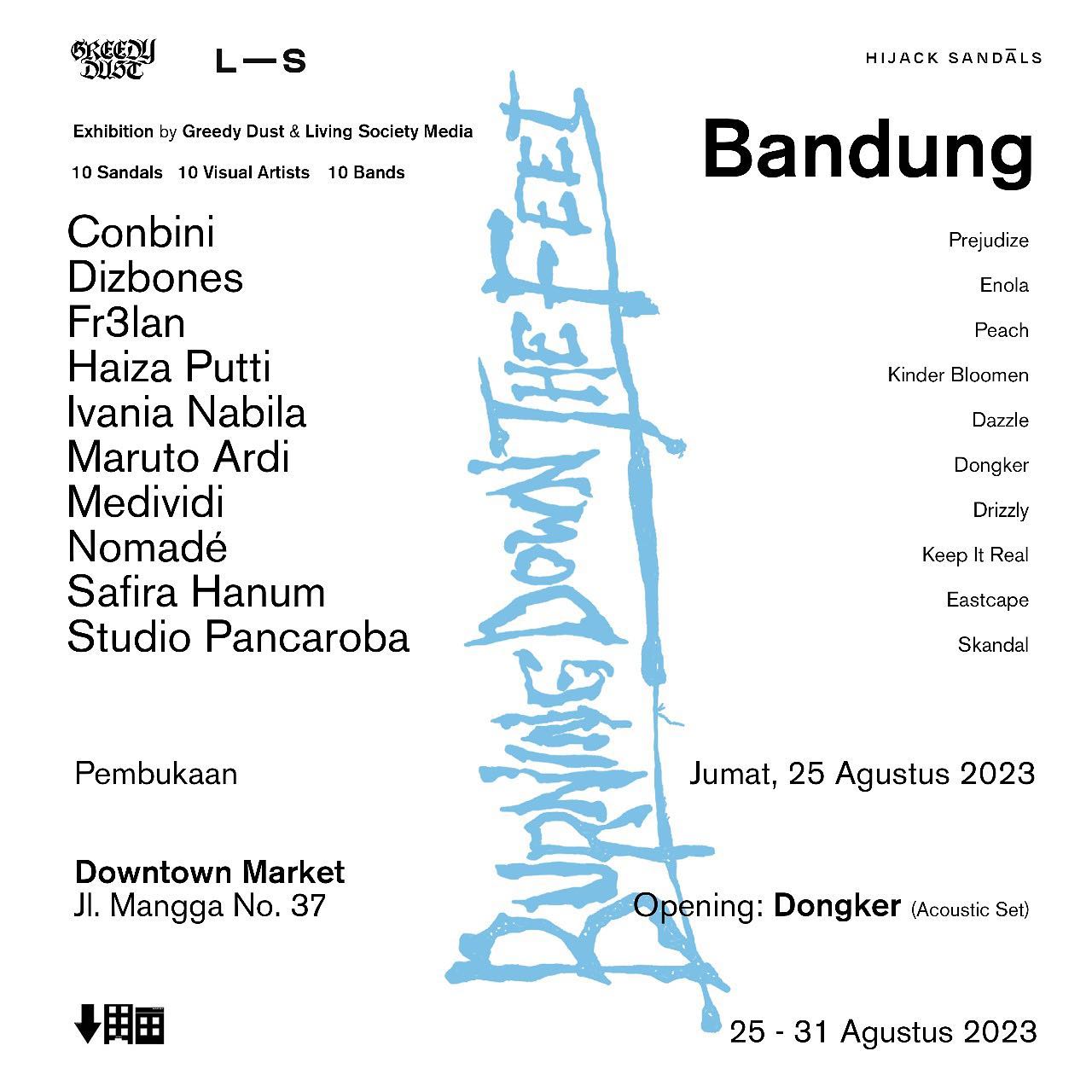 Lewat kolaborasi Hijack Sandals x Greedy Dust kali ini, mereka menggelar sebuah art exhibition dengan tajuk, 'Burning Down The Feet'.
Sekilas tentang Greedy Dust, adalah sebuah label musik yang didirikan di kota Blitar oleh Delpi Suhariyanto pada tahun 2015. Berangkat dari sebuah store clothing di Jalan Veteran Kota Blitar, Greedy Dust berkembang menjadi sebuah records musik yang berhasil menerbitkan beberapa band underground di dalamnya.
Hingga pada akhirnya Greedy Dust memutuskan untuk menutup store clothing-nya di tahun 2018. Nggak hanya dikenal sebagai label musik hardcore, Greedy Dust juga menaungi genre punk. Greedy Dust mulai bekerja sama dengan beberapa band untuk lebih aktif dalam industri musik di Indonesia, mulai talent scouting hingga akhirnya merilis karya, termasuk karya musik berupa rilisan fisik dan digital, juga merchandise, hingga kolaborasi dengan beberapa promotor event untuk mendapat panggung performance.
'Burning Down The Feet' menjadi sebuah exhibition yang cukup ngeri, pasalnya mereka berkolaborasi lewat art exhibition yang menghadirkan sepuluh seniman visual dan sepuluh band yang bakalan meleburkan ide karyanya dalam satu wadah. Antara visual dan musik, Hijack Sandals menjadi sebuah kanvas utama yang bakalan dilukis lewat kolaborasi seniman visual dan band.
Dimulai dari Conbini (Malang) -> Prejudize (Bandung), Dizbones (Malang) -> Enola (Surabaya), Fr3lan (Palu) -> Peach (Medan), Haiza Putti (Jakarta) -> Kinder Bloomen (Jakarta), Ivania Nabila (Yogyakarta) -> Dazzle (Malang), Maruto Ardi (Bandung) -> Dongker (Bandung), Medividi (Bandung) -> Drizzly (Surabaya), Nomadé (Bandung) -> Keep It Real (Malang), Safira Hanum (Bandung) -> Eastcape (Blitar), dan Studio Pancaroba (Bandung) -> Skandal (Yogyakarta).
'Burning Down The Feet' juga bakalan siap digelar dalam tur tiga kota yakni, Bandung, Malang, dan Yogyakarta. Menariknya adalah, di setiap kota lo bisa ngelihat perspektif seni baru yang dihadirkan dari kedua ledakan, kreativitas artist dan juga band itu sendiri. 
Untuk informasi jadwalnya sendiri, 'Burning Down The Feet' bakalan dimulai dari Bandung pada 25-31 Agustus di Downtown Market, Malang pada 9-15 September di Inspired 27, dan Yogyakarta pada 19-24 September di Porta by The Ambarukmo.