Segmen Honest Review kali ini, gua Alfin alias #MINCUY pengen review celana jeans yang baru sebulan dirilis oleh Mihane Jeans yaitu Denimite. Mengutip dari website Mihane Jeans, berikut spesifikasinya:
Slim Straight Cut
18,5oz Sanforized Denim Fabric
Red Line Selvedge ID
Deep Indigo Denim Color
Hidden Riveted
Universal JP Copper Riveted with Mihane Logo Embossed
Mihane Authentic Iron Button 14 and 17mm
Printed Vegtan Leather Patch
Single Peek-a-boo on Coin Pocket
1,4 Inch Waistband – Single Felt on Inseam
Solid Chain Stitch Constructions
FIRST IMPRESSION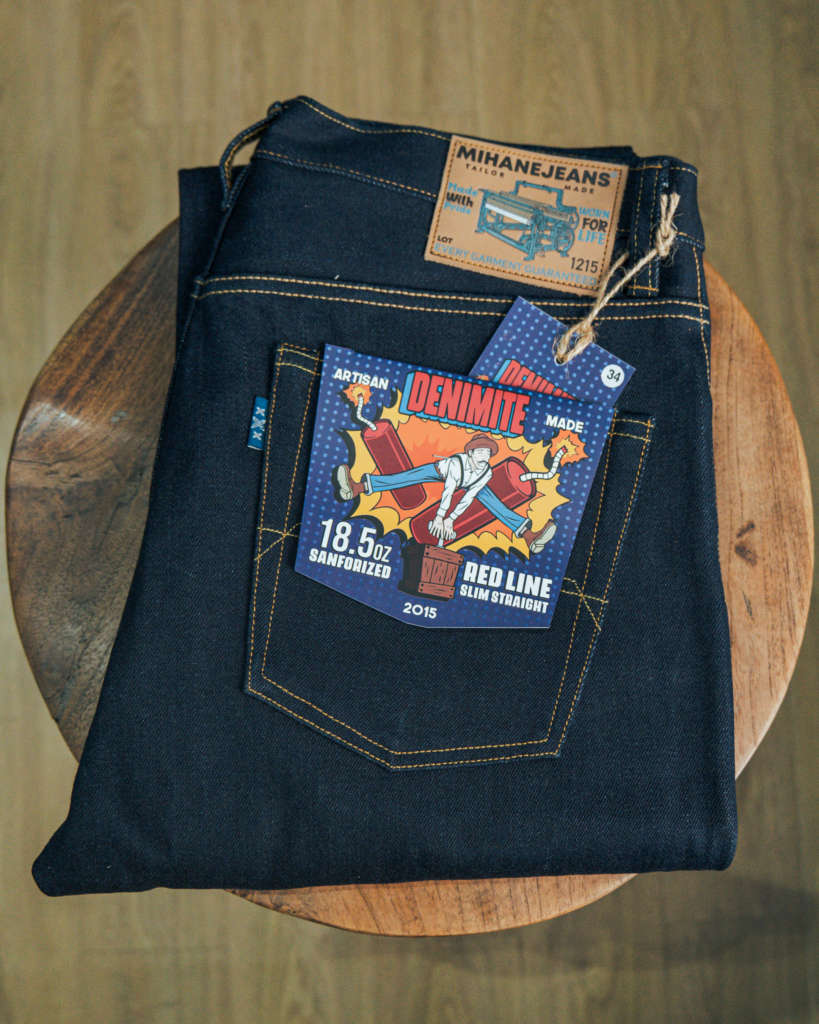 Sebelum jeans ini dikirim, gue udah sedikit observasi lewat postingan instagram Mihane Jeans. Memang dari hasil jepretan kamera yang notabene udah dikasih filter, gua udah punya firasat kalo jeans Mihane yang satu ini menjanjikan dan firasat gua benar. Waktu jeans sampai di tangan, hal pertama yang langsung gue perhatikan adalah tekstur. Karakter fabric yang sangat tegas bikin celana ini gahar banget secara visual. Kemudian hal lain yang patut diapresiasi adalah design flasher. Mihane memilih konsep komikal dan menurut gua itu cocok dengan nama artikel celana ini yaitu Denimite.
FABRIC

Seperti yang gua mention di awal, memang fabric dari celana ini memiliki karakter yang heavy. Jadi feel saat menggunakan celana ini memang terasa jadi anak denim banget secara visual dan cocok buat kalian yang emang mau coba menggunakan jeans heavyweight. Warna deep indigo pada fabric sangat pekat sebagaimana mestinya deep indigo jadi bakal oke banget buat lo para pencari contrast fades.
Biarpun heavy, tapi celana ini sangat nyaman saat terkena kulit. Tidak terasa seakan menggaruk-garuk kulit dan tidak terasa gerah. Jeans ini juga sanforized ya, jadi bisa langsung lo pake gak perlu in-soak dulu.
FITUR, HARDWARE & KONTRUKSI

Seperti five pocket jeans pada umumnya aja, gaada yang benar-benar spesial dari bagian-bagian celana. Classic red line selvedge terjahit rapih, per-button-an celana ini menggunakan besi, dan ada hidden rivets yang pastinya bikin celana ini tambah kuat dan juga leather patch vegtan dengan visual yang print dengan rapih. Arcuate jeans dijahit dengan oke dengan bentuk khas arcuate Mihane. Ada detail selvedge yang terdapat pada bagian dalam coin pocket, detail yang cukup oke dan menambah karakter.
Namun dari sekian banyak detail pada jeans Denimite ini, yang paling bikin gue impress adalah konstruksinya. Jeans ini dijahit dengan sangat apik, chainstitch-nya benar-benar rapih, dan keliatan banget disini craftmanship Mihane yang sangat serius.
FIT

Pas gue coba fitting, ternyata fit-nya oke banget dan masuk standar celana slim-straight pada umumnya. Gue pake size 34 dengan berat 80 kg dan tinggi 182 cm. Menurut gue pas di bagian waist, tapi buat gue sedikit terlalu panjang di bagian inseam karena gue gak pernah prefer untuk hemming jeans-jeans gue dan hampir selalu gue double cuff tapi karena kepanjangan akhirnya gue faux cuff. Bagian leg opening menurut gue pas dan dapet banget siluet slim straightnya, tapi satu catatan lagi dari gua adalah bagian crotch yang menurut gua agak kurang pas dan hasilnya ada terlalu banyak ruang pada bagian tersebut. Tapi ya tetap oke dan lumayan juga bisa ngasih room lebih biar makin adem.
VALUE FOR MONEY
Celana ini dibanderol dengan harga IDR 1.100.000 di e-commerce. Menurut gua dengan harga tersebut celana ini sangat worth it untuk dimiliki, karena dengan craftmanship sekelas celana ini harga tersebut malah cenderung terjangkau buat gua. Waktu gua tulis artikel ini, di e-commerce oren malah harganya lagi diskon jadi cuma IDR 750.000, jauh itu coy good deal abis. Mihane juga menawarkan aftersale service berupa FREE HEMMING dan bisa juga tukar size. Jadi overall celana ini 8,5/10 dari gue, gahar sekali. Kudos Mihane!