Halo semua, ini adalah kali pertama mimin #69 menyumbang konten honest review. Di sini, mimin bakal mimin akan membagikan pengalaman jatuh cinta pada pandangan pertama pada sebuah celana jeans.
Sejak pertama kali jeans The Royal Clan dari Wingman Denim, saya langsung terpana. Artikel terbaru keluaran Wingman Denim ini menggunakan Ultra Heavyweight Denim seberat 26 oz.
Spesifikasi
EDITION : JAPAN SERIES
FIT : Slim Straight – Medium Rise
FABRIC : KAIHARA MILLS 26oz – Made In Japan
– Ultra Heavy Weight Denim
– LIMITED 100pcs
– Deep Indigo Color
– Indigo Rope Dyed Warp
– Right Hand Twill
– 100% Long Staple Cotton
– Sanforized
– Thick Red Line Selvedge ID
– 12oz Brown Duck Pocket Lining
– Branded Button On Fly
– Branded Rivet
– Exclusive Two Samurai Design Leather Patch
– Hidden Rivet
– Hidden Arcuate
– Two Tone Stitching
– Tucked In Beltloop
– Raised Back Pocket
– Chainstitch Hem With Union Special 43200
Overview
Melanjutkan rangkaian Japan series yang telah dirilis sebelumnya, artikel The Royal Clan ini menjadi sebuah "Statement Product" dari Wingman Denim untuk tetap menunjukan kualitas dan keseriusan produksi mereka. Mengingat kuantitas jeans ini hanya diproduksi dalam jumlah terbatas (100 pcs), saya merasa cukup beruntung menjadi salah satu pemiliknya.
First glance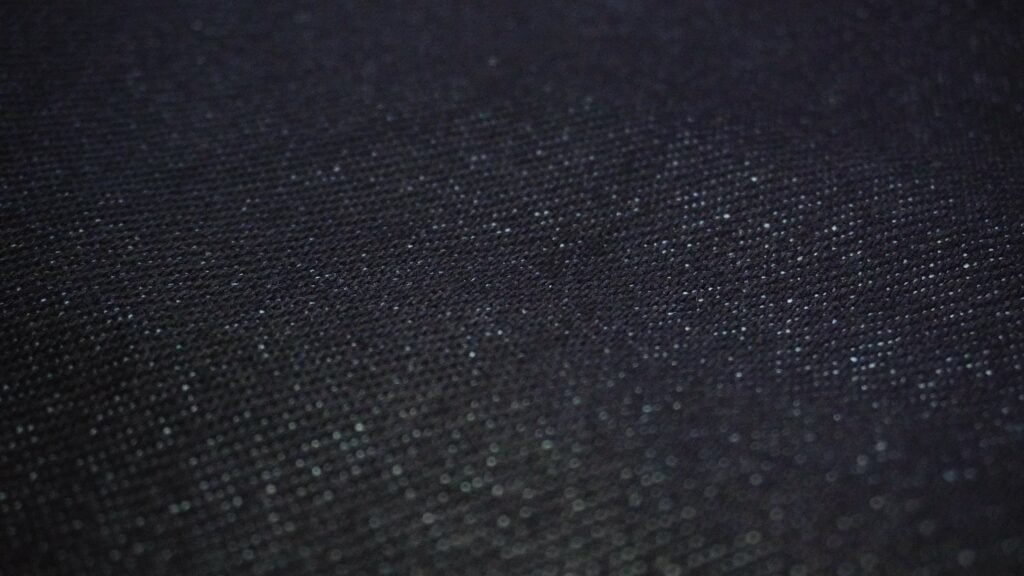 The Royal Clan menggunakan right hand twill denim dari Kaihara mills. Kaihara adalah salah satu mills denim terbaik dunia yang yang telah berdiri lebih dari 120 tahun di Fukuyama, Jepang.
Menggabungkan teknik modern dan tradisional, denim ini terbilang inovatif dan memiliki warna indigo yang cukup pekat. Meski dilihat dengan mata telanjang, kalian bisa melihat jarak warp yang begitu lebar sebagai salah satu penanda "heavyweight denim".
Jeans ini sudah melalui proses sanforization sehingga tidak perlu direndam atau dicuci sebelum pertama kali dipakai. Proses ini juga membuat handfeel The Royal Clan sangat lembut untuk jeans seberat 26 oz.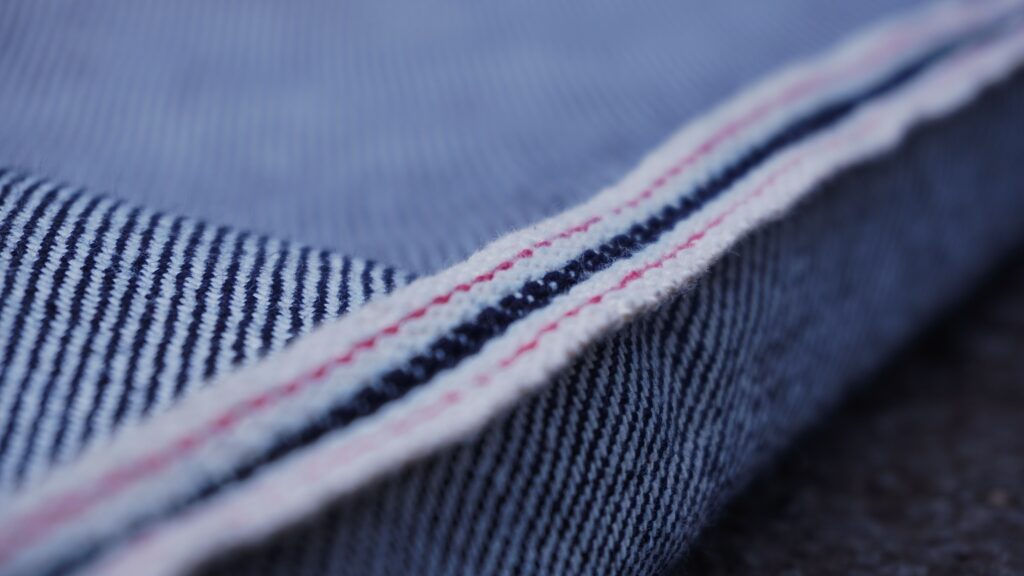 Selvedge line dengan berwarna merah yang cukup tebal menghiasi bagian outseam. Tampal pula chain stitch yang dihasilkan melalui mesin Union Special 43200G pada bagian hem.
Top block
Front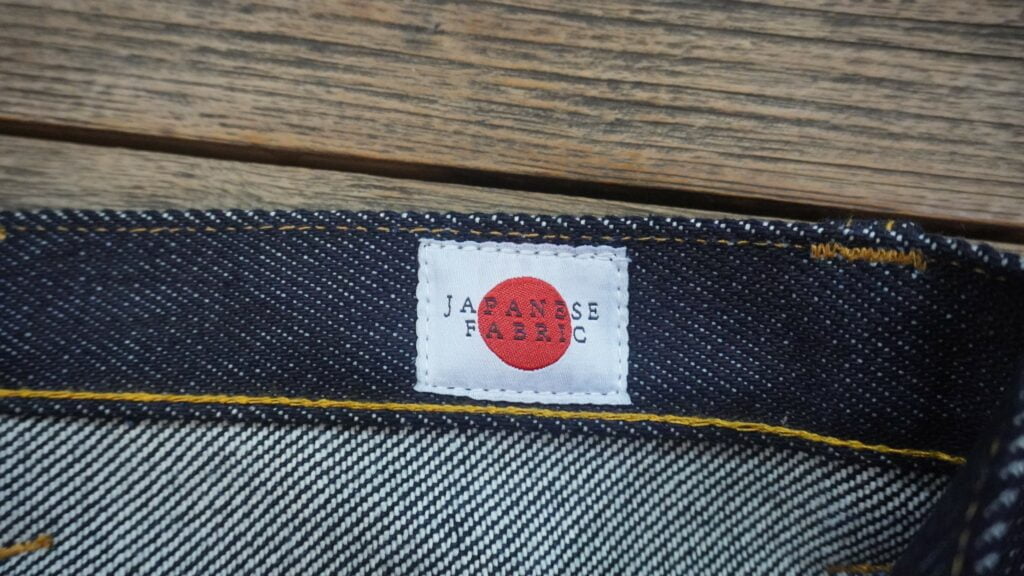 Ada dua buah label di bagian kiri dan kanan waistband sebagai penanda bahwa jeans ini dibuat menggunakan Japanese fabric. Pada bagian tengah, terdapat label ukuran yang dijahit ke dalam waistband.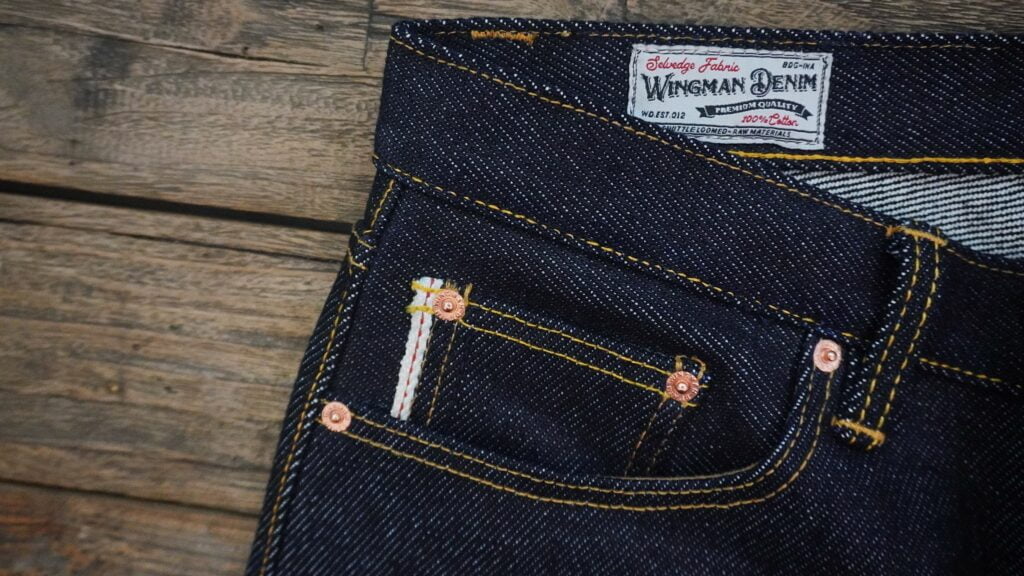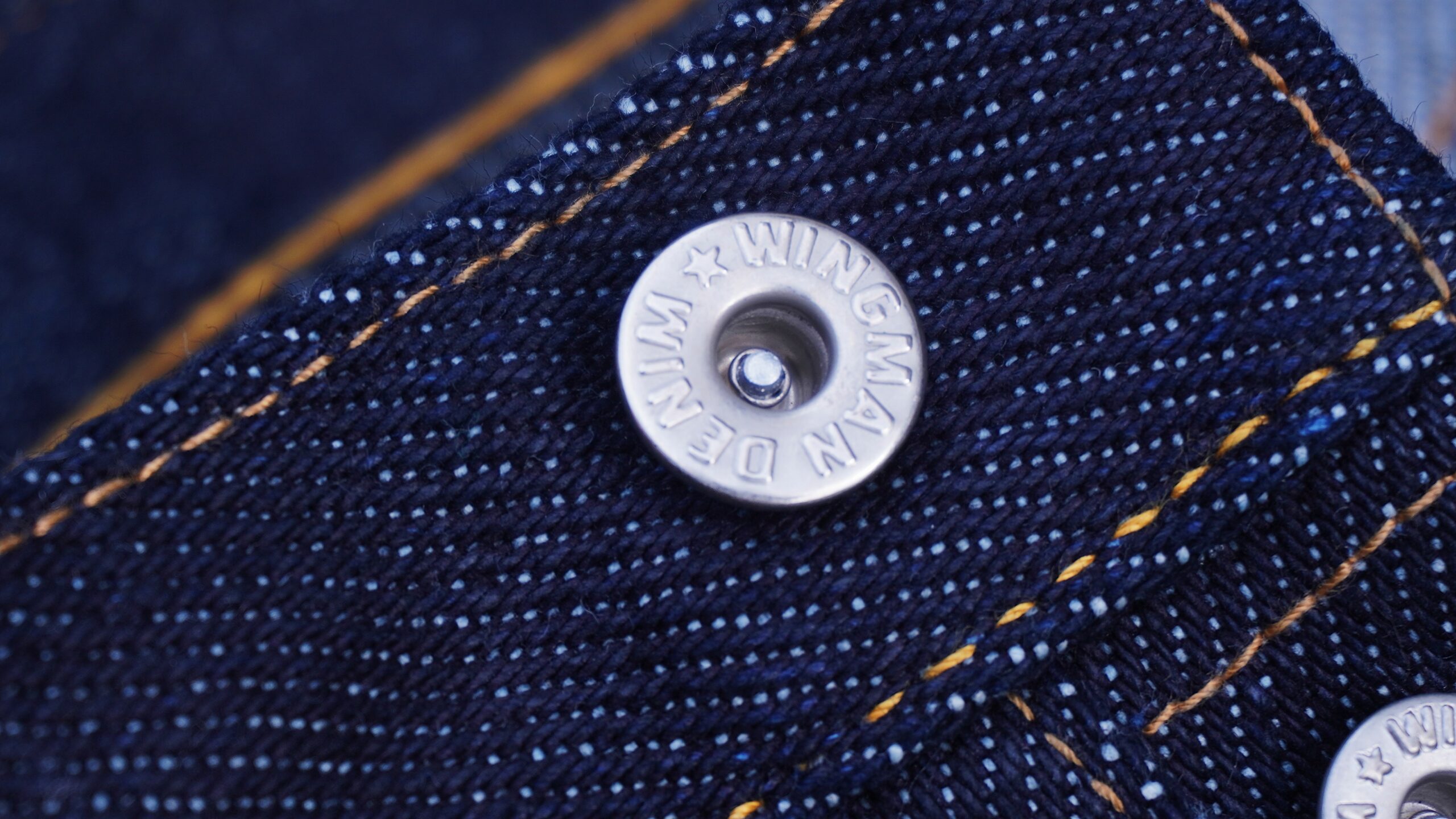 Button pada jeans ini menggunakan prong button bertuliskan "WINGMAN DENIM" berwarna silver.
Back look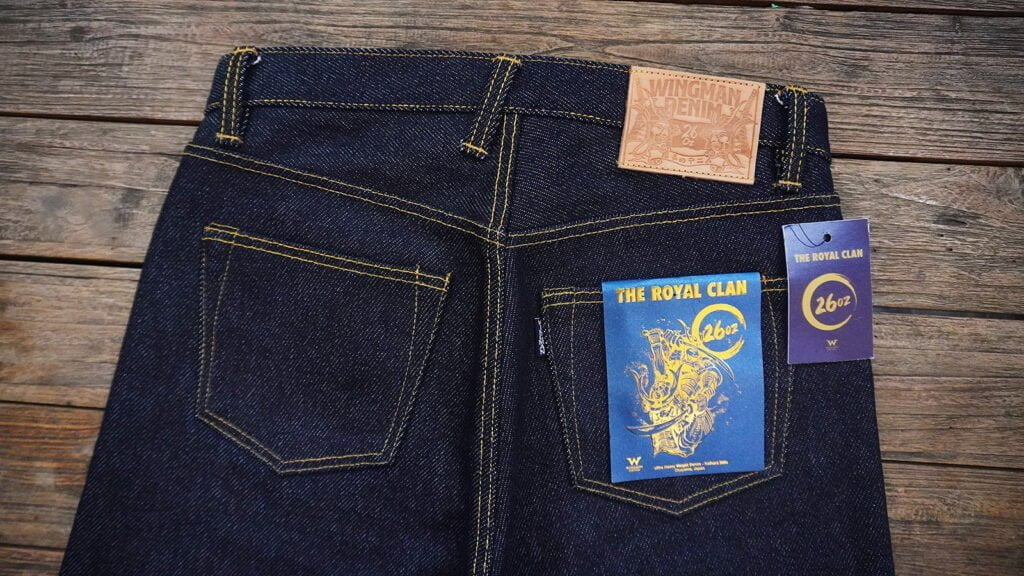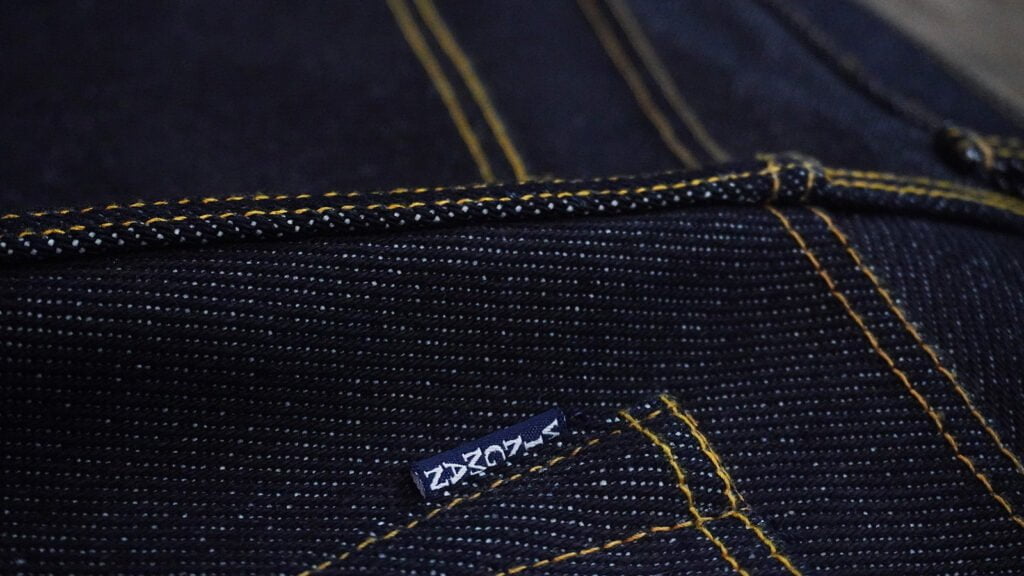 Saya cukup kaget ketika memegang langsung jeans ini untuk pertama kalinya. Sebab, The Royal Clan terasa sangat lembut dan nyaman untuk jeans seberat 26 oz. Tak seperti kebanyakan heavyweight denim yang beredar di pasaran.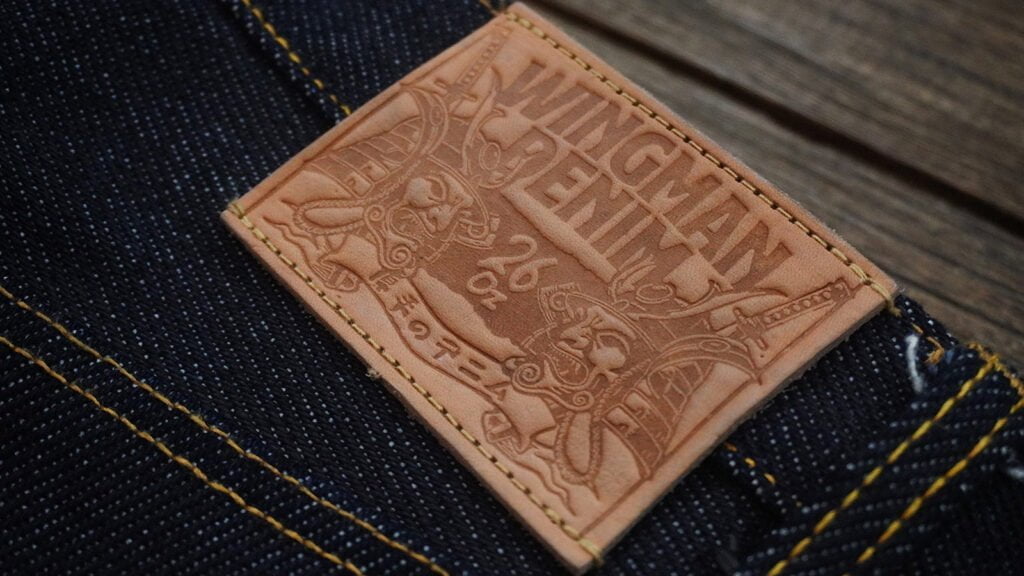 Desain belakang artikel ini juga terbilang cukup minimalis. Pada leather patch misalnya, tampak dua sosok samurai dan tipografi "26 oz" yang ditatah secara eksklusif.
Kemudian, bagian raised belt loop tetap dijahit menggunakan bartack serta tucked-in belt loop sebagai detail fungsional yang dapat menambah durabilitas. Detail ini serupa dengan artikel pendahulunya, KM-103 Ashikaga, yang pernah diulas oleh mimin #9.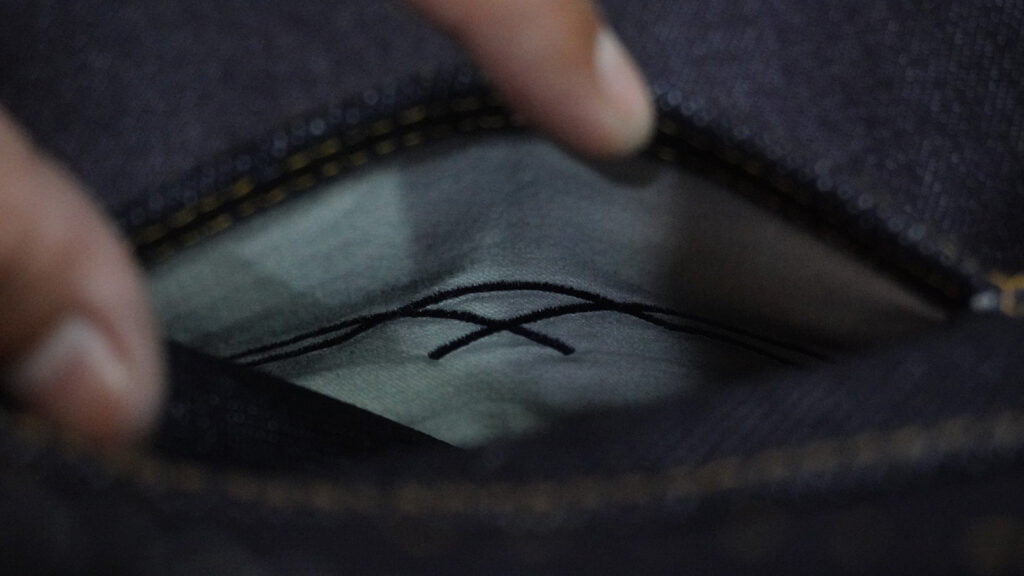 Sementara itu, hidden arcuate dan tab biru bertuliskan "WINGMAN" di bagian backpocket menjadi salah satu pembeda The Royal Clan dengan artikel sebelumnya.
Fit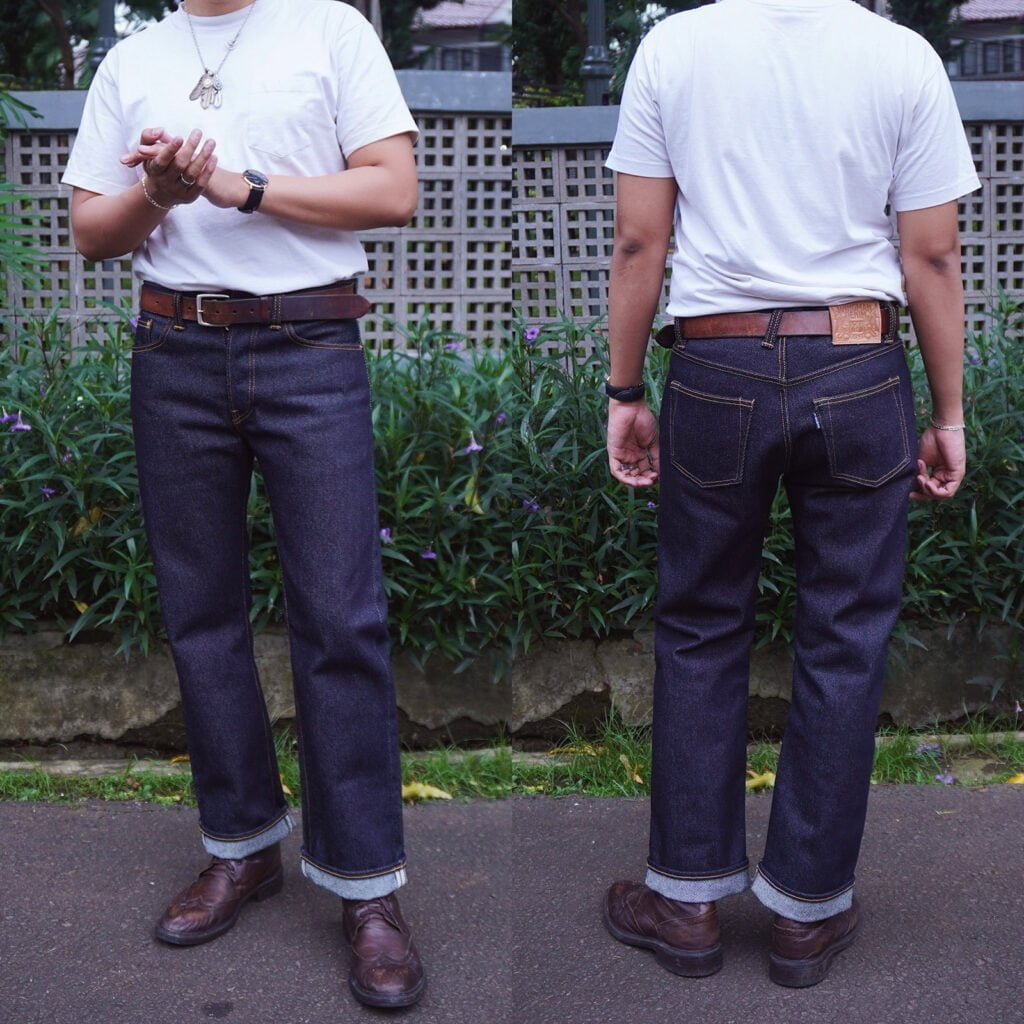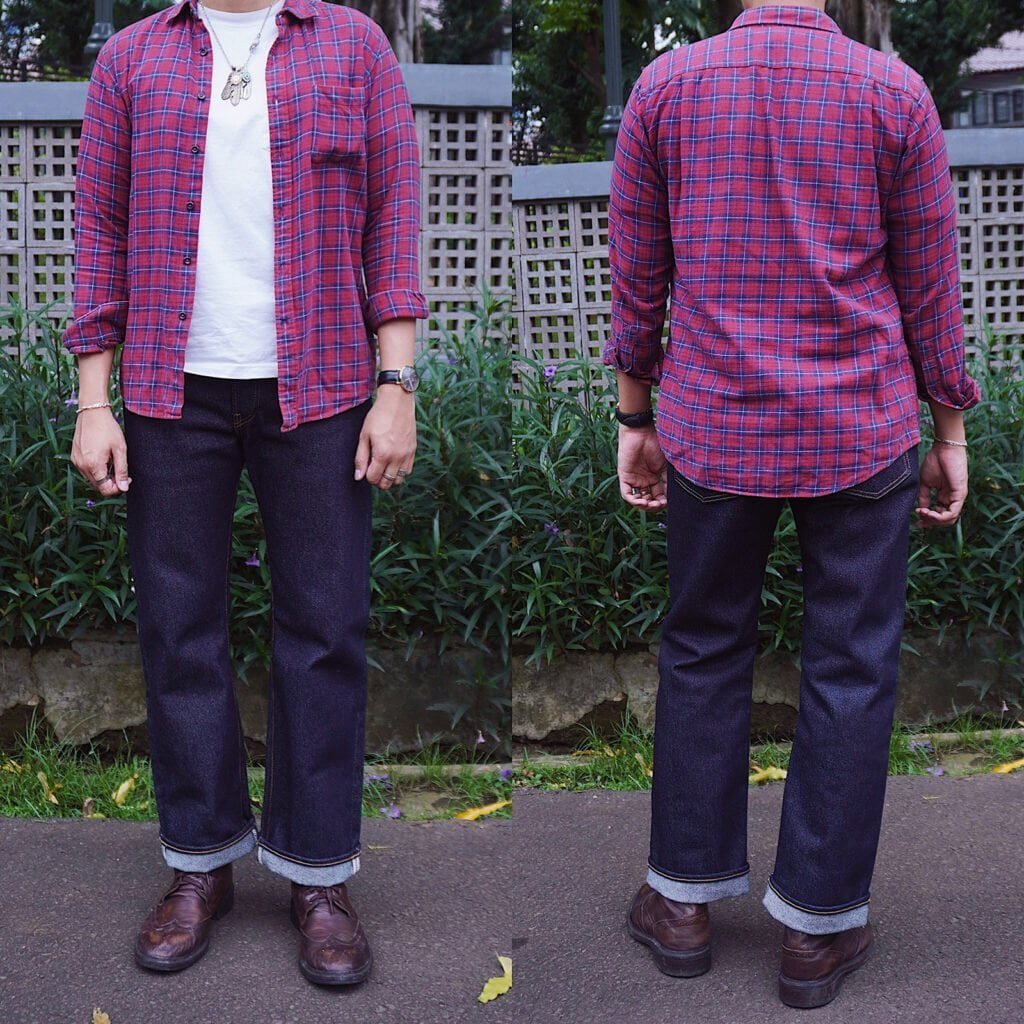 The Royal Clan 26oz ini menggunakan cuttingan slim straight cut dan medium rise. Saya pribadi, lebih suka apabila artikel ini dieksekusi dengan potongan yang lebih tapered. Meski begitu, cuttingan slim straight ini cukup asik untuk digunakan sehari-hari kok.
Secara sizing, saya merekomendasikan kalian untuk mengambil true size, sesuai ukuran pinggang kalian. Saya sendiri menggunakan size 32.
Conclusion
Saya bisa katakan, Wingman berhasil menuangkan idealisme "Japan Series" miliknya melalui artikel The Royal Clan.
So, untuk teman-teman yang suka sama heavyweight denim seperti saya, jeans ini wajib untuk kalian jajal. Terlebih, harga yang ditawarkan juga cukup affordable menilik dari fabric yang ditawarkan, yakni Rp 1.299.000.
Kalian bisa mendapatkan jeans ini di situs resmi Wingman Denim. Mampir juga ke Instagram mereka @wingmandenim untuk melihat koleksi-koleksi jeans mereka yang lain ya!