Selamat datang di segmen HRD – Hobi Rakyat DB!
Di segmen ini, kami ingin memberi apresiasi rakyat DB yang mempunyai hobi menarik dan berdedikasi terhadap hobinya itu. Hobi orang itu beragam, dan setiap orang punya cerita spesial dengan hobinya. Setuju ngga?
Edisi ketiga ini kami menampilkan salah seorang rakyat DB yang tergabung di Discord kami, yaitu Zhen yang dikenal sebagai sosok di balik Frownland. Doi terkenal cukup aktif untuk membagikan edukasi dan sejarah menarik seputar military archive di forum. Maka dari itu, kami ingin mengangkat hobinya seputar military archive yang kental dengan nuansa historisnya.
Langsung aja kita simak cerita menarik soal hobinya ini dari narasumber kita!
---
Introduction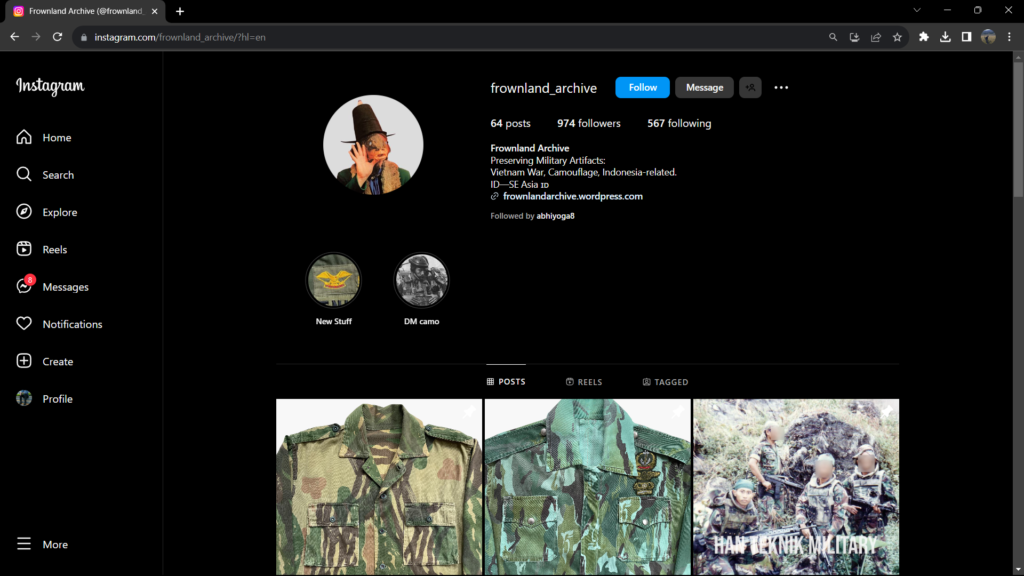 Halo perkenalkan gue Zhen aka Frownland yang udah gabung di Forum DB dari 2013 pas masih zaman kuliah! Alasan lain gabung DB selain dunia perdeniman, gue emang tertarik banget ke outerwear, especially dari brand seperti Barbour, Dehen 1920, Vetra, Mister Freedom (racun-nya om Jo).
The Beginning
Kebetulan brand-brand yang gua interested itu kebanyakan kiblat-nya dari military, jadinya gua gabungin kedua hobby gua dengan ketertarikan gua pribadi terhadap sejarah.

Mulai dari ngoleksi baju dan camouflage US (sempet bikin video part 1 dengan Darahkubiru juga), di 2023 ini gua fokus mencari baju-baju Indonesia dan kebetulan bisa berguru langsung ke pak Ken Conboy. Beliau merupakan penulis dan koleksi loreng Indonesianya luar biasa!
Uniqueness

Pengalaman paling menarik dan berkesan dalam mengoleksi yaitu ketika saya dapat langsung berkomunikasi dengan pak Handono. Beliau merupakan pasukan Kompi Pemburu Satgas Rajawali III. Selain berkomunikasi, saya juga dipercayai untuk merawat 3 jaket beliau. Berawal dari iseng tanya-tanya apakah beliau memiliki relic jaket pemburu sampai jadi tahu bahwa foto-foto pak Han ini banyak sekali dipakai di Internet tanpa memberi kredit ke beliau.
Best Acquisition
1. Camouflage / Loreng dari Resimen Pelopor, 1960s.

Loreng ini merupakan salah satu loreng Brimob paling langka Indonesia, bahkan dipakai menjadi background cover dari buku pak Ken Conboy yang berjudul ELITE. Saya dapat ini langsung dari pak Ken, dan "empu"nya jaket ini aslinya orang Bali (early member of Gegana).
2. Jaket pribadi pak Handono yang dipakai di Timor Timur, Satgas Rajawali III

Untuk lorengnya tidak terlalu langka dikarenakan kita mengadopsi loreng DPM/Malvinas di tahun 1984 sampai sekarang. Tetapi dari sisi sejarahnya jaket ini pernah menemani pak Han saat bertugas ke Timor Timur (ada konfirmasi fotonya) dengan provenance lengkap. Kompi pemburu merupakan pasukan elite gagasan pak Prabowo saat itu.
Do's & Don'ts!
Do's:
Simpan koleksian (terutama seragam) secara rapi (tidak terlipat), disimpan di ruangan yang memiliki sirkulasi udara baik dan tidak terpapar sinar matahari secara langsung.
Untuk seragam diusahakan untuk dapat provenance atau authenticity letter dari veterannya langsung. Kalau masih ada foto-foto disaat bertugas memakai jaket itu juga jangan lupa diminta.
Don't:
FAKING UNIFORM!!! jangan memalsukan seragam seperti menempel patch-patch seakan-akan pernah dipakai oleh veterannya ketika bertugas.
Jika menemukan seragam lengkap dengan atributnya, usahakan jangan didedel patchnya! biarkan apa adanya dari veteran, tugas kita hanya melestarikan bukan menghancurkan.
Jangan dipake.
Closing Statement
Sekian dari gua, mungkin melalui artikel ini gua harap temen-temen yang tertarik sejarah bisa consider untuk mulai koleksi militaria dalam bentuk apapun seperti pisau, jaket, patch, tas, anything.
Yang pasti ini salah satu hobby yang melelahkan dalam segi research, sampai dengan actually acquiring the pieces. Tapi guaranteed it's all worth it in the end.. Hunting its part of the game, so stay curious!

Bagi yang tertarik untuk memperdalam ilmu dan menambah referensi soal military archive, kalian bisa mampir ke blog pribadi-nya juga ya!
---
Untuk kalian yang sehobi dengan Zhen atau punya hobi lain yang gak kalah menarik, tapi bingung nyari wadahnya? Mending buruan gabung Discord Darahkubiru biar bisa sharing dan interaksi bareng rakyat DB dan tentunya untuk dapetin info terbaru seputar aktivasi DB, fashion & lifestyle update!
BACA JUGA: HRD – Hobi Rakyat DB: Cyclist Session With Ditto Adjie