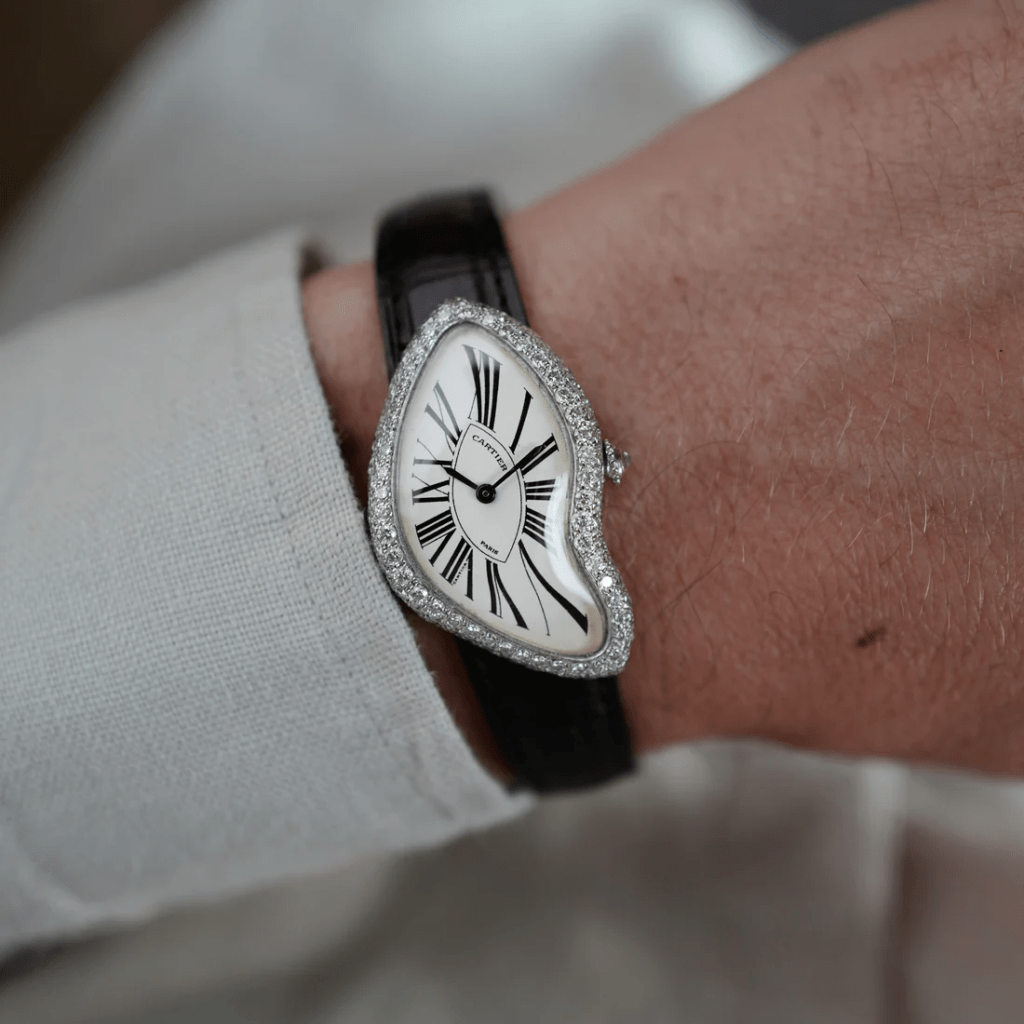 Kalo ngomongin soal jam tangan, semua bakal kembali ke selera dan preferensi masing-masing orang. Setuju gak? Selain ngomongin fungsinya, desain dari jam tangan juga sangat mempengaruhi (dan dipengaruhi) taste seorang pengguna maupun penciptanya.
Pada bahasan kali ini, mimin mau membahas salah satu jam tangan yang mempunyai desain yang menarik dan cukup melegenda. Jam tangan pria keren ini merupakan sebuah jam yang diluncurkan oleh brand yang juga melegenda di dunia horologi. Jam tersebut adalah Cartier Crash!
Menurut sejarahnya, jam tangan yang memiliki desain unik ini tercipta secara "gak sengaja" loh! Inovasi dari ketidaksengajaan tersebut malah menjadi sebuah cerita menarik dari salah satu jam tangan fenomenal ini.
Penasaran? Simak sampe habis aja deh!
---
THE STORY BEHIND THE CRASH

Menurut situs Hodinkee, awalnya desain dari jam tangan ini gak sengaja diciptakan seperti yang kita kenal sekarang. Urban legend warlok sana mengatakan bahwa suatu ketika ada orang yang membawa jam tangan Cartier Baignoire Allongée yang menjadi korban kecelakaan ke toko Cartier London. Setelah sampai di sana, para desainer Cartier terpikat dengan surreal shape yang tercipta dari kecelakaan tersebut.
Namun, fakta berbicara lain. Walaupun memang desain dari jam tangan ini terlihat seperti korban kecelakaan, sejarah mencatat bahwa pengembangan desain dari jam tangan ini merupakan hasil dari riset yang dilakukan oleh para desainer Cartier di era Swingin' Sixties. Era tersebut merupakan era saat kota London terjadi revolusi mode dan tren, yang sekaligus menjadi penanda kota London ingin mengubah wajah kota pasca perang. Di era ini juga muncul banyak tren baru dan sub kultur baru yang bersifat "menentang" kebiasaan atau tren lama sehingga era ini erat kaitannya dengan kata rebel.

Dari situ, tim desainer Cartier memerlukan beberapa kali percobaan dan membentuk dial asimetris sedemikian rupa agar nantinya pengguna dapat membaca waktu secara akurat. Pada akhirnya, di tahun 1967, Cartier Crash resmi diperkenalkan ke publik.
CARTIER CRASH NOWADAYS

Sejak lahirnya hingga sekarang, popularitas dan populasi jam tangan ini mengalami pasang surut (karena tren juga cepat berkembang dan berubah). Namun, belakangan ini banyak sosok terkenal yang kedapatan menggunakan jam tangan ini seperti Kanye West, Tyler the Creator, hingga Jay-Z yang menyebabkan jam ini (dan siluet Cartier lainnya) kembali populer! Hal ini sekaligus menandakan Cartier Crash menjadi salah satu jam tangan pria keren masa kini!
---
Coba absen dulu dong gan yang punya jam tangan pria keren ini. Bisa kaleee mimin cobain fitting hehehe.