Mau atasan atau bawahan, barang berwarna hitam udah jadi pilihan paling aman dan jadi favorit banyak orang, salah satunya mimin. Dengan warna hitam yang bersifat netral dan mudah masuk ke warna apa aja, menjadikannya menjadi staple piece yang gak bikin pusing! Selain itu, gosipnya sih pakaian berwarna hitam mempunyai efek yang membuat penggunanya seakan lebih kurus atau proporsional. Mimin sih nggak tau keabsahan hal tersebut. Yang pasti, banyak orang yang pede menggunakan pakaian berwarna hitam, because you can never go wrong with black!
Pada bahasan kali ini, mimin mau coba ngasih beberapa referensi bagi yang masih bertanya-tanya, "Kemeja hitam pria cocok dengan celana apa?", apalagi kalo kalian tipe orang yang suka eksperimen atau suka mix n' match dalam berpakaian.
Yuk, simak sampe habis gan!
---
You Can Never Go Wrong With Black
Setiap orang di dunia ini pasti mempunyai koleksi atau pakaian berwarna hitam di lemari pakaiannya. Sebagai warna aman, gampang banget buat mix n' match warna ini dengan warna lainnya. Kalo ngomongin sisi psikologis, menurut beberapa ahli sih pakaian berwarna hitam itu menumbuh kepercayaan diri penggunanya, serta memberikan kesan smart, misterius yang bikin penasaran gan!
Sederhananya, pakaian berwarna hitam menjadi opsi mudah bagi kalian yang nggak mau ribet, maka dari itu mimin mau coba ngasih beberapa referensi panduan kemeja hitam yang bisa kalian ikutin nih!
Monokrom dengan Celana Putih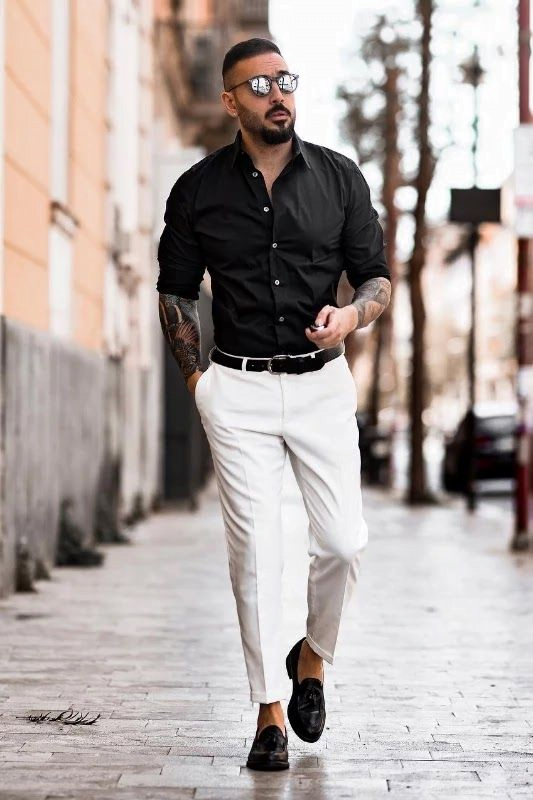 Kombinasi klasik Yin-yang merupakan padupadan timeless yang menjadi opsi aman dan praktis teruntuk kalian yang gak punya banyak opsi dan waktu.
Tough Guy dengan Celana Olive

Warna hitam dan olive green membuat kesan tangguh ala military look yang keren dan relevan seperti tren fashion sekarang.
Smart Casual dengan Celana Khaki

Bagi yang ingin tampil smart casual, kombinasi warna hitam dan khaki ditambah pemilihan sepatu yang tepat menjadi kombinasi sempurna!
Dapper dengan Celana Navy

Bagi kalian yang ingin tampil dapper, coba deh kombinasiin warna hitam dengan celana berwarna navy bagi yang bosen dengan all black.
Elegan dengan Celana Abu-abu

Kombinasi warna hitam dan abu-abu merupakan outfit ngantor yang paling tepat bagi kalian yang ingin terlihat profesional dan bermartabat!
---
Kira-kira pertanyaan "Kemeja hitam pria cocok dengan celana apa?" kalian udah terjawab belum di artikel ini?