Memasuki musim panas, udah mulai banyak bermunculan di media sosial kita konten style kemeja putih casual pria yang beragam. Emang sih, kemeja putih casual itu memiliki kaitan yang erat dengan yang namanya musim panas.
Warna putih adalah kebalikan dari warna hitam namun memiliki kesamaan fleksibilitas dengan warna hitam. Warna ini serasi dengan warna apapun. Putih sering dihubungkan dengan kesucian, kebersihan, dan kemurnian. Dalam konteks fashion, putih umumnya digunakan sebagai warna netral atau dasar untuk pakaian bermotif. Saat warna putih digunakan sebagai dasar motif, warna dan desain motif akan lebih menonjol. Warna putih dapat membantu menunjukkan kebersihan dan kesederhanaan pada style kalian serta sering digunakan untuk rancangan busana minimalis. Warna putih dalam fashion juga dapat menampilkan kesan musim dingin maupun musim panas, tergantung pada motif yang ditorehkan di atasnya. Untuk menampilkan kesan clean, banyak orang yang memadukan kemeja putih polos. Walaupun polos, tapi gak monoton gan!
Pada artikel kali ini, mimin mau coba ngasih rekomendasi style kemeja putih casual pria yang bisa kalian tiru nih, simak sampe habis!
---
Rekomendasi Style Kemeja Putih Casual Pria
Seperti yang dibahas sebelumnya, pakaian berwarna putih merupakan warna netral yang cocok dikombinasikan dengan segala jenis warna. Kebalikan dari warna hitam, warna putih sering dikenakan di musim panas ini karena kata orang-orang sih warna hitam gerah. Makanya artikel ini mengangkat styling warna putih aja ya bang~
Long Sleeve Shirt with Shorts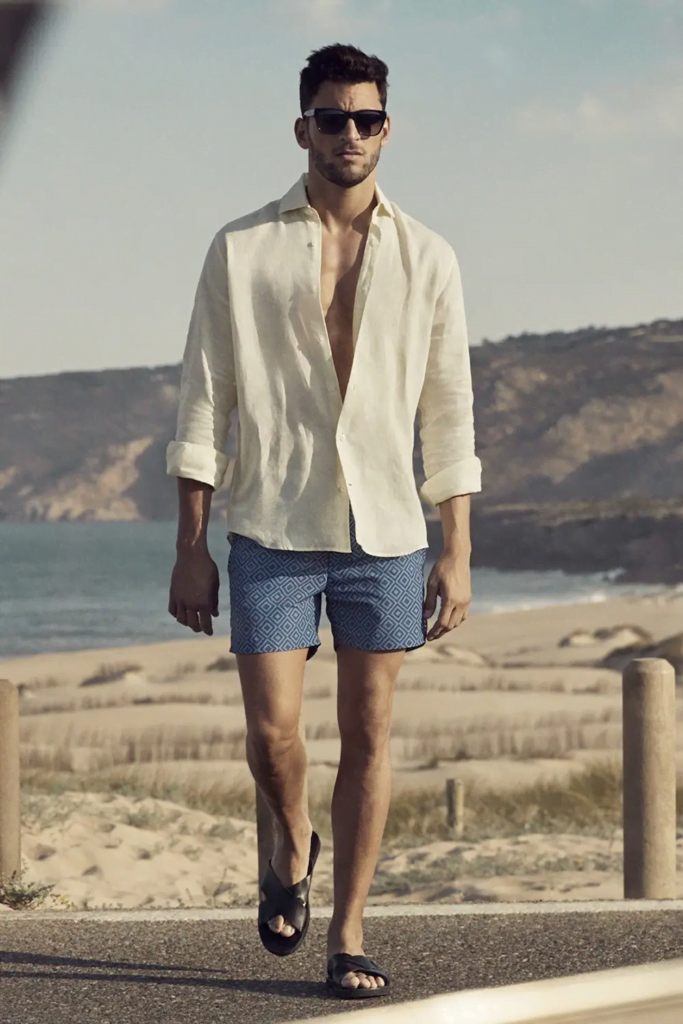 Kombinasi pertama kalian hanya memerlukan kemeja lengan panjang, lalu kalian bisa menggulungnya dan mengkombinasikannya dengan celana pendek dengan ukuran yang pas.
All White

Bagi kalian penggemar berat warna putih, gak ada salahnya menggunakan all white combo untuk menonjolkan kesan clean yang optimal. Yang penting jangan duduk sembarangan bang biar gak cepet kotor.
White + Khaki

Kombinasi klasik yang gak pernah gagal. Clean, yet sophisticated. Everlasting!
You Can Never Go Wrong with Denim

Kombinasi terakhir yang kami rekomendasikan adalah barang favorit kita semua, yaitu denim! Kedua barang ini memang cocok dikombinasikan dengan segala jenis tipe dan warna, kenapa gak kita gabungin aja?
---
Dari rekomendasi style kemeja putih casual pria di atas, mana yang bakal kalian terapkan?