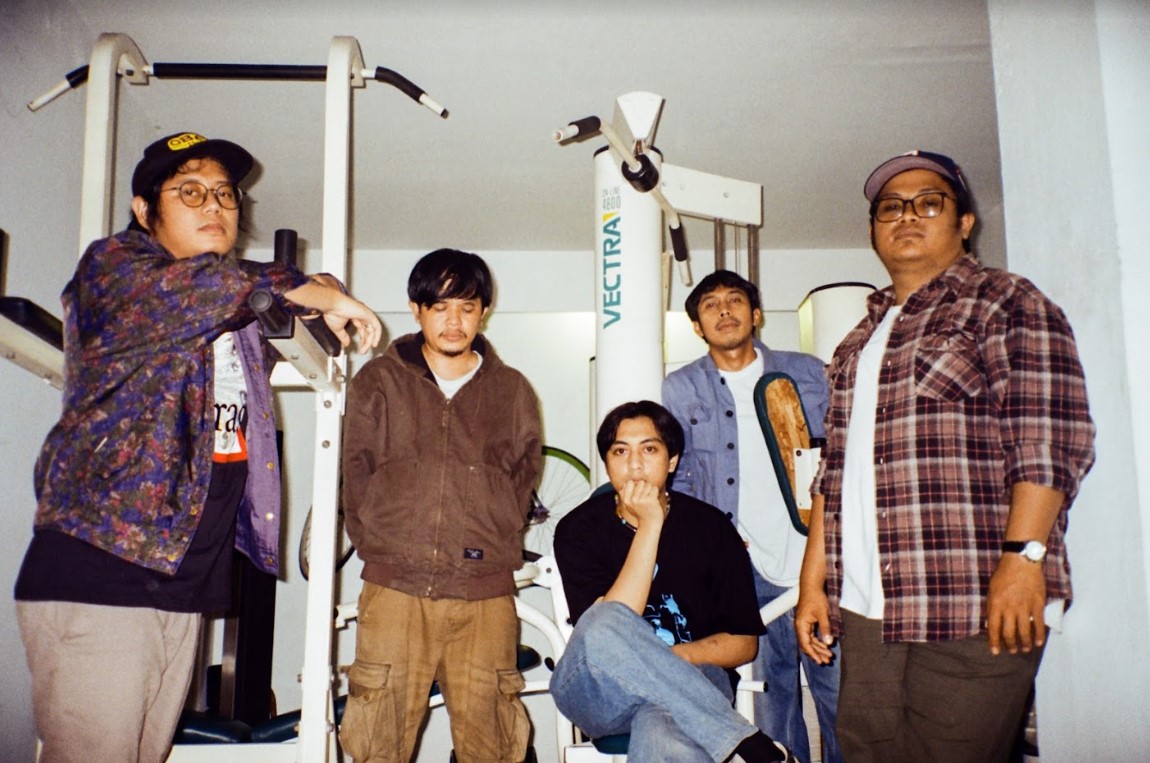 Bogor memang tak ada henti-hentinya untuk terus melahirkan musisi indie rock, sebut saja barisan dari band abang-abangan seperti, The Kuda, The Jansen, Texpack, hingga lahirnya Swellow membuat semuanya cukup terlihat jelas dan saling berkesinambungan.
Sejenak sebelum kita terjun ke topik inti, mari kita sedikit menyelami kilas balik dari Swellow. Swellow yang berasal dari kota Hujan ini terbentuk pada tahun 2019 silam, beranggotakan Bayu (vokal), Idam (gitar), Afnan Hissan (gitar), Misbahuddin Nika (bass), dan Muhammad 'Opay' Fadhli (drum).
Masing-masing dari mereka sempat bergabung dengan band Bogor lainnya seperti Reid Voltus, The Kuda, Texpack, Diskoteq, dan Rasvala. Anyway, buat mimin yang suka dengerin Ride, memang merasakan experience warna musik Swellow yang jelas turut diilhami oleh nuansa indie rock era 90an sih.

Nah, kabar baik akhirnya datang di awal bulan kemarin, pasalnya, Swellow akhirnya resmi meluncurkan album perdananya yang bertajuk, Katus. Bicara soal makna dan konsep besar yang diangkat di dalam album Katus ini, Swellow mengutarakan perihal kesialan yang sering terjadi dalam kehidupan sehari-hari. Katus sendiri merupakan parodi dari kata 'kaktus' yang dianggap membawa sial dalam fengsui.
Album Katus sendiri berisi 12 lagu dan turut memuat lagu yang berkolaborasi bareng Harlan Boer dalam judul 'Penjara'. Selain menjadi vokal invitation, lelaki yang kerap disapa Bin Harlan ini juga disatu sisi sebagai penulis lirik sang lagu juga.
Di album Katus ini, Swellow juga turut menghadirkan beberapa track yang sempat mereka rilis di maxi-single sebelumnya, seperti 'Simpul', 'Jeruk', 'Tak Berdaya', dan 'Segar'. Adapun lagu baru yang mereka hadirkan juga di Katus ini, yaitu 'Penjelajah Waktu', 'Nyali', 'Serangga', dan 'Berkelana'. Mungkin buat kalian yang baru ngedengerin Swellow kalian bisa coba dengerin 'Tak Berdaya' dulu favorit mimin sih.
Swellow dibantu oleh sejumlah pihak saat memproduksi album Katus. Antara lain, Haryo Widi Adhikaputra (TaRRkam, The Upstairs, KDG Studio) sebagai engineer rekaman sekaligus mixing, Gerard Rumintjap (HYFOG Studio) untuk mastering, Rendyka Widya sebagai fotografer foto profil, hingga Moses Sihombing (Gentle Tuesday) yang turut berkontribusi dalam pengerjaan sampul album.
Kejadian yang mengangkat isu kesialan yang dituangkan dalam bentuk album bertajuk Katus ini, nyatanya sudah dapat rekan-rekan dengarkan di layanan streaming musik mulai dari Jum'at (30/06) kemarin.