Mengutip acara minggu lalu, bertajuk 'Edwin Together' yang diselenggarakan 15 Maret 2023 lalu di Little League Jakarta, Reno Riandri selaku Brand Marketing Manager EDWIN Jeans sendiri menjelaskan, bahwa tahun ini EDWIN Jeans Indonesia ingin lebih dekat dengan para pecinta denim. Terlebih varian produk yang makin beragam mulai dari 801, 802, 812, 803, dan Handcrafted Collections yang telah diluncurkan. Nggak menutup kemungkinan, #WINWITHEDWIN pun kini telah dihadirkan dan dibentuk untuk lebih mengajak orang-orang atau semua lapisan masyarakat agar dengan bangga memakai produk EDWIN di setiap aktivitas dan kesempatannya.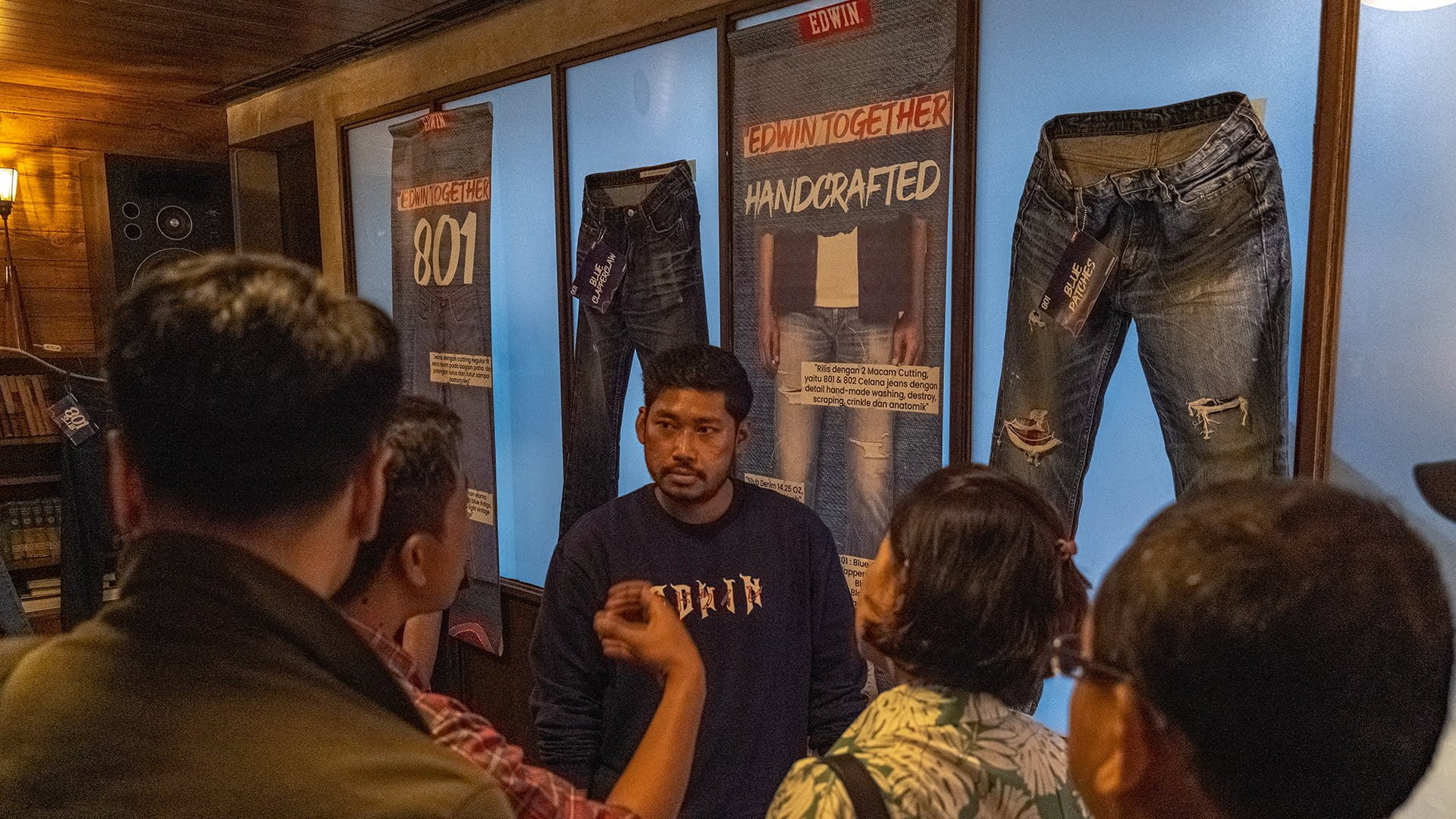 EDWIN Jeans Handcrafted menghadirkan koleksi dengan bahan material 100% cotton dengan additional process handcrafted wash dimana proses ini merupakan proses manual hand-made. Bahan denim yang digunakan bertipe slubs non stretch untuk 801 Handcrafted Reguler, dengan kombinasi detail hand-made washing destroy, scrapping, crinckle, and anatomic. Ada 4 varian warna untuk koleksi untuk 801 Reguler Fit yaitu Blue Ages Destroy, Blue Clapperclaw, Blue Patches, dan Blue Scrape. Sedangkan untuk 802 Handcrafted Slim Fit, ada 2 warna yaitu Black Ages Destroy dan Black Perforated. Langsung kita simak aja spesifikasi dan materialnya di bawah ini, yuk sob!
801 Reguler Fit Handcrafted Jeans

Untuk varian 801 Handcrafted Jeans ini berbahan 100% cotton dengan menghadirkan 4 varian warna, yaitu Blue Patches, Blue Clapperclaw, Blue Scrape, dan Blue Ages Destroy. Untuk fitting-nya sendiri pun reguler fit cocok untuk kalian yang suka dengan celana cutting-an lurus atau normal. Ada extra room juga di bagian paha jadi tentu saja dapat memberikan gerak bebas lebih. Terakhir, celana jeans ini berbahan type slubs non stretch dengan detail hand-made washing destroy, scraping, crinkle, dan anatomik.
802 Slim Fit Handcrafted Jeans

Selanjutnya kita masuk ke 802 Slim Fit Handcrafted yang dimana sebenarnya sudah terlihat jelas perbedaannya dari nama artikelnya, yaitu slim fit, sedangkan untuk artikel 801 di atas ialah reguler fit. Nah, selain jenis fitting-an yang berbeda, yang membedakan pada 802 ini ialah berbahan 98.5% cotton; 1,5% spandex. Sit below your waist dan sesuai namanya ada kata 'slim fit' berarti untuk bentuk slim dari bagian paha hingga kebawah. Celana 802 Handcrafted Jeans ini juga berbahan type slubs non stretch dengan detail hand-made washing destroy, scraping, crinkle, dan anatomik. Untuk varian 802 Handcrafted Jeans ini ada 2 varian warna, yaitu Black Perforated dan Black Ages Destroy.
---
Untuk size chart terdiri dari 28-44 dengan fitting reguler dan slim fit, kalian bisa mendapatkannya di website resmi www.edwinjeans.id atau ke account Instagram mereka langsung untuk mengikuti berbagai macam up to date dari Edwin Jeans Indonesia. Oh iya, btw, Handcrafted Collections ini sedang discount juga lho sob, dari Rp 699.000, hanya menjadi Rp 399.900, jadi buruan langsung sikat aja buat lebaran!
Eits, mimin hampir lupa, ngomong-ngomong soal lebaran Edwin Jeans Indonesia juga baru aja ngerilis 'Muslimwear Collections' juga loh, yang cocok banget buat nemenin suasana bulan Ramadhan ini. Untuk selengkapnya nanti mimin spill ya, sampai ketemu di artikel selanjutnya sobat DB! See you and thank you!