Ini adalah salah satu temuan kita yang cukup aneh karena kita tidak menemukan info apapun mengenai Lee 101 85th anniversary jeans ini di internet. Kebetulan pihak Lee Jeans Indonesia berbaik hati untuk meminjamkan celana ini untuk direview oleh kami. Bisa jadi bahwa model ini adalah model yang hanya diproduksi dan dipasarkan di Indonesia.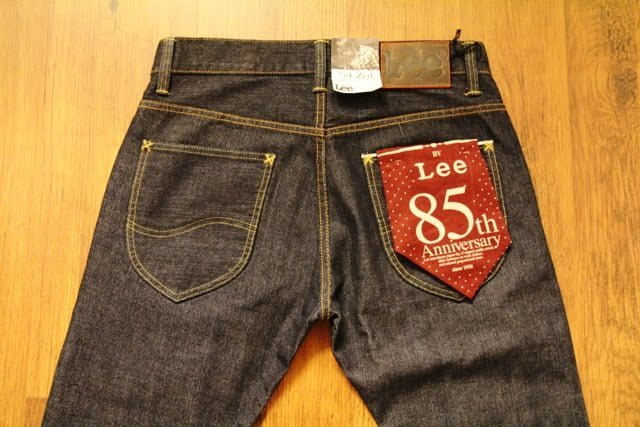 Bagian yang langsung menarik perhatian kami adalah penggunaan bahan kain untuk flashernya yang dibuat sedemikian rupa hingga menyerupai sebuah bandana yang dilipat dan ditaruh di kantung belakang. Warna flasher yang merah juga memberikan kesan yang unik. Selain itu beberapa exposed selvage juga lumayan menarik perhatian. Walaupun kami tidak terlalu suka exposed selvage, namun plain selvage dan penempatannya yang cukup unik membuat exposed selvage di jeans ini menjadi elemen design yang cukup unik. Bahan jeans ini menggunakan bahan LHT selvage denim dengan plain selvage line. Kita masih bisa menemukan beberapa detail khas Lee seperti waistband label dan yang berbeda yaitu penempatan label anniversary di bagian fly.




Jeans ini menggunakan zipper sebagai fastener di fly-nya. Sementara itu kita bisa melihat bahwa top button menggunakan button khas Lee dengan logo Lee yang tertulis disitu. Hal ini hampir sama dengan penggunaan rivet khas Lee. Jeans ini memiliki cutting slim straight yang terlihat klasik dan tetap mengedepankan detail-detail unik dari Lee yang digabungkan juga dengan elemen design modern seperti bentuk backpocket yang lebih tajam dan juga exposed selvage.




———————————————————————————————–
We've found a rather unique jeans at Lee store which actually is a Lee 101 85th anniversary. We call it unique because we cannot find any information about this pair on the net and it seems that this jeans is made only in Indonesia and sold only in Indonesia as well.
One part that directly attracts us is the flasher. The striking red colored fabric which been used for the flasher really caught our eyes. It shows that this jeans is indeed the special 85th anniversary edition. The way that it is placed is really cool, just looked like a bandana placed in the backpocket. We normally despise exposed selvage and this jeans has some. But the combo between plain selvage and the rather unique placement of the exposed selvage makes it a little bit interesting design element rather than eyesore. This jeans is made from a LHT selvage denim with plain selvage color.
This jeans use zipper as the fastener for the fly. We can still see some of Lee main characteristics such as their logo Top button, UFO rivets and the waistband label. This jeans offers a classic slim straight jeans with a vintage feeling while still maintaining its details. Combine it with a bit of a twist makes this jeans an interesting addition to your wardrobe.