Kita sudah pernah membahas peranan penting Lee dalam membawa zipper ke dalam industri garmen khususnya workwear. Kali ini kita akan coba bahas mengenai bagaimana Lee membawa desain baru dalam jeanswear dengan memasukkan elemen zipper ke dalam produk-produk jeansnya. Terbukti dengan penambahan desain ini pertama kalinya pada tahun 1926, Lee turut mempopulerkan penggunaan zipper pada jeans dan produknya yang dinamai 101Z memiliki andil yang besar dalam sejarah denim.
Lee pertama kali memakai zipper pada produk-produknya pada tahun 1926 dan mulai saat itu menjadi trensetter di industri denim dengan inovasi penggunaan zippernya. Sejak saat itu zipper ditambahkan menjadi sebuah standar dalam workwear seperti pada jeans, work pants dan juga work jacket dan juga overalls. Produk yang paling dikenal dan populer di dunia denim adalah produk celana jeans Lee yang bertajuk Lee 101Z, dimana Z nya merupakan singkatan dari Zipper yang merupakan inovasi pada jamannya. Semenjak Lee memakaikan zipper pada 101z, brand lain pun mulai mengikuti jejak Lee dan mengakui inovasi dari Lee sebagai salah satu brand besar pada jaman dulu hingga saat ini.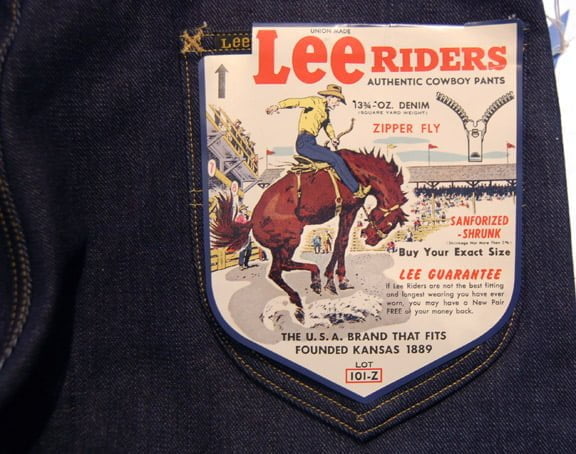 Selain populer pada industri pekerja dan industri jeans yang dekat hubungannya dengan koboi dan kehidupan ranch, Lee 101Z juga populer di kalangan anak muda. Terlebih ketika pada sekitar tahun 50an Lee memperkenalkan model 101Z dengan cutting yang slim dan menyerupai tailored pants yang sepertinya digandrungi pada jaman tersebut. Selain itu Lee 101z yang ikonik juga tambah populer ketika artis Hollywood legendaris seperti James Dean dan Steve McQueen memakai produk 101Z pada beberapa film.


James Dean sudah seperti sebuah ikon bagi Lee, karena dia membawa wajah Lee yang tadinya terkenal di workwear dan ranchwear ke dunia baru yaitu Hollywood. Sering kita melihat foto-foto James Dean dengan Lee 101Z-nya dengan siluet slim dan tailored, baik di foto kehidupan pribadinya sampai ke film seperti Rebel Without A Cause. Pada tahun 2006, celana Lee 101z Riders jeans original yang dipakai oleh James Dean dilelang hingga nilai $35.850. Lee Japan kemudian membuat replica jeans tersebut.

Selain itu aktor-aktor seperti Steve McQueen juga sempat terlihat dengan Lee 101Z di filmnya The Hunter hingga Robert De Niro yang memerankan Travis Bickle pada Taxi Driver juga terlihat menggunakannya. Kedua celana di film The Hunter dan Taxi Driver bisa kita lihat replicanya yang dibuat oleh produsen fanatik Jepang seperti Toys McCoy's dan Real McCoy's. Selain itu Lee 101z kembali diproduksi dan dibangkitkan kembali melalui line 101 Europe yang menawarkan desain yang kaya dengan heritage namun disisipkan sisi modern. Terbukti bahwa Lee 101z merupakan produk paling ikonik dari Lee dan sampai saat ini masih hidup dan populer.


PS: bahas juga produk-produk ikonik dari Lee lainnya di forum.
————————————————————————————
Lee use zipper for the first time in 1926 and from then on become the trendsetter in denim industry with their zipper design innovation. Since then, zipper was added as a standard for workwear garment such as in jeans, work pants and also work jackets and overalls. The most popular and iconic Lee product with zipper is their Lee 101z, where the Z is short of Zipper as their innovation. Other brand was also looking to put zipper in their jeans shortly after Lee launches their zipper product, which attest to their zipper innovation.
Lee was also popular with youth movement, other than their popularity in workwear and cowboy life, especially in the 1950s when Lee launches their Lee 101z with slim and tailored cut which appeal to youth at that period. 101z populaity boosts after legendary Hollywood actors like James Dean and Steve McQueen spotted to sport Lee Riders in their movies.
James Dean was like an icon and still an icon for Lee, mainly because he brings popularity to Lee into the Hollywood. We can see his photos with a slim and tailored cut 101z, both in his personal life and in his movies such as Rebel Without A Cause. In 2006, The original Lee 101Z Riders Jeans worn by James Dean were auctioned off for $35,580. Lee Japan has introduced a replica of these same 101z riders jeans in 13,25oz narrow loom, sanforized indigo cast denim with its characteristic one-side selvage.
Other Hollywood actors like Steve McQueen also spotted in Lee 101z in his movie The Hunter. Robert De Niro also wore Lee 101z when he act as Travis Bickle in Taxi Driver. Both of their pants replica in their respective movies can be seen produced by fanatic Japanese manufacturer such as Toys McCoy's and Real McCoy's. Lee 101z also been revived and produced again by Lee Europe which still offer Lee heritage with a bit of modern twist. Lee is still iconic until this present day and Lee 101z is one of the most iconic jeans out there and still very popular.
PS: you can also discuss about other Lee's iconic product in forum.