Here we are again, only one week away from the 4th annual denim exhibition event we all know Wall of Fades 2012 by Indonesian Denim Group. The event this year is expected to be more massive than ever before, in terms of venue, significant increase in the number of tenants, and of course it will have something new in store for all of you denim enthusiast out there.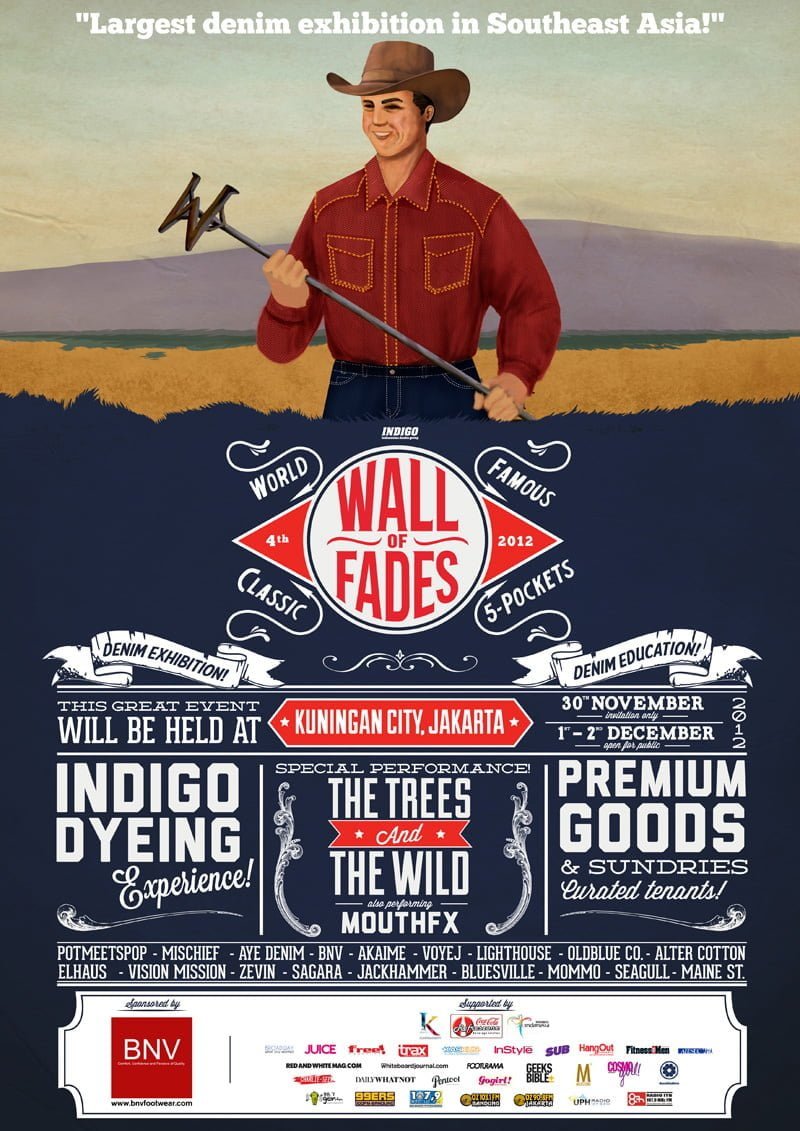 There's going to be an Indigo Experience segment where you can experience firsthand how to dye a fabric by yourself, and there will be musical performances to keep all of you entertained. The theme this year is "World Famous Classic 5-Pockets" where it will truly open the eyes of the public about the very essential clothing which is the classic 5 pocket jeans we all know and love, and how jeans have experienced an evolution from "function" to "fashion". The event will present a detailed perspective about fits, fabrics, and of course the history of the jean itself, packaged with interesting exhibits and info graphic properties for our guests to enjoy.
In Wall of Fades 2012, as the event theme is "World Famous Classic 5-Pockets" the guests will be presented with various exhibitions containing information about the denim history, and how it has evolved from time to time, how the fits have evolved, the changes in the fabric used for the jeans, and also the exhibitions which contains the denim itself. The guests will be enlightened and acknowledged about the denim lifestyle essentials itself. Also, something new will be provided this year called the "Indigo Experience" exhibition, which is intended to further educate the public about the process of dyeing a fabric using natural indigo dyeing paste. Besides the exhibitions, this year an entertainment segment will be provided.
Aside from the main theme, as have done in previous Wall of Fades, a series of jeans that have been worn by respected members of INDIGO will be showcased. Last but not least, there will be a denim market that is comprised of 18 tenants which carries denims, boots, leather goods, made by Indonesian local brands.
All of that being said.. We certainly hope to see you on Wall of Fades 2012!
Wall Of Fades 2012 will be held at:
Place : Kuningan City
Jl. Prof Dr Satrio Kav. 18, Setiabudi – Kuningan, South Jakarta, Indonesia
30th Nov 'til 2nd December
For More info also visit https://www.darahkubiru.com/walloffades/2012/11/wall-of-fades-2012/
As usual, every year we're going to give appreciations to Wall Of Fades committee