Untuk koleksi-koleksi terbarunya, Blue Bell Made In USA mengeluarkan beragam produk jeans dengan warna yang berbeda selain berwarna indigo. Setelah kita mendapatkan pinjaman Blue Bell Eddy dengan warna merah, kini kita mendapat pinjaman Blue Bell Matt yang berwarna coklat khaki. Produk ini menurut kami sangat menarik karena warna yang ditawarkan cukup menggoda dan efek vintage dari jeans khaki ini sangat ketara, terlebih dengan efek-efek worn out yang subtle dan tidak berlebihan.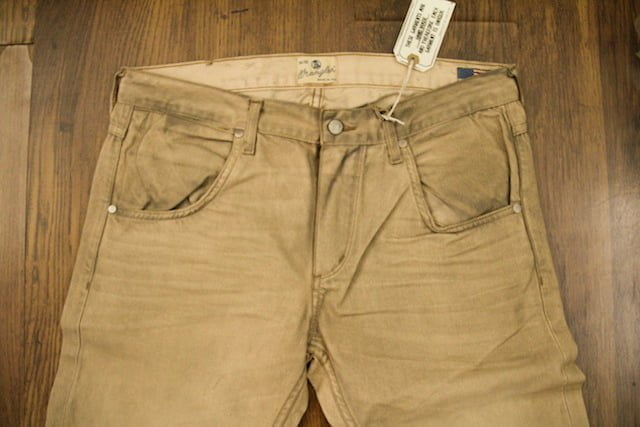 Sepenglihatan kami, untuk overall look dari jeans ini, mengingatkan kami pada celana khaki yang sudah cukup usang dan terlihat rugged dengan efek-efek worn our yang terlihat cukup natural. Pada bagian waist misalnya, bisa kita lihat ada beberapa bagian yang sudah terlihat cukup usang dan memiliki noda-noda hitam yang justru membuat celana ini semakin menarik. Selain itu sedikit crease dan fading pada bagian-bagian seperti whisker, belakang lutut dan di bagian bawah kaki juga menambah kesan worn pada celana ini.


Bahan yang digunakan adalah bahan RHT yang berwarna coklat khaki dan yang cukup mengejutkan adalah bahan ini ternyata juga dibuat di mesin loom yang bisa membuat bahan selvage. Kita bisa melihat redline selvage yang cukup menggoda di bagian outseam, jika kita melakukan cuffing pada celana. Konstruksi inseam tetap menggunakan khas Blue Bell USA dengan konstruksi double felled seam.


Sepertinya kita sudah sering melihat detail-detail Blue Bell Made In USA sampai saat ini, mulai dari flasher bendera amerika hingga rivet bertulisan Made In USA. Sama halnya dengan Blue Bell Made In USA lainnya, Blue Bell khaki pants ini juga memiliki flasher bendera khas dan selain itu detail-detail kecil seperti waistband label Wrangler dan label tag jenis celana juga masih bisa ditemukan di celana ini. Mungkin tambahan yang menarik adalah tag Handmade yang menyebutkan bahwa produk ini bisa sedikit berbeda dengan yg lain dikarenakan sifat dari produk handmade.




Produk ini menggunakan button dan rivet dengan tulisan Made In USA yang menggunakan bahan seperti besi. Selain itu untuk fly-nya digunakan zipper berwarna silver yang menarik.
Celana ini menjadi pilihan yang menarik bagi anda yang mencari celana khas Wrangler dengan detail-detail menariknya dan berpikiran untuk memiliki celana yang bukan berwarna indigo. Celana berwarna coklat khaki ini cukup lazim digunakan untuk kegiatan sehari-hari dan efek worn out-nya tetap memberikan kesan rugged dan vintage bagi pemakainya.



 ———————————————————————————————-
For their newest collections, Blue Bell Made In USA releases several and variety of products with many colors other than indigo. Last review was about the
unique red Blue Bell Eddy
, now we got a chance to review a khaki brown colored Blue Bell Matt. We think this product is really cool in the first place, mainly because of the worn out and vintage looks this product gives.
From the overall looks of the jeans, this jeans looks like and old and worn khaki pants with plenty of rugged and vintage looks in some parts of the pants. If we see the waist part, we can see some parts are stained and makes this jeans looks really rugged and cool. The worn out look treatment this jeans offer is pretty natural and not overly done. We can also see creases and light color fading in some parts like the whiskers, back of the knee and also on the leg opening.
This jeans use a khaki brown RHT fabric and by its looks, this fabric is made in an old loom capable of making a selvage fabric. We can see the redline selvage which is pretty cool on the outseam. The inseam is still going through Blue Bell USA characteristics, with double felled inseam construction.
The details is pretty much the same like the other Blue Bell Made In USA product, from the american flag flasher, to the Made In USA rivets. The only thing added to this product is the handmade hang tag. The hangtag basically says that this product is a handmade product, thus giving it a unique looks on each garment. This jeans also use the silver iron button and rivet, and they use a zipper fly.
This product will be an awesome option for those looking for a khaki colored pants with cool details from Wrangler. It looks cool and proper for everyday wear, plus the worn out effect gives the wearer a more rugged and vintage looks.